How has 'online purchasing behavior' changed with the new Corona epidemic?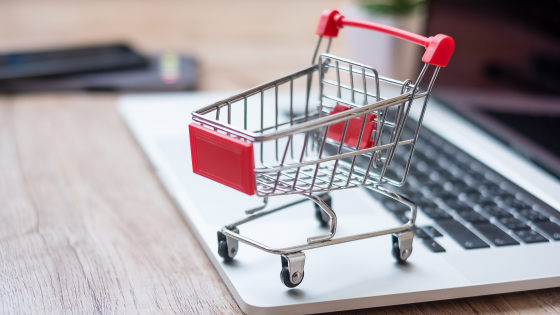 The epidemic of the new coronavirus infection (COVID-19) has significantly changed people's behavior and has had a major impact on the economy. Meanwhile, the online market is growing, and Adobe has announced some signs of consumption, such as 'inflation' and 'buy now and pay later' epidemics,
from analysis by Adobe Analytics.
..
Adobe Digital Economy Index: COVID-19 Report
https://blog.adobe.com/en/publish/2021/03/15/adobe-digital-economy-index-covid-19-report.html#gs.vq9glx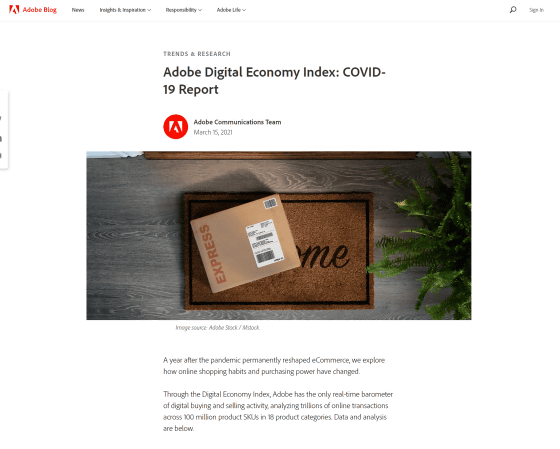 According to Adobe, sales in e-commerce from March to December 2020 reached $ 815 billion (about 88 trillion yen), up 42% from the previous year. Such e-commerce growth is expected to continue, reaching $ 850 billion in 2021 and the first ever $ 1 trillion in 2022. Adobe predicts that.
The changes in the market announced by Adobe are as follows.
◆ 1: New Year's consumption
Consumers' online spending from January to February 2021 was $ 121 billion, a 34% year-on-year growth.
◆ 2: The trend of 'buy now and pay later'
The payment method of 'buy now and pay later' became a boom, and the usage from January to February 2021 grew by 215% compared to the previous year. This option is appealing to users with financial instability, and studies show that those who use this payment method will get an 18% higher single purchase.
◆ 3: New behavioral habits of grocery purchase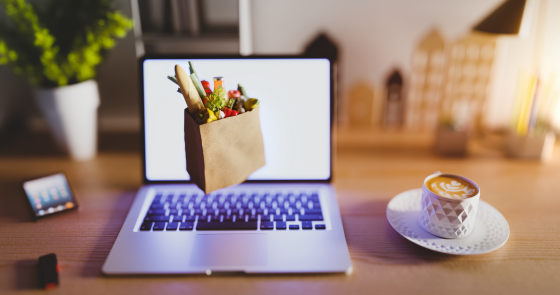 From 2020 to 2021, consumer behavior of 'buying groceries online' showed a consistent growth rate. Online grocery purchases from February 1st to February 21st, 2021 reportedly had 230% more sales than January 6th to January 26th, 2020, before the pandemic. Still, Adobe said it had a 75% growth rate in 'sports equipment purchases' over the same period.

◆ 4: Sellers have difficulty meeting demand
In July 2020, the message 'out of stock' will be displayed three times as much as in January 2020 before the pandemic. The tendency for such 'out of stock' to be displayed frequently continues even in 2021, and it is especially easy to see in food, medical supplies, and pet supplies.

◆ 5: The previous 'day of shopping a lot' loses power
Sales fell 9% during the five days from
Thanksgiving
to Cyber Monday
, when consumption is booming in the United States. Similarly, on
Memorial Day
, consumption decreased by 20%.
◆ 6: Over-the-counter pick-up service 'BOPIS' remains popular
BOPIS became popular during the lockdown period as a way for consumers to shop safely while keeping the chances of infection low. BOPIS has remained popular since then, and in February 2021 it achieved 67% year-on-year growth.
It has also been reported that online product prices are changing due to changes in consumer behavior. Specifically, the online market is not keeping up with demand, new costs are incurred, and commodity prices soar, resulting in a 1% year-on-year decrease in consumer digital purchasing power. In addition, the price of electronic devices, which was 10.4% lower than the previous year in 2019-2021, was only 2.2% lower than the previous year during the period 2020-2021. In addition, food prices have risen 4.2% year-on-year, and home and gardening product prices have risen 3.9% year-on-year, showing inflation everywhere.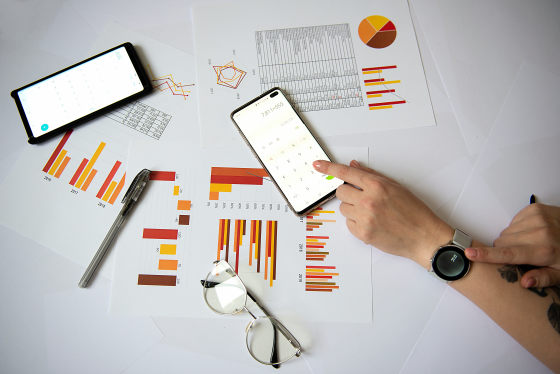 PayPal has also reported significant growth in e-commerce, with payments of $ 936 billion in 2020 expected to reach $ 1 trillion in 2021. I am.

PayPal Sees No Letup for Online Shopping Even With Reopenings --Bloomberg
https://www.bloomberg.com/news/articles/2021-03-15/paypal-sees-no-letup-for-online-shopping-even-with-reopenings

in Note, Posted by darkhorse_log