App Store achieves over 1 trillion yen sales in 2013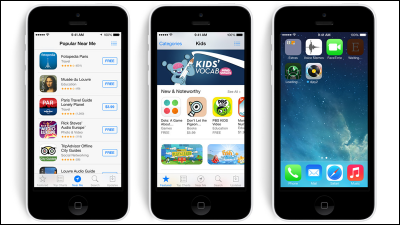 While smartphones and tablets are spreading every year, OS for mobile, such as Apple's iOS, Google's Android, Microsoft's Windows 8, etc., is sharp. In such a fierce competition, Apple announced that the total sales of the app in the App Store in 2013 totaled over 1 trillion yen.

Apple - Press Info - App Store Sales Top $ 10 Billion in 2013
https://www.apple.com/pr/library/2014/01/07App-Store-Sales-Top-10-Billion-in-2013.html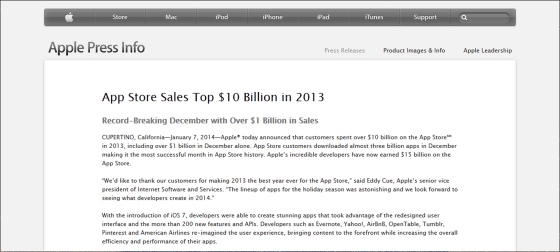 On January 7, 2014 local time, Apple announced that the total sales of iOS applications on the App Store exceeded $ 10 billion (about 1.488 billion yen) in the year of 2013. Three billion applications were downloaded only in December, monthly sales exceeded 1 billion dollars (about 148 billion yen), and it is said that it became the month to rewrite the monthly highest record ever.

The total total paid by Apple to developers has been 15 billion dollars (about 1.5 trillion yen), and as a developer that has made a great achievement, "Evernote","Yahoo!","AirBnB","OpenTable","Tumblr","Pinterest","American AirlinesIt is cited.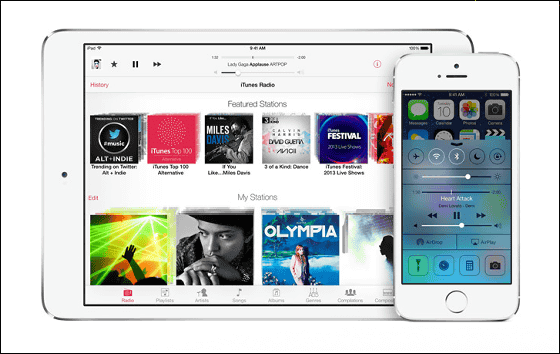 As the most successful application in 2013, "Candy crash","Puzzle & Dragons","Minecraft","QuizUp","Clumsy Ninja"Apps from around the world are selected, resulting in Japanese applications as well.



Application survey companyDistimoby,Android users are purchasing more apps than iPhone usersAlthough the survey result has also come out,There was a hero who lined up in the shop from 10 days before selling iPhone 5c, 5sAndA long line in the first selling of the App StoreBecause of what we can do, Apple still has many enthusiastic users.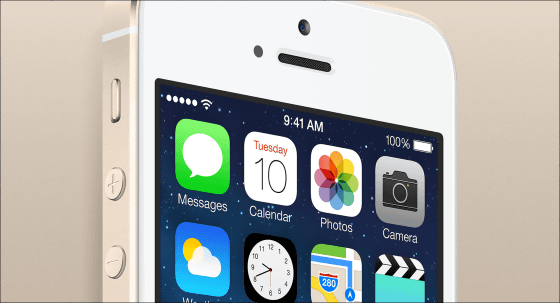 According to Gartner who conducts research and analysis related to technology,App Store 's forecast for 2013 will be $ 26 billion (about 2.7 trillion yen)Although seen as being lower than expected, Eddy Cue, Apple's software division SVP, "I am grateful to the customers who made the year 2013 the best year for the App Store" I am talking.