Leak information of 'Android 12' is released, new widgets that simply display missed calls and icons that show the usage status of cameras and microphones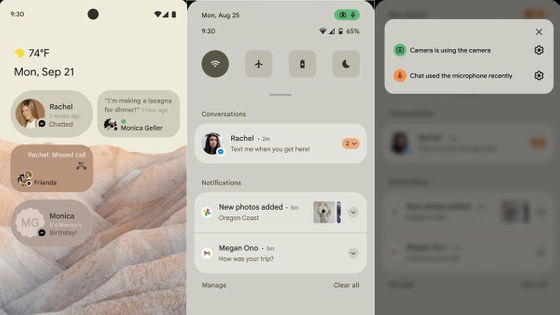 A screenshot of 'Android 12', the next major version of Android, has leaked. Added 'Theme color' to change the color of the entire OS, 'Conversation', a new widget that simply displays messages and missed calls, and a privacy function that indicates that the microphone or camera is in use like iOS 14. It seems that it will be done.

This could be Android 12, Google's next Android OS

https://www.xda-developers.com/android-12-first-look-screenshots/
Android 12 leak appears to show major redesign with color-changing UI | Ars Technica
https://arstechnica.com/gadgets/2021/02/android-12-leak-appears-to-show-major-redesign-with-color-changing-ui/
According to the IT news site
XDA Developers
who got the information, the leaked screenshot was included in the internal document that Google was creating for the information disclosure of Android 12, and it was confirmed that XDA Developers is genuine. He also went.
Below is an image comparing the leaked Android 12 notification panel with that of Android 11, the latest version at the time of article creation. The notification panel was translucent on Android 11, but the notification panel on Android 12 is opaque. Also, in Android 12, the overall design has rounded corners, the black status bar at the top has disappeared, and the number of quick setting tiles seems to have decreased from 6 to 4.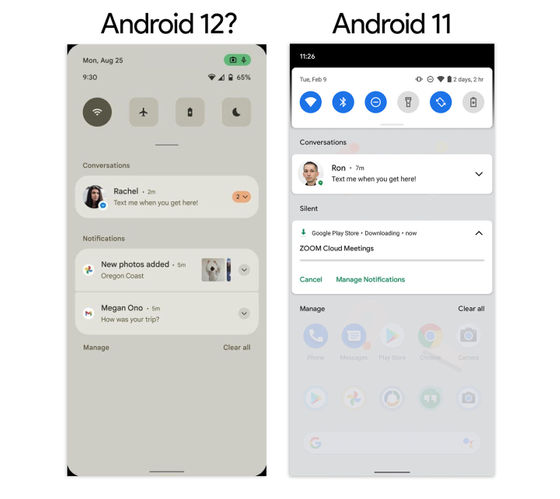 According to XDA Developers, Android 12 adds something called a 'theme color', like the '
accent color
' that existed in developer mode, and can change the tint of the entire system and third-party apps to a set color. thing. It seems that this theme color can also be set to match the shade of the wallpaper.
Android 12 also introduces a new widget called 'Conversation'. Conversation simply displays the status of received messages, missed calls, activities, etc. as shown in the red frame on the home screen (left) and notification panel (right).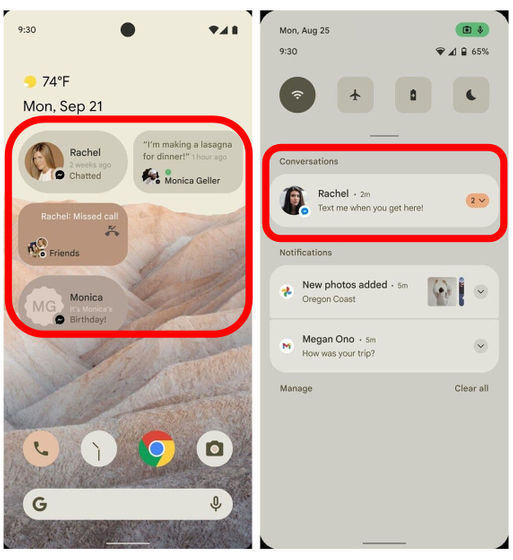 Also, on Android 12, like iOS 14, an icon indicating that the camera, microphone, and location information sharing function is in use will be displayed in the upper right corner of the screen.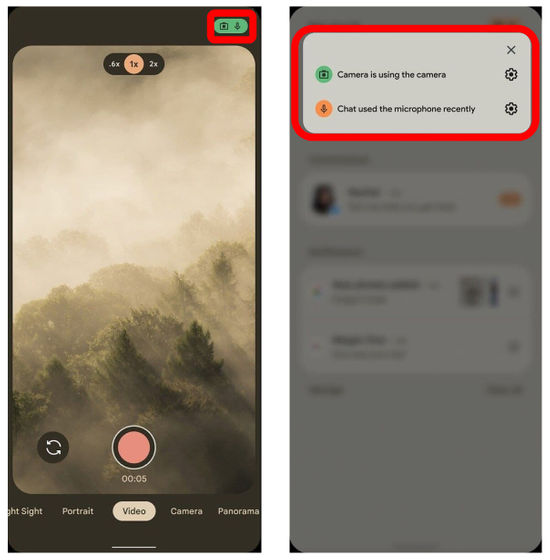 New items such as 'Disable camera' and 'Mute microphone' have been added to the 'Privacy' section of the settings to completely turn off the camera and microphone at the OS level. Is also possible.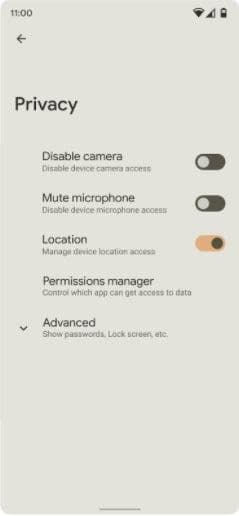 Google released a preview of Android 11 in February 2020, so the preview of Android 12 is expected to be officially released in February 2021.