The raid on the Capitol by militants was 'organized on Facebook for months,' he said.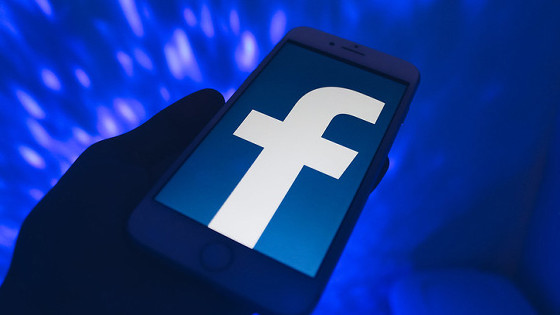 by
www.shopcatalog.com
On January 6, 2021, local time,
supporters of Donald Trump attacked
the
US Capitol and
occupied it for several hours,
killing five people
, including demonstrators and police officers. It has occurred. Facebook claims that the riot was organized outside of Facebook, but the
Tech Transparency Project (TTP)
, a research institute on tech company practices, said, 'The congressional raid was organized on Facebook for months. It was done. '
Capitol Attack Was Months in the Making on Facebook | Tech Transparency Project
https://www.techtransparencyproject.org/articles/capitol-attack-was-months-making-facebook
Facebook's chief operating officer, Sheryl Sandberg, said of the Trump supporters' assault on the federal parliament, 'mostly not organized by Facebook.' 'We believe these events are happening on platforms that are beyond our ability to stop hate and have no transparency or standards,' Sandberg said in an interview with Reuters. Said.
Facebook is starting to remove posts with the words 'stop stealing'-GIGAZINE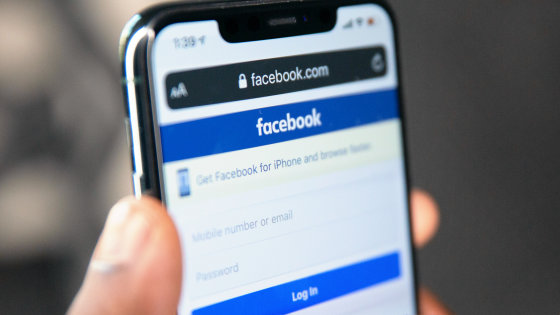 But TTP responded to Sandberg's COO's claim: 'Not only is that claim false, but Facebook has proliferated conspiracy the 2020 US presidential election and far-right militia on the platform over the past year, attacking Congress. Ignore the fact that it laid the foundation for a wide range of extremists who instigated. ' TTP claims that since the fall of 2020, militant groups have been using Facebook to incite members on Facebook for several months.
◆ Pre-election activities
Before the presidential election in November 2020, TTP pointed out that members of the Facebook group of various 'patriots' had planned to intimidate voters. For example, one of the members of a group called 'Ohio Patriot Action Network' posted on October 27, 'Veterans should bring their' iron (weapons) 'to the polls.' I did. The person also continued to post threats to assassinate Joe Biden and other lawmakers on his personal Facebook page.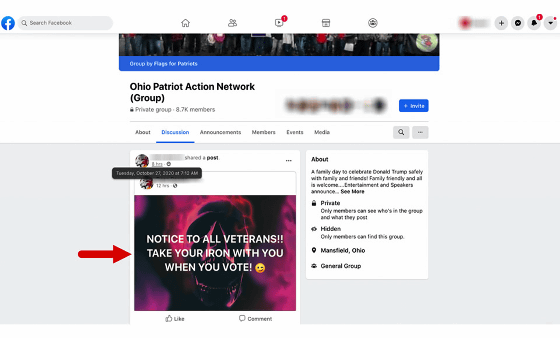 Also, in a group called 'FLORIDA PATRIOTS,' a member in October called on 'armed citizens' to respond to emergencies, and another member 'trained, visited, and prepared.' Requested information about. A similar request was made in a group called 'Oregon Patriots (save Oregon)', and another member was warned that 'don't openly share training details on Facebook.'

Foreign media The Guardian reports that some participants used a walkie-talkie app to communicate and move in a trained and disciplined manner regarding the Capitol raid. By monitoring conversations on the Facebook group, TTP knew in advance that militants were focusing on training and preparation. The TTP said it had notified the appropriate authorities if it found a radical statement that could lead to violence identified in a series of investigations.

Revealed: walkie-talkie app Zello hosted far-right groups who stormed Capitol | US Capitol breach | The Guardian

https://www.theguardian.com/us-news/2021/jan/13/zello-app-us-capitol-attack-far-right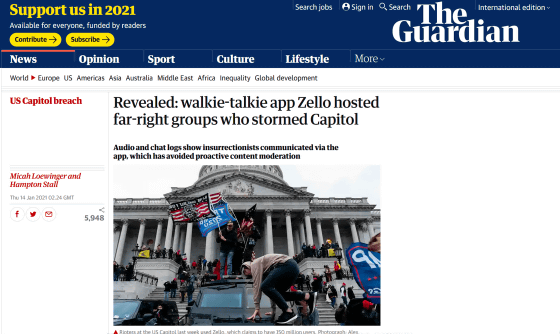 The TTP also confirmed that as the elections approached, threatening statements to Mr Biden and other Democratic politicians increased on Facebook. In early October, a group called 'Pro-Police, Pro-Military, Pro-Trump' told Democrat
Ilhan Omar
, the first refugee from Somalia to become a member of the U.S. House of Representatives, at the
Guantanamo Bay Containment Camp
. He said that he should be sent, '' shoot that bitch, 'and' attack with a drone. ' As more radical statements were made, so were references to riots, and the group 'Stop the Steal' was openly speaking about 'government overthrow' if Biden won.
In a group called 'FLORIDA PATRIOTS', a message insisting that 'the supporters of the
far-
left group
ANTIFA
and the
BLM movement
are planning a riot on the day of the election, so
let
's take weapons and support police officers' is attached with an image. It was posted. The image contains the logos of the far right group
Proud Boys
(second from left),
Oath Keepers
(fourth from left), and
Three Percenters
(fifth from left).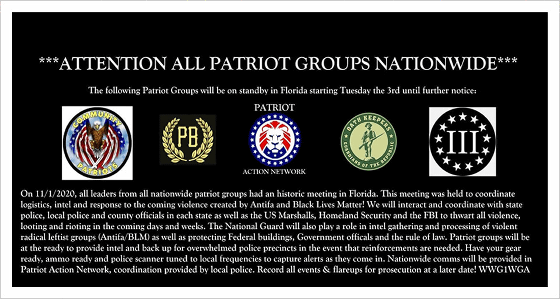 ◆ Post-election activities
The reported violence of Mr. Biden in the presidential election further increased the violent remarks of Trump supporters and militia groups in the Facebook group. For example, the manager of the Florida militia group Eagle Team 1 LLC frequently called for the dismantling of the government, saying, 'Politicians in Washington, DC pose a greater threat to our country and democracy than foreign troops.' And posted. In addition, another group called 'Take America Back' hired militias under the pretext of 'protecting lives, freedom, and property during the possible'Severe Controversy'' after the election results. Strengthened.

A member of the Facebook group 'Patriot Riders' appealed to organize a local team 'to protect themselves from all threats' and posted images of the gallows and rope as a 'government repair kit'. did.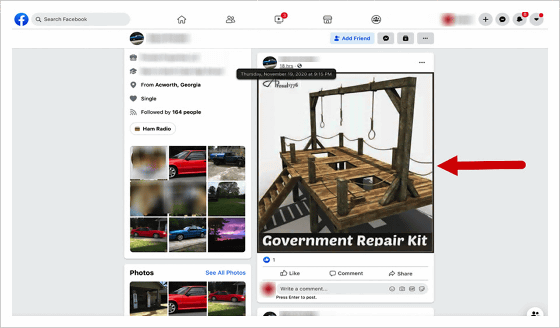 In addition, a Facebook group called 'WE THE PEOPLE' created on November 17 asked prospective participants, 'Do you support our freedom, rights, and the United States Constitution? And fight for the country. He said he was asking the vow question, 'Are you willing to die for the country?'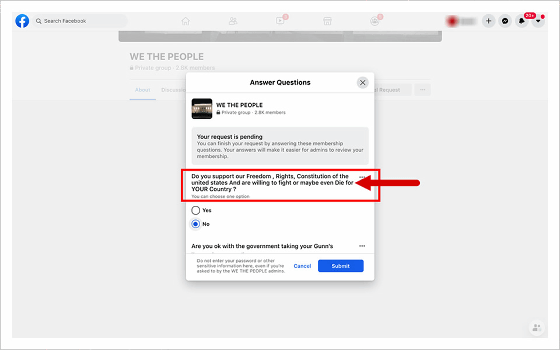 A group called 'Take America Back. California Chapter' posted an image titled 'Operation Occupy The Capitol,' using the font
Fraktur, which
is often associated with Nazi Germany. In addition to this, TTP pointed out that multiple images calling for the occupation of the Capitol were posted on the Facebook group. After that, a group of militias and militias continued to talk about the occupation of the Capitol on January 6, 2021, and a group called 'Mouthy Patriots' said, 'The far-right group Oath Keepers will be deployed in Washington, DC to protect participants. The content was posted.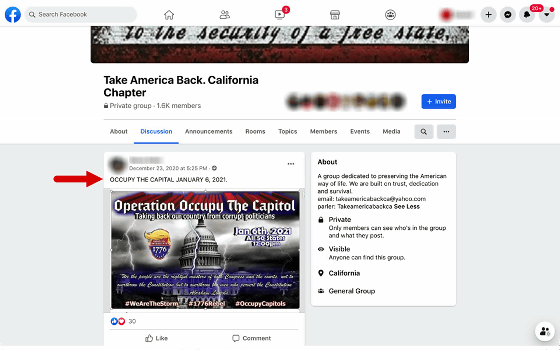 ◆ Posts about Mr. Biden's inauguration ceremony
'We've been allowing discussions about riots since January 6, 2020, and we're benefiting from it,' TTP said of Facebook. On January 13th, Facebook was temporarily reported that 'Facebook is displaying advertisements for weapon accessories and military equipment to users engaged in militia and far-right groups on the platform.' We have stopped displaying advertisements for military equipment .

There are still posts on Facebook that equate the riots by Trump supporters with the American Revolutionary War and try to organize a new militia group. In addition, there was a post calling for violence at 12:00 on January 20, when Mr. Biden's presidential inauguration ceremony was held (2:00 am on January 21, Japan time), and some of them overlapped the inauguration ceremony with the Tiananmen Square Incident. It seems that there was something to match. When CNN contacted Facebook about this issue, Facebook deleted posts mentioning the problematic group and Tiananmen Square.

Not only did TTP organize a raid on the Houses of Parliament through conversations in the Facebook group, but over the past year Facebook has failed to curb election conspiracy theories and radical remarks, causing people to take dangerous actions. He strongly accused Facebook of increasing it.