A white supremacist made a Twitter account disguised as an anti-fascist group 'ANTIFA' and called for violence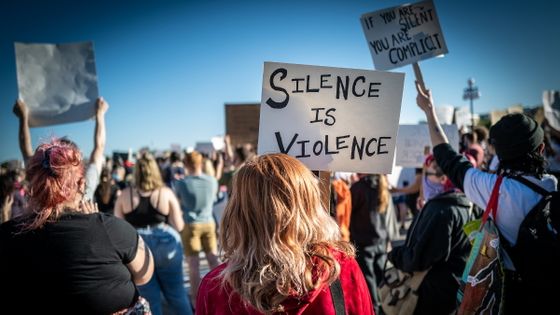 by
Phil Roeder
Large-scale protests have taken place nationwide in the United States following the
death of a
black man, George Floyd,
during
police
detention,
leading to riots such as building destruction, arson, and looting in some areas. Has evolved to. President
Donald Trump
blamed the
anti-fascist group '
ANTIFA
' on the background of the riots
and said 'designate ANTIFA as a terrorist organization',
but on Twitter it is a fake that the white supremacist masquerades as ANTIFA It was found that he was inciting violence by making an account with.
White nationalist group posing as antifa called for violence on Twitter
https://www.nbcnews.com/tech/security/twitter-takes-down-washington-protest-disinformation-bot-behavior-n1221456
White supremacists pose as Antifa online, call for violence-CNN
https://edition.cnn.com/2020/06/02/tech/antifa-fake-twitter-account/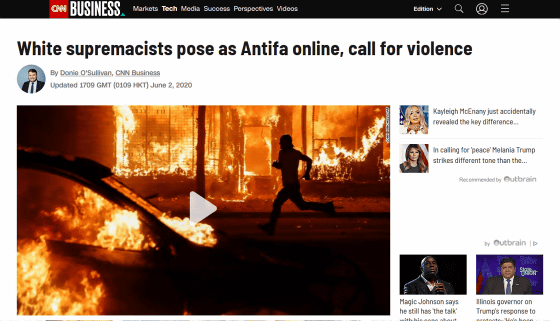 ANTIFA is an abbreviation for 'anti-fascist' and refers to a loosely solidified organization of left-wing activists opposed to fascists. There is no central organization or leader in ANTIFA, which is based in Europe and the United States, and defends oppressed groups with anti-racism and anti-white superiority and protests the accumulation of wealth by companies and elites. It is said that it is developing left-handed and extreme left-handed claims such as doing. Wearing black masks and attire is a hallmark of ANTIFA members, and is known for its radical protests such as graffiti, demonstrations, property destruction, and violence to appeal.

President Trump argued that the ANTIFA-led anarchists were involved in the riots in the United States in May 2020, and tweeted that ANTIFA would be designated a terrorist organization. Regarding this move, it was pointed out that 'there is no legal authority to designate a domestic organization as a terrorist organization, and there is concern that it may violate the First Amendment of the United States Constitution.'

The United States of America will be designating ANTIFA as a Terrorist Organization.

— Donald J. Trump (@realDonaldTrump) May 31, 2020


In addition, Matt Gates Congressman Republican also 'Now that we have clearly recognized and is a terrorist ANTIFA, wonder? Can I hunt down the guys as the Middle East' and tweets have been, Twitter this content Hidden the tweets as 'the act of praising violence'.

Twitter hides the politician's tweet 'I can hunt down ANTIFA?' as 'praise for violence' and hides it-GIGAZINE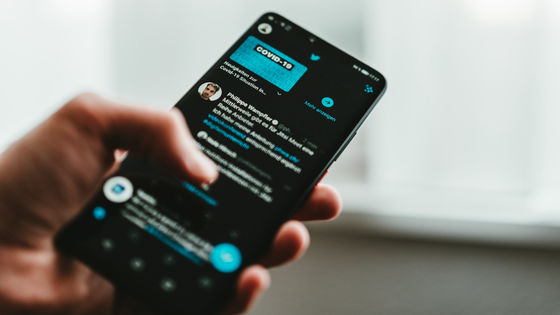 Meanwhile, it became clear that the Twitter account that made a tweet calling for violence by claiming to represent ANTIFA was actually created by a group of white supremacists. A Twitter spokesman said, 'This account violated our platform operations and spam policies, especially 'create fake accounts'' and said that we deleted the account after making a violent incitement tweet. thing.

The account in question worked under the name ' @ANTIFA_US ' and had a few hundred followers. On May 31, 2020, when there were protests in multiple states, the account tweeted content that hinted at the use of violence such as ``moving to a residential area where white people live and regaining their own'' It was.

In response to this, Donald Trump Jr., the son of President Donald Trump . Trump Jr. posted a screenshot of this tweet on his Instagram and commented, 'I'm not completely sanity,' 'Remember what ANTIFA really is. It's a terrorist organization!'

However, according to a Twitter spokesman, '@ANTIFA_US' seems to have been created by a group of white supremacist ' Identity Evropa ', and the account was deleted due to Twitter policy violation. When CNN asked Mr. Trump Jr. about this point, it said that the corresponding Instagram post was deleted, although there was no comment. 'There are no indications that Trump Jr. was behind '@ANTIFA_US' and knew this account was fake,' CNN said.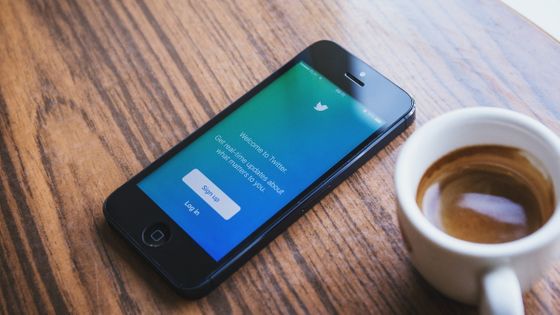 According to the
Defamation Alliance
, the largest Jewish organization in the United States, Identity Evropa has already disbanded and was renamed and renamed
American Identitarian Movement
. Like the Identity Evropa, the American Identitarian Movement is a group of white supremacists who argue that whites should retain their racial and cultural identities. It prohibits illegal activities."
A spokeswoman for Twitter said it wasn't the first time it had closed a fake account related to Identity Evropa, and said it had done the same before. Even before this case was revealed, it was confirmed that there were cases where right-wing activists and white supremacists created an account named ANTIFA, and the deletion of the account named ANTIFA related to white supremacists was ``@ I admit that 'ANTIFA_US' is not the first time.
In addition to false fake ANTIFA accounts, misinformation such as 'Internet is blocked in
Washington DC
' spread on Twitter in connection with radical protests all over the United States, and 'extremist groups are residential areas. There is a situation where the screenshot showing 'I am planning to act on' is spread in the message application. ``This happens at a large online event,'' said Josh Russell, who studies domestic and international hacks and bots. This is not unusual.'