Twitter temporarily suspends the authentication process to review the blue checkmark "certified account" criteria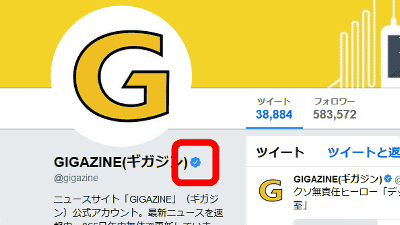 To prevent pretending to be a celebrity on Twitter, Twitter is "Authenticated Account"Is introduced and a blue check mark" certified badge "is attached to the account confirmed with himself by Twitter indicating that it is certified. However, major criticisms have gathered in the United States over the certification criteria of this authenticated account, Twitter which took the situation heavily suspended the certification process and the reconfiguration of the certification criteria is carried out. Depending on the new criteria, it seems that authenticated badges of already authenticated accounts may be deleted.

Since Twitter's user name can be specified freely, it has a problem of "impersonation account" impersonating a celebrity. The accredited account is adopted as "authenticated account", the blue check mark is attached to the account that confirmed that Twitter is the identity, and it is clear that it is not a spoofing account.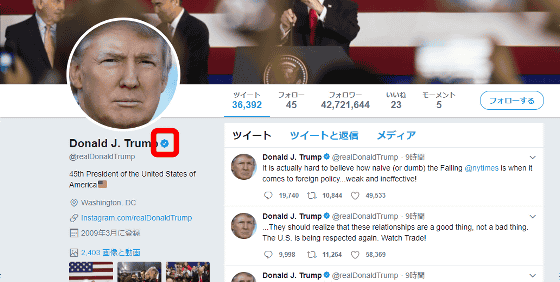 Originally it is an authenticated account to prevent pretending to be a celebrity person, but the account which may possibly be spoofed in the first place is generally a person or an organization influential on the remarks, therefore, authentication There was a reality that the completed badge itself tends to be caught in the meaning of "chosen one" and it functions as a kind of status symbol. In fact, SNS's account with an identity authentication markThe fact that it is traded on the black marketThere is also.

Jason Kessler 's Twitter account, which admits that it is white matter supremacy, that triggered a debate about the criteria of the certified account has a blue check mark indicating the authenticated account.

Mr. Kessler quickly said, "Look, I finally got certified by Twiter, it must be the only certified acquirer of the working-class white supremacist."

Looks like I FINALLY got verified by Twitter. I must be the only working class white advocate with that distinction.pic.twitter.com/IMXqtmhgvn

- Jason Kessler (@ TheMadDimension)November 7, 2017

Mr. Kessler is known for making extreme remarks based on the ideology of Caucasian supremacy, but in the following tweets, during the demonstration protesting Caucasian supremacy in August 2017, a runaway car Heather Heyer, who was killed and died, has been criticized for tweeting as "a disgusting obese communist" tweeted.

This is the organizer of the Unite the Right rally where Heather Heyer died.pic.twitter.com/MVnJHecLOt

- Matt Pearce (@ mattdpearce)August 19, 2017

When a blue check mark was attached to Mr. Kessler's Twitter account, the brutal criticism of the "criticism of whatever giving a certificate to white supremacists!" Was raised in the United States.

Twitter just verified Jason Kessler, the organizer of the Charlottesville neo-Nazi rally. Why do they do this shit?https://t.co/mSeCckeNeB

- Matt Novak (@ paleofuture)November 8, 2017
A day after@ Twitterverifies Jason Kessler, who created the white supremacist rally in Charlottesville, he tweets "Rose McGowan should be held accountable for being a thot that will do anything for attention."pic.twitter.com/tAWBu79IfQ

- Ben Collins (@oneunderscore__)November 8, 2017
.@ Twitter,@ TwitterSupport: is there a reason why that you decided to verify Jason Kessler? Look how he celebrated it?pic.twitter.com/IqwqQRDdgI

- Jack Sinclair (@ jacktweetslife)November 9, 2017

Following criticism Twitter removes Kessler's certified badge. In addition, Twitter looking heavily threatened to pause the account's authorization process and to revise the certification badge grant criteria.

We have paused all general verifications while we work and will report authentic identity & amp; voice but it is interpreted as an endorsement or an indicator of importance.

- Twitter Support (@ TwitterSupport)November 9, 2017

"We are working on revision of certified account program"

1 / UPDATE on our verification program and the actions we're taking.

- Twitter Support (@ TwitterSupport)November 15, 2017

Twitter is reflecting that negotiations were neglected though early recognition that certified badge functions as a kind of "certified".

2 / Verification has long been perceived as an endorsement. We gave verified accounts visual prominence on the service which we have have addressed this earlier but this did not prioritize the work as we have have.

- Twitter Support (@ TwitterSupport)November 15, 2017

I reflect on what I was giving to someone who should not give a certified badge.

3 / This perception became worse when we opened up verification for public submissions and verified people who we in no way endorse.

- Twitter Support (@ TwitterSupport)November 15, 2017

We are undertaking a new certification process based on the new standard.

4 / We are working on a new authentication and verification program. In the meantime, we are not accepting any public submissions for verification and have been introduced new guidelines for the program.https://t.co/j6P0HGXIVq

- Twitter Support (@ TwitterSupport)November 15, 2017

Under the new certification criteria, it is possible that even already authenticated accounts may be deprived of an authenticated badge.

5 / We are conducting an initial review of accounts and will new guidelines. We will continue to review and take action as we work towards a new program we are proud of.

- Twitter Support (@ TwitterSupport)November 15, 2017

Twitter is rapidly working on firefighting and the creation of new standards, but regarding the policy of creating new certification criteria, there is a question about "Why do you want to cancel authentication of identity by speaking or behavior?" Certified account Criticism of whether it is overlooking the fundamental gist that the purpose is "confirmation of being a person who prevents impersonation", and criticism that "Twitter is planning to make an elite club?" By Twitter There is a criticism that the certification is merely the creation of new status symbols.