The FBI reports that 'the involvement of organizations such as ANTIFA in riots is not recognized', while the White House announced that 'it has obtained evidence of incitement'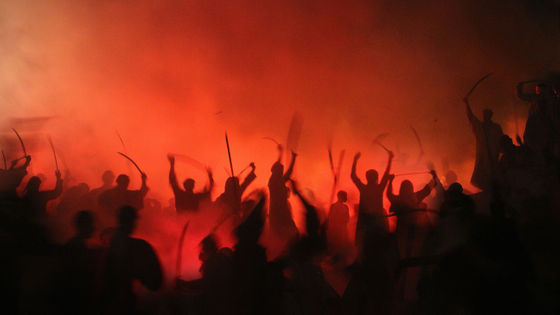 FBI Washington Office (FBI WFO) ``had no systematic involvement in the riots in Washington, DC,'' reporting some protesters in the
2020 Minneapolis anti-racist demonstrations
had been mobized. I understood that Meanwhile, Attorney General
William Barr
announced on June 4, 2020, 'The federal government holds evidence that militant groups instigated violence and hijacked legitimate demonstrations.'
The FBI Finds'No Intel Indicating Antifa Involvement' in Sunday's Violence | The Nation
https://www.thenation.com/article/activism/antifa-trump-fbi/
Evidence that antifa,'foreign actors' involved in sowing unrest and violence: AG Barr-ABC News
https://abcnews.go.com/Politics/ag-barr-evidence-antifa-foreign-actors-involved-sowing/story?id=71066996
On May 25, 2020, a black man
died from being
arrested by a police officer, which has led to intense demonstrations in various parts of the United States, and some have developed into riots such as building destruction, arson, and looting. I will. In response to this situation, President Trump said that the anti-fascist movement '
ANTIFA
' was inciting riots
and announced that he would designate
ANTIFA as a
terrorist organization
.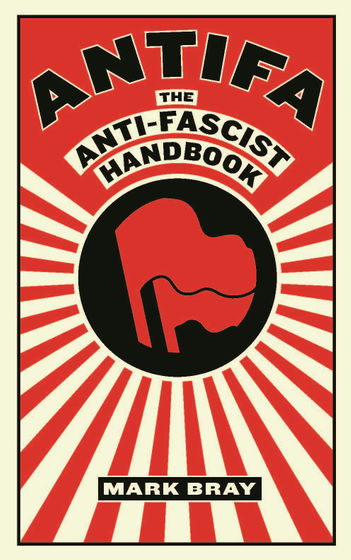 by
cantfightthetendies
Meanwhile, the American weekly magazine, The Nation, independently obtained internal information about the FBI. This information revealed that the FBI WFO had reported that 'There is no information indicating the presence or involvement of ANTIFA in the violence incident during the protest in the Washington DC area on May 31' ..
Below is an image of the report that The Nation has announced it has obtained from FBI insiders subject to anonymity. Screenshots of the report designated as'FOUO' report that throws such as bricks and stones, metal bats, kerosene-filled containers, etc. were prepared or used for riots. I am.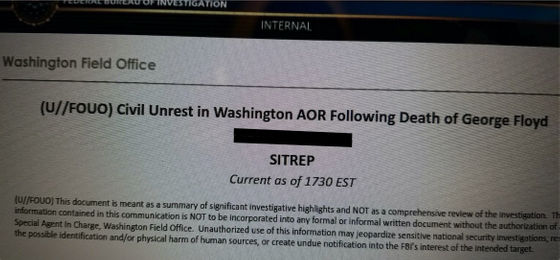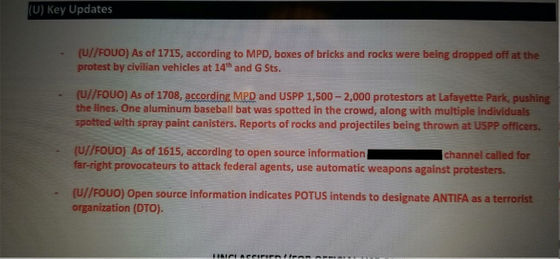 At the end of this report, 'FBI WFO has no information indicating the involvement or existence of ANTIFA.'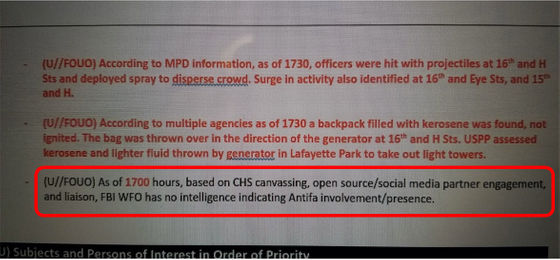 The Nation asked the FBI for comment on this report and ANTIFA, but the FBI replied that it 'will not comment.'

Meanwhile, the U.S. government has announced that it holds evidence that somebody instigated the demonstration. Attorney General William Barr said in an interview on June 4, 'The federal government sought evidence that extremist groups, including ANTIFA, were hijacking legitimate protests to provoke violence. 'We have also identified 'foreign participants' who are using this turmoil to sow discord in the United States,' saying that they have identified radical groups and foreign involvement. Revealed

FBI director Christopher Ray, who was present at the conference, said, ``While the FBI is investigating a'violent anarchist militant group' with a similar idea to ANTIFA, the FBI's investigation is a political ideology. We will pursue any acts that could be considered as violence, riots, or terrorism," he said, stressing that he is conducting the investigation from a neutral position. Did.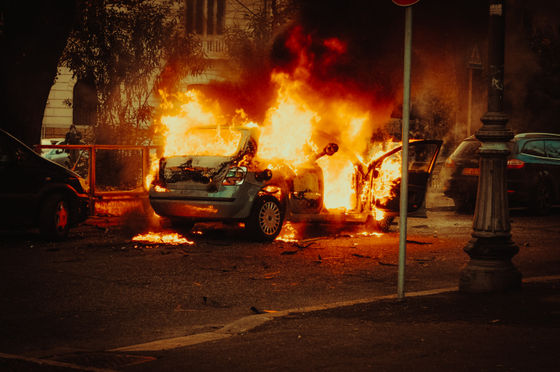 ``Both Attorney General Bar and Director Ray have emphasized the movement of ANTIFA, but the justice authorities have so far seen supporters of ANTIFA in various places,'' said ABC News, an American television station, which reported the interview of Attorney General Barr. By contrast, the Department of Justice recently added to the far-right militant Boogaloo, who allegedly attempted to incite violence during a Las Vegas protest. We have announced that we have arrested three men on suspicion of their involvement.'

in Note, Posted by log1l_ks