Why did Facebook delete the 'red inverted triangle' posted by President Trump for policy violations?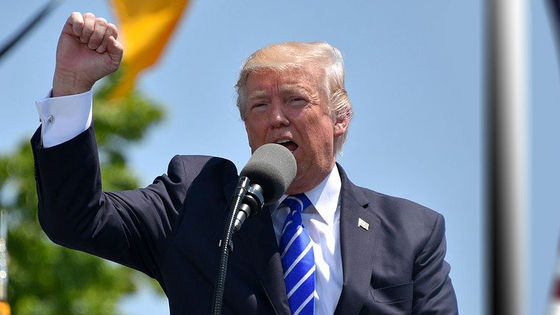 It was discovered that Facebook was removing President Trump's ad as a policy violation on June 17, 2020. The ads in question were accompanied by images that closely resembled the mark Nazi Germany used to identify prisoners in concentration camps.

Facebook removes Trump ads for using Nazi imagery-The Verge

https://www.theverge.com/2020/6/18/21295901/facebook-trump-nazi-imagery-removed-ads-antifa-campaign-2020
Facebook removes Trump campaign ads featuring Nazi symbol | TechCrunch
https://techcrunch.com/2020/06/18/facebook-trump-campaign-nazi-imagery-red-triangle/
You can see President Trump's ads removed by
Facebook in
his
Facebook ad library
. President Trump said in a Facebook post on June 17 that 'a dangerous left-
handed
group has run through the streets, causing riots and riots that destroy our cityscape. I posted a red inverted triangle mark with the phrase 'Please stand up with your decision', but it was deleted on the same day. This post was sponsored by Trump's support group '
TRUMP MAKE AMERICA GREAT AGAIN COMMITTEE
'.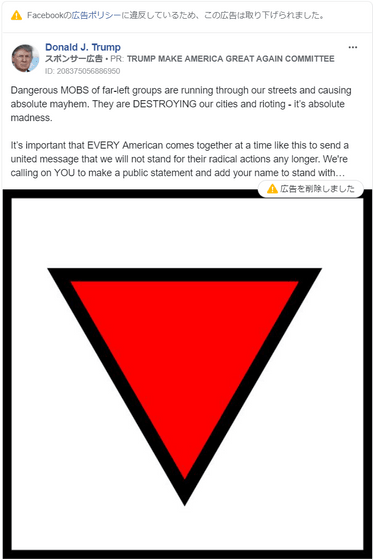 A Facebook spokesman said, 'Our policy prohibits the use of prohibited hate group symbols in contexts other than discussion and criticism of the symbol,' and why the policy violation was removed. I explained that.

Nazi German concentration camps use inverted triangle badges to identify why prisoners were detained, especially red badges that refer to prisoners as ``political prisoners, socialists, freemasonry, anarchists, It was a sign of being a Communist".


by United States Holocaust Memorial Museum/KZ Gedenkstaette Dachau

President Trump's election team, Trump War Room , claims that this red inverted triangle is a symbol mark widely used by ANTIFA and also posted in advertisements. It is also a symbol that is not included in the database of hate symbols designated by the Jewish Organization's Alliance for Defamation (ADL) .

This is an emoji.????

It's also a symbol widely used by Antifa.It was used in an ad about Antifa.

Is Not In It The ADL'S Hate Symbols Database. Pic.Twitter.Com/V4fK8QWHKD

— Trump War Room-Text TRUMP to 88022 & get the APP (@TrumpWarRoom) June 18, 2020


Tim Murtaugh, a spokeswoman for Trump War Room, told a public radio station NPR, 'This red inverted triangle is used in goods sold by anti-fascist activists online, and as an emoji Facebook etc. But you can see it. It's strange that only our ads were eligible for removal, as they look like ads that were removed this time.'

Meanwhile, ADL CEO Jonathan Greenblatt acknowledged that the red inverted triangle was not in ADL's database, saying, 'Our database is not a collection of historical Nazi images, it is a modern-day radical. It's a database of symbols used by faction groups and American white supremacists.'

As for the use of the red inverted triangle mark, 'whether intentionally or unintentionally, using the symbols that the Nazis once used is not good-looking for presidential candidates. It shouldn't be difficult to criticize a political opponent without using an image.'