Summary of reviews by overseas media of 'Xbox Series X'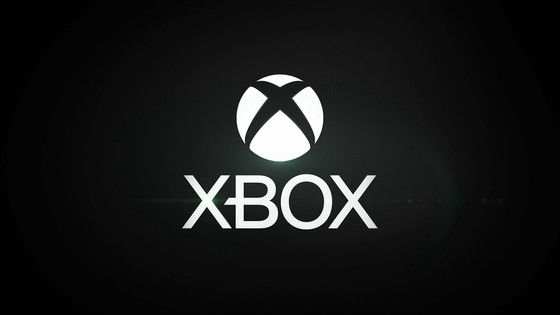 Many review articles of Microsoft's next-generation game machine '
Xbox Series X
' to be released on November 10, 2020 (Tuesday) have been published in Japan and overseas. I was curious about how overseas media evaluated
the Xbox Series X,
which
was also reviewed by GIGAZINE,
so I summarized it.
The Verge, an overseas technology media, has three advantages of Xbox Series X: 'performance and backward compatibility', '120fps support for smoother gameplay', and 'quick resume function', and 'non-removable' as a disadvantage. The stand looks ugly when placed horizontally, 'the launch title has no AAA title,' and 'expensive expansion storage.'
Xbox Series X review: a next-gen PC --The Verge
https://www.theverge.com/21548987/xbox-series-x-review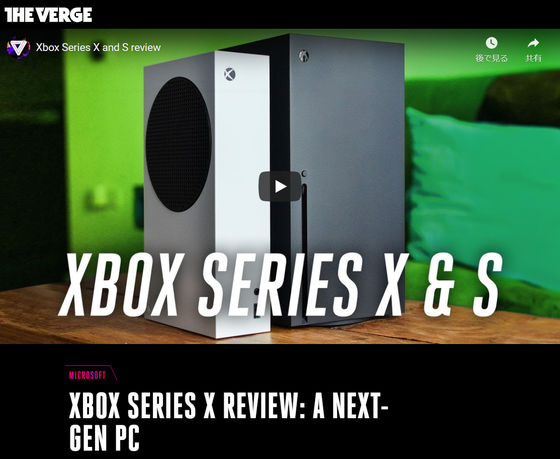 The Xbox Series X has an explosive game load time compared to existing game consoles, and the CPU that works in conjunction with the SSD enables much faster gameplay than the Xbox One X. And that. The Verge said he actually played a variety of titles and noted that all games had reduced load times. In addition, Xbox Series X is equipped with 1TB SSD, but the actual usable storage capacity is 802GB, and it seems that 198GB of space is reserved for the OS and quick resume function.
The Xbox Series X also supports extended storage, but at the time of writing the article, the only option is Seagate's 1TB, $ 219.99 (about 23,000 yen), so The Verge said, 'Expanded storage is too expensive. '.
The updated titles for the Xbox Series X are said to be able to maximize performance from SSDs by using Microsoft's new Velocity architecture. Therefore, if you have data stored on a USB storage, you will not be able to play titles that use the Velocity architecture. However, most backward-compatible titles do not use the Velocity architecture, which allows them to be played by reading from a USB storage.
Also, although only some titles are still available, Xbox Series X can now be played at 120fps. With the Xbox Series X also supporting output at 120 fps, The Verge wrote that 'the Xbox Series X began to feel like a PC', for FPS players who emphasize frame rate rather than resolution. Also says that the Xbox Series X should be seen favorably. Also, when I actually played
Gears 5
at 120 fps, I thought, 'By reaching 120 fps, the lag between video and input has been reduced, and the gameplay is smoother than I have ever experienced on Xbox. Is now possible. '
In addition, regarding the 'quick resume function' that can switch the game being played in just 10 seconds, 'Although the supported titles are still limited, it works really well', and more in the future I hope that the title will be able to use the quick resume function.
The Verge said, 'One of the big problems remains is that Microsoft's 23 game studios haven't yet offered next-generation titles that can truly bring out the features of the Xbox Series X. We need a new title to make the powerful hardware and sophisticated user experience feel like a whole new thing, 'he said, lamenting that there is no title at the time of launch that truly brings out the power of the Xbox Series X. I am.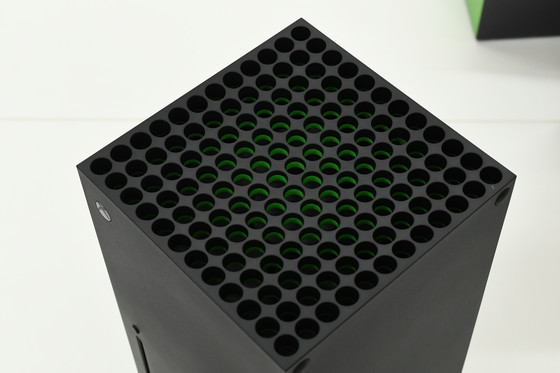 Ars Technica, a technology media outlet, titled the Xbox Series X and Xbox Series S review article, 'The Xbox Series X / S is beautiful and powerful, but what on earth should I play?' Like Verge, I'm lamenting the lack of launch titles.

Xbox Series X / S review: Beautiful, powerful—but whatcha gonna play? | Ars Technica

https://arstechnica.com/gaming/2020/11/xbox-series-xs-review-beautiful-powerful-but-whatcha-gonna-play/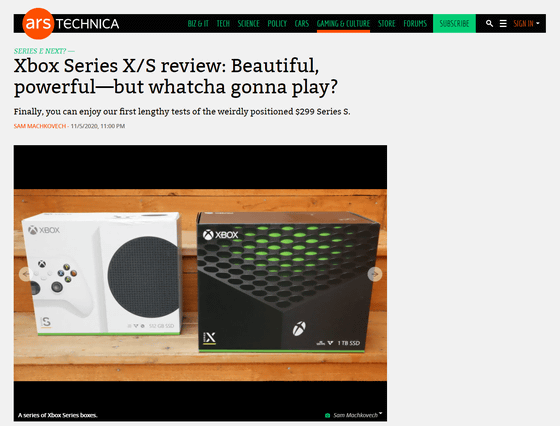 Ars Technica claims that the Xbox Series X / S is 'the least important device in the history of the Xbox ecosystem,' and 'this is definitely a good sign.' Microsoft has expanded Xbox so that it can be played not only from home video game consoles, but also from PCs and cloud gaming services, and as a result, game consoles have become less important.
Ars Technica has the advantages of the Xbox Series X / S: 'Both have incredibly low performance costs.' 'Perfectly designed hardware works quietly whispering, whichever. The model also looks great. "" Excellent
home UI
"" Xbox Series X delivers much faster load times than most high-end PCs with Windows 10 "" Xbox Series S has higher resolution. Although limited to 1440p, it also achieves the same high load time. "" Strong backward compatibility allows you to play past titles while using high speed load time, quick resume function, automatic HDR function, etc. '.
The downside is that the Xbox Series S has too little internal storage (500GB and 364GB of space actually available), but adding NVMe 4.0-enabled storage makes it more expensive than buying an Xbox Series X. 'Xbox Series S backward compatibility mode is hampered by scaling older titles to the Xbox One version, which causes it to run with lower performance.' 'Xbox Series X and Xbox Series S Performance 'The Xbox Series X's rectangular design is unique in appearance, but its unique shape can be a problem when stowed.'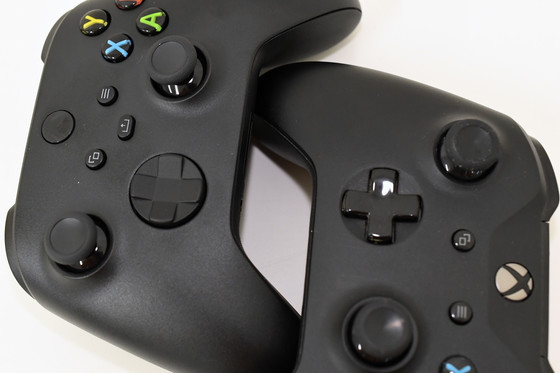 And the worst point is that 'there is no title that truly measures the performance of next-generation game consoles.'

Technology media Know Techie said, 'You may not need a new Xbox on the release date,' he said, as there is no title that can only be played on the Xbox Series X, so there is no need to rush to buy.

Review Roundup: Xbox Series X and Xbox Series S
https://knowtechie.com/review-roundup-xbox-series-x-and-xbox-series-s/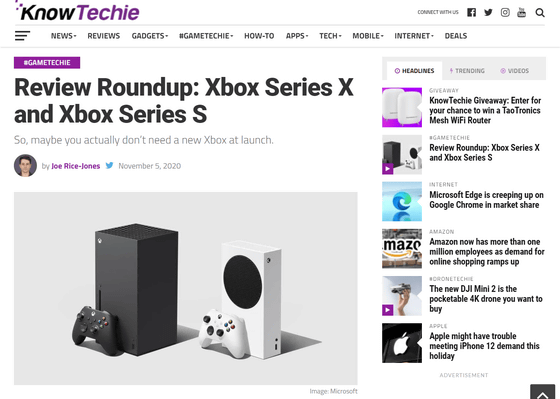 The New York Times, an overseas media outlet, published a review entitled 'Microsoft's new game consoles are at a great price. But is that enough?'

Xbox Series X and S Review: Microsoft's New Consoles Are a Good Value. Is That Enough? --The New York Times
https://www.nytimes.com/2020/11/05/technology/personaltech/xbox-series-x-series-s-review.html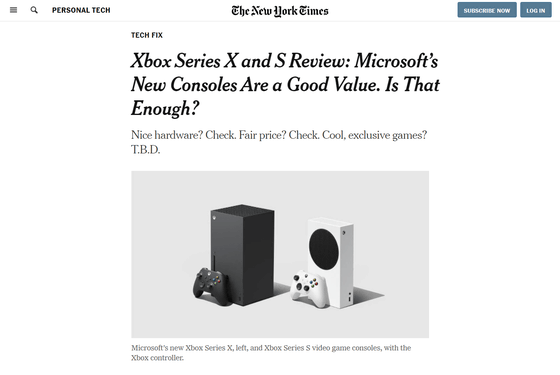 Mike Isaac, who was in charge of reviewing the Xbox Series X / S at The New York Times, is a believer who has been playing games on Xbox for many years since Halo first appeared on the first Xbox. With the advent, the original Xbox was prioritized over PlayStation, but the Xbox Series X / S, which has just appeared nearly 20 years ago, does not have the same feeling, 'he said, saying that there is no title dedicated to Xbox Series X / S. Pointed out.

Still, the Xbox Series X has 'many similarities in terms of hardware' with the PlayStation 5 (PS5), which will be the number one competitor. It is evaluated that it is comparable to PS5 in terms of hardware, such as installing a high-speed SSD to shorten the loading time of the game and adopting a GPU that supports ray tracing. However, he added, 'Because the hardware has the same evaluation, it is important to differentiate in terms of software, such as introducing an extra exclusive title.'

The New York Times is one of the strengths of Xbox Series X / S, such as ' XBOX GAME PASS ' that allows you to play a huge game library from 1100 yen per month, and titles purchased on Xbox One upgraded for Xbox Series X / S. If so, it lists a 'smart delivery feature' that will allow you to play on Xbox Series X / S for free.

He also pointed out the high cost performance of the Xbox Series X (49,800 yen excluding tax), which is equipped with a 1TB SSD and can play games at 4K / 120fps, and although it is cheaper, only gameplay at 1080p I can't, and I'm questioning the Xbox Series S (29,980 yen plus tax), which has only 500GB of SSD installed.

In the end, The New York Times said, 'PlayStation will continue to dominate this generation,' he said. 'If you can only buy one console, you should choose PS5 over Xbox Series X.'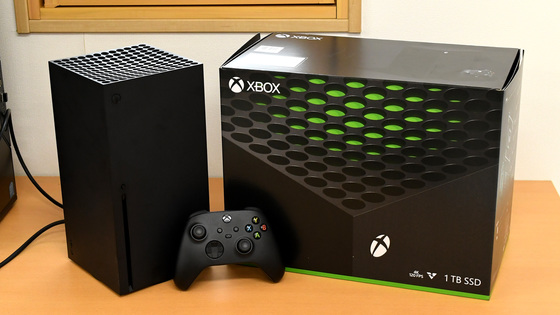 Game media Eurogamer.net said, 'The Xbox Series X is a great console, but it may not have many advantages (such as quick resume functionality) on its launch date. In addition, the lack of advantages is the next generation game. It also includes the lack of first-party titles needed to boost the game. In addition, Microsoft is gradually evolving with the Xbox Series X, in contrast to the revolutionary changes Sony is aiming for in the PS5 generation. There seems to be a problem with choosing the Xbox Series X, 'he said, adding that, like other media, there are few factors that make you think you have to buy the Xbox Series X on the release date.

Xbox Series X review: next generation games machine, continuity console --or both? --Eurogamer.net
https://www.eurogamer.net/articles/digitalfoundry-2020-xbox-series-x-console-review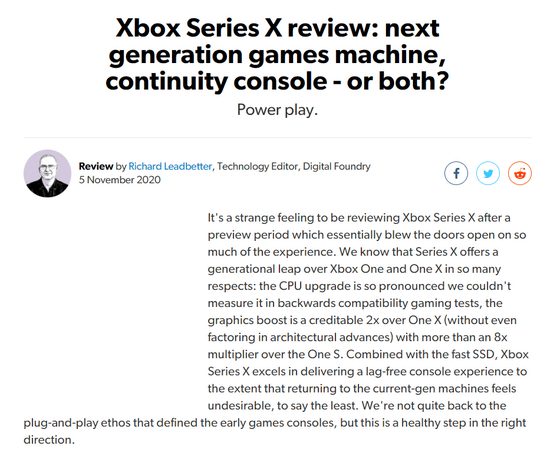 While many media have pointed out the lack of launch titles, game media Polygon praised the Xbox Series X, saying 'Microsoft has regained the magic of the Xbox 360 era.' In particular, we praised XBOX GAME PASS as 'a killer app for Xbox Series X' and have given a certain evaluation to the improvement of hardware specifications such as chips that realize 4K / 120fps graphics and high-speed SSDs.

Xbox Series X review: Microsoft recaptures the magic of the Xbox 360 --Polygon
https://www.polygon.com/reviews/21547603/xbox-series-x-review-microsoft-next-gen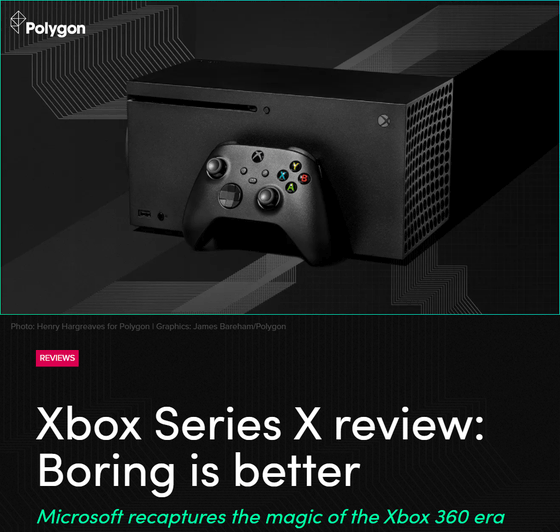 Polygon cites 'long-time Xbox fans who want the best experience' and 'game beginners who want the best experience and are willing to pay for it' as users who should buy the Xbox Series X.

Conversely, users who may not need the Xbox Series X include 'people who don't own a 4K TV or don't plan to buy it in the near future' or 'especially if they own an Xbox One X and are currently 'People who don't need or plan to play games on Xbox Series X maximum settings', 'People who already own a high-spec gaming PC', 'I want to play games, but it's so powerful People who don't need things or expensive things. '

The Guardian said of the Xbox Series X / S, 'It's a great game console because it works super fast and seamlessly and has access to the XBOX GAME PASS. However, many of the controllers and interfaces have changed from the existing ones. Not that, and the fact that there are few new launch titles is just weird. ' However, The Guardian says, 'I wouldn't scream' buy the Xbox Series X / S now, 'but there's little criticism as well. Microsoft has improved all the promised points, and they're fine. It's working, 'he said, with few criticisms.

Xbox Series X and Series S review: no-nonsense, next-generation gaming | Games | The Guardian
https://www.theguardian.com/games/2020/nov/05/xbox-series-xs-review-game-gaming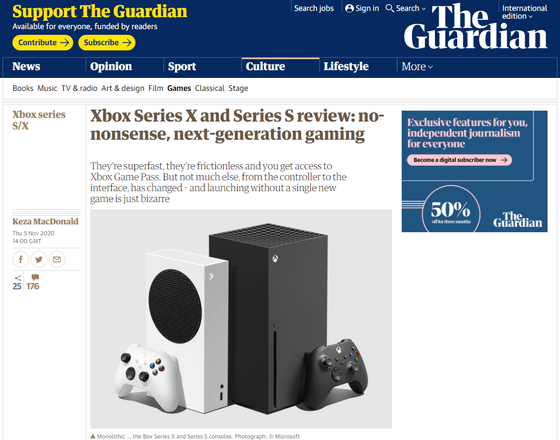 CNET has three advantages of Xbox Series X: 'Supports resolutions up to 8K and refresh rates up to 120Hz,' 'Easy app-based setup,' and 'A wide ecosystem from cloud gaming to XBOX GAME PASS.' He mentioned three bad points: 'there is no optical audio output,' 'there are few Xbox Series X-only titles,' and 'the user interface remains cluttered.'

Xbox Series X review: No gimmicks, but one secret weapon --CNET
https://www.cnet.com/news/xbox-series-x-review-gaming-console-microsoft-no-surprises-gimmicks-secret-weapon-game-pass/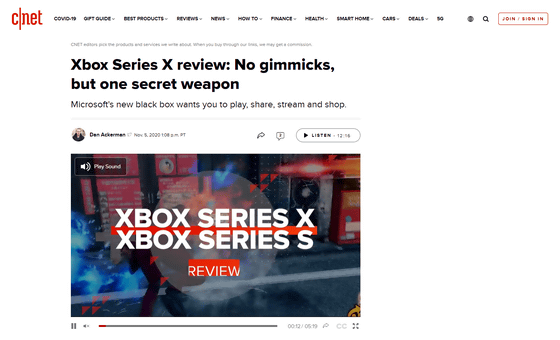 The Washington Post describes the Xbox Series X / S as 'a terribly familiar game console.'

Xbox Series X review, Series S comparison: Next-gen feels familiar --The Washington Post
https://www.washingtonpost.com/video-games/reviews/xbox-series-x-review/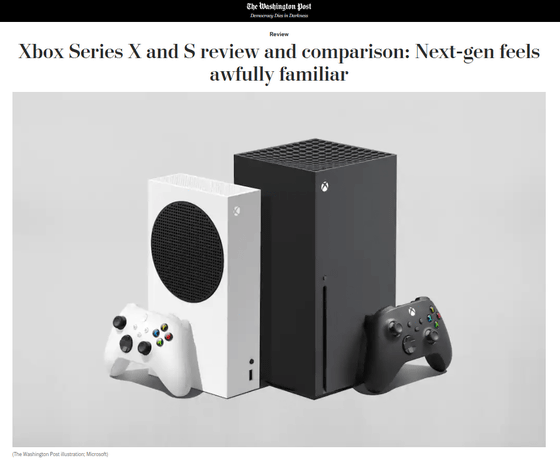 The Washington Post describes the Xbox Series X as 'people who have invested in the Xbox ecosystem for years,' 'people who are interested in titles like Gears of War , Fable , and Forza Horizon 4 ,' and 'PCs.' Those who have one but aren't interested in replacing their graphics card or storage for the next few years. '

'Even if you don't have a 4K TV or monitor, you can certainly see faster load times and better gameplay performance, like when you switch from an iPhone 6 to an iPhone 12. ', And endorsed the performance improvement of Xbox Series X.

USgamer also pointed out that there is no title to support purchase, saying that 'the killer app does not exist yet' for Xbox Series X. However, the Xbox Series X has very powerful hardware, and it also has excellent features such as strong backward compatibility and XBOX GAME PASS.

Xbox Series X Review: Microsoft's Powerful Next-Gen Console is Still Lacking Its Killer App | USgamer
https://www.usgamer.net/articles/xbox-series-xs-microsoft-console-review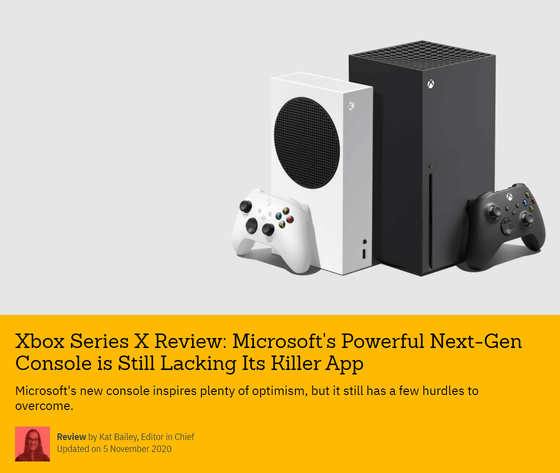 Also, in response to the first question 'whether or not to clean up the old game console' when purchasing a new game console, PS5 needs to leave PS4 as it is if you want to play PS4 games. However, in the case of Xbox Series X, I praise that there is no problem even if I clean up the Xbox One due to strong backward compatibility.

Gaming media Kotaku describes the Xbox Series X as 'a much more powerful Xbox One with a new look, ultra-fast load times, and buttons on the controller.' In addition, Kotaku described the Xbox Series X as 'the most box-shaped game console Microsoft has ever manufactured.'

Xbox Series X Review: A Much Better Xbox One
https://kotaku.com/xbox-series-x-the-kotaku-review-1845578573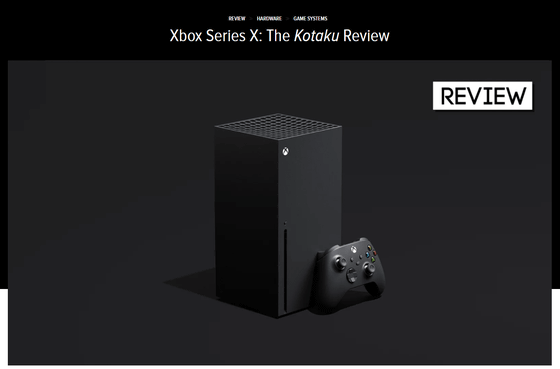 Game media IGN said, 'Although the Xbox Series X has few points to judge at this point, we can speculate that it will eventually become a new and spectacular next-generation game console that will surprise us. No matter which game you play in the meantime, the loading time will be significantly reduced, the frame rate will be improved, and the resolution will be higher. 'It is difficult to judge because it is an unfinished game machine at the time of writing the article. Pointed out. Furthermore, it is quieter than PS5, and it is said that there are unique functions such as quick resume function.

Xbox Series X Review --IGN
https://www.ign.com/articles/xbox-series-x-review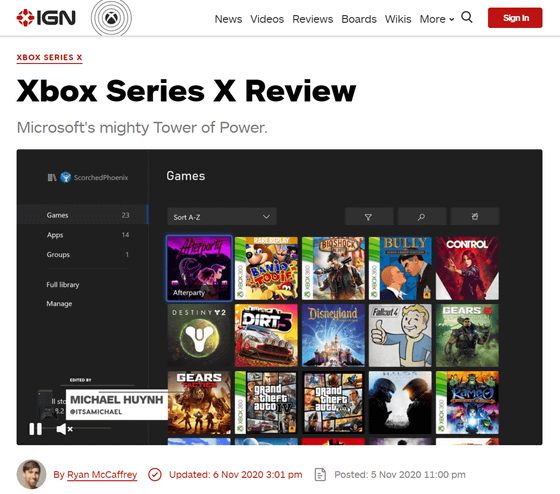 Engadget praises the Xbox Series X as a 'quiet gaming PC in the living room' for its high graphics performance and high-speed SSDs. Engadget has five advantages of Xbox Series X: 'powerful hardware,' 'almost silent fans,' 'fast SSDs that reduce load times,' 'strong backward compatibility,' and 'the ability to add HDR to older games.' He pointed out two disadvantages: 'Release without attractive titles' and 'There are almost no titles compatible with ray tracing, which should have been one of the features'.

Xbox Series X review: A 4K beast in need of games | Engadget
https://www.engadget.com/xbox-series-x-review-microsoft-140045437.html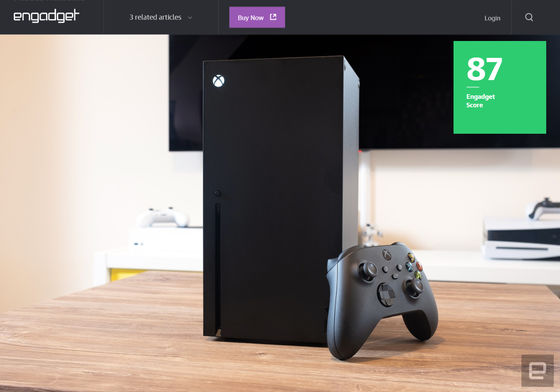 SlashGear said of the Xbox Series X, 'It works great right out of the box, and at the same time, it's a perfectly familiar console and feels good to use. Microsoft seems to have learned lessons from the failure of the Xbox One. That's it, 'he said, and said that it was well worth 49,800 yen excluding tax.

Xbox Series X Review – Console as time machine --SlashGear
https://www.slashgear.com/xbox-series-x-review-console-as-time-machine-05645650/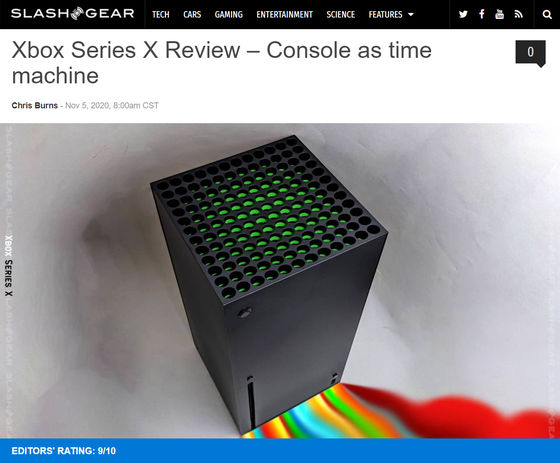 SlashGear has the advantages of Xbox Series X: 'Play games / movies at 4K / 120Hz or 8K / 60Hz' 'Remote play' 'Play most of the traditional Xbox titles' 'Old Xbox look and play 'It's a terminal that seems to be improved' and 'It's possible to make a super-easy transition from the previous model.'

On the other hand, the disadvantages are that 'Xbox / Microsoft account is required', 'more reliance on internet connection than ever', 'inventory is limited at the time of release', and the review by the media Rarely among them, the lack of launch titles was not a drawback.

MCV / DEVELOP also cited the small number of launch titles, and pointed out that the delay in the release of Halo Infinite, which was scheduled to be released as a launch title , until 2021 was a pain. Still, looking at the hardware alone, the Xbox Series X praised it as an 'innovative device,' stating that 'the hardware and software match at a level rarely seen in game hardware.' I will.

Xbox Series X review – a brilliant balance of continuity and evolution | Consoles | MCV / DEVELOP
https://www.mcvuk.com/business-news/consoles/xbox-series-x-review-a-revolution-in-continuity/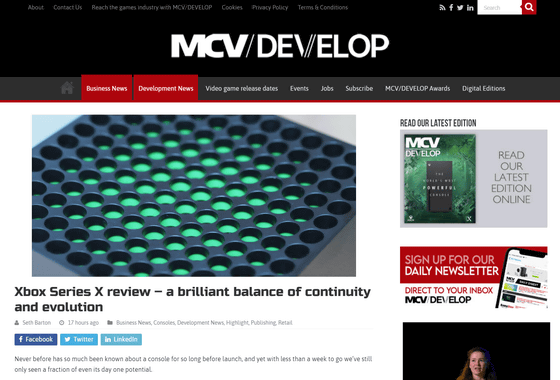 Digital Trends rates the Xbox Series X on a 5-point scale of 3.5. The four advantages of Xbox Series X are 'mass of possibilities,' 'more storage than PS5,' 'rich library accessible from XBOX GAME PASS,' and 'excellent price.' On the other hand, he cited three drawbacks: 'There is no outstanding launch title,' 'It is impossible to fit in most TV racks,' and 'The potential as a next-generation game console remains undeveloped.'

Xbox Series X Review: Phenomenal Power, But No Launch Game | Digital Trends
https://www.digitaltrends.com/video-game-system-reviews/microsoft-xbox-series-x-review/



Digital Trends also said, 'Although the Xbox Series X is a powerful system, we still don't have the title to fully demonstrate its capabilities. With its sharp graphics, familiar interface, and fast load times, this It can be a strong competitor to generations of consoles, but having fewer titles to play means you don't have to rush to buy it, 'he said. There is little reason to buy it.

GameSpot said, 'The Xbox Series X is a very sophisticated game console, and it's also a great technology for Microsoft to lay a strong foundation for better service to its users. Microsoft acquired Game Development Studio. Considering what titles will be announced in the future, I think the future of Xbox Series X is bright. 'Although I am worried about the small number of launch titles, the future is bright.

Xbox Series X Review: Playing The Future --GameSpot
https://www.gamespot.com/articles/xbox-series-x-review/1100-6484104/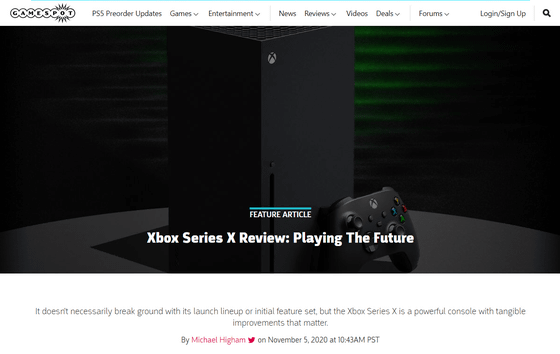 Windows Central said of the Xbox Series X, 'I wasn't disappointed with the hardware. It's powerful and sophisticated, so games optimized to take advantage of all the new hardware features are really great. However, it's unclear how much Microsoft can create AAA titles that take advantage of the features of the Xbox Series X. '

Xbox Series X review: Powerful and bold — with a games lineup that's uncertain | Windows Central
https://www.windowscentral.com/xbox-series-x-review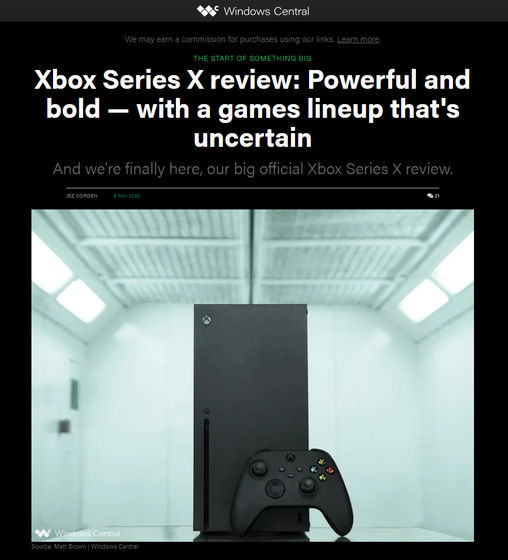 The advantages of Xbox Series X mentioned by Windows Central are 'powerful hardware and excellent design', 'efficient cooling and quiet fan', 'quick resume function that allows you to restart multiple games quickly', and 'XBOX GAME PASS'. The future is exciting. ' There are two disadvantages: 'The game's disastrous launch title' and 'Unfortunate media center feature'.

Bloomberg says, 'The Xbox Series X is the most powerful game console ever manufactured. However, the title lineup released for the Xbox Series X in 2020 is scarce, so it's a' powerful game console. ' The dots don't make sense for a while. ' In addition, the biggest selling point is that the load time has been shortened in particular. 'Although the load time is not completely gone, there is almost no time to check Twitter during the load time between games. '.

Xbox Series X Review: Future of Video Games Not Quite Here Yet --Bloomberg
https://www.bloomberg.com/news/articles/2020-11-05/xbox-series-x-review-future-of-video-games-not-quite-here-yet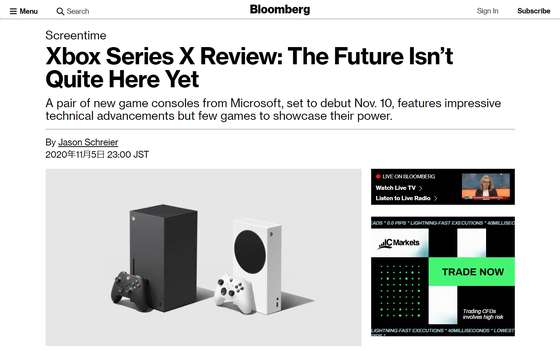 In addition, Xbox Series X has already been reviewed in GIGAZINE, so if you are interested, please check it as well.

Next-generation game machine 'Xbox Series X' that can output 4K HDR video at 120Hz Play review, high quietness and simple and light UI are attractive --GIGAZINE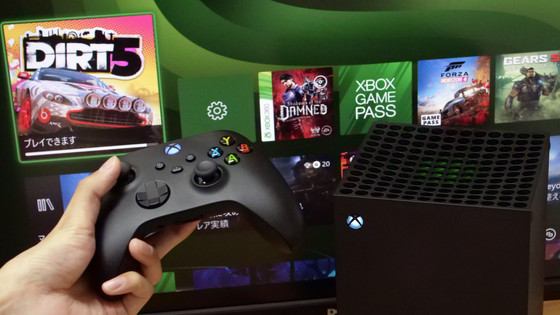 in Game, Posted by logu_ii