Qualcomm announces mobile PC chip 'Snapdragon 8cx Gen 2 5G' compatible with both Sub6 & millimeter wave 5G communication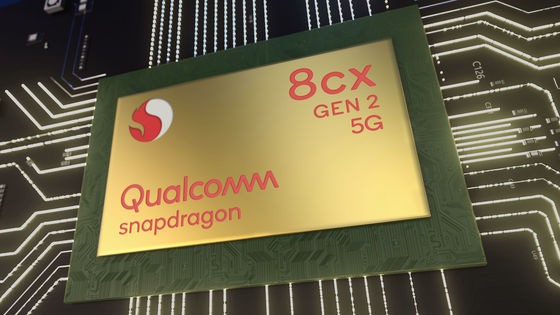 Chip maker Qualcomm has announced a 5G compatible chip ' Snapdragon 8cx Gen 2 5G ' for mobile PCs. Snapdragon 8cx Gen 2 5G supports both Sub 6 and millimeter waves, and
Wi-Fi 6
is also supported.
Qualcomm Drives 5G PC Ecosystem Expansion with Next Generation Compute Platform, Powering New 2-in-1 Laptops from OEMs Including Acer in 2020 | Qualcomm
https://www.qualcomm.com/news/releases/2020/09/01/qualcomm-drives-5g-pc-ecosystem-expansion-next-generation-compute-platform
The Snapdragon 8cx Gen 2 5G is the next-generation model of the
Snapdragon 8cx
that was introduced in December
2018.It improves
the overall system performance and battery life by 50% or more, and 'is always powered on and connected to the net'. It aims to be able to continue using the device for several days.
Snapdragon 8cx Gen 2 5G has Qualcomm Kyro 495×8 core with 7nm CPU and CPU is Qualcomm Adreno. Also, the supported memory is LPDDR 4X × 8 ch, and the supported storage is NVMe and UFS 3.0.
And Snapdragon 8cx Gen 2 5G is equipped with Qualcomm Hexagon 690 in AI compatible processor and supports Qualcomm Sensing Hub technology. It provides AI performance with better power efficiency, and you can experience its ability especially by using eye contact and avatar in video conferencing tools.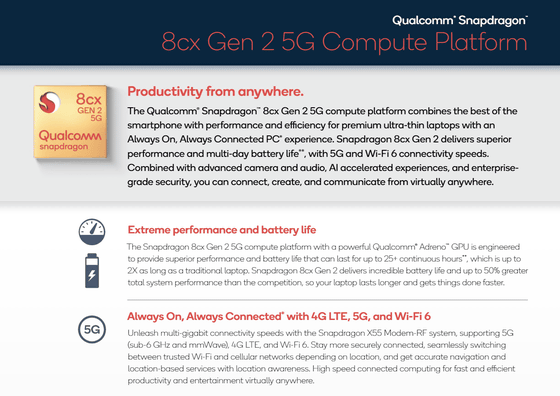 There are two types of 5G lines: 'Sub6' that uses the frequency band below 6 GHz and 'millimeter wave' that uses the frequency band from 28 GHz to 300 GHz. The feature of Snapdragon 8cx Gen 2 5G is that it supports both. It also supports Wi-Fi 6, and the Snapdragon 8cx Gen 2 5G allows connected devices to stay connected all the time, helping to ease crowded networks.

Qualcomm Aqstic Echo Cancellation and Noise Suppression technology improves audio performance and supports up to 4K HDR and up to 32 megapixel cameras, enabling state-of-the-art video conferencing and live streaming capabilities. Appealing.

According to IT-based news media The Verge , this Snapdragon 8cx Gen 2 5G will be installed for the first time in the 5G compatible model of Acer's tablet PC `` Spin 7 '', but the specific model of Acer Spin 7 5G compatible Pricing and release dates have not yet been announced.

The Acer Spin 7 is the first laptop with Qualcomm's new Snapdragon 8cx Gen 2 5G chip-The Verge
https://www.theverge.com/2020/9/3/21409502/acer-spin-7-qualcomm-snapdragon-8cx-gen-2-5g-chip-ifa-2020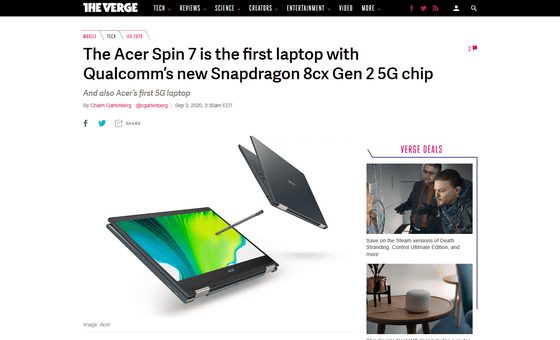 Qualcomm has announced Snapdragon 8cx Gen 2 5G as well as its own noise cancellation technology ' Adaptive ANC ' for wireless earphones. Qualcomm is already working with earphone makers such as Samsung Galaxy Buds, which competes with Apple's AirPods, and Sennheiser and Audio Technica.