There is a bug that all photos disappear in the latest version of Lightroom for iOS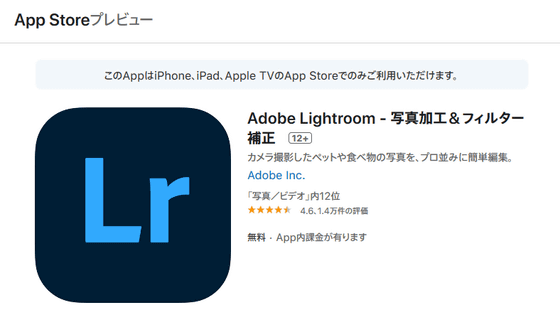 After applying the latest update to the iOS version application of Adobe Photoshop Lightroom, which is Adobe's photo editing software, a bug occurs in which all presets and photos of the application are deleted. Confusion has spread around the bug community around the bug, and some even argue that deleted data may have disappeared completely.

Adobe accidentally deleted people's photos in latest Lightroom update-The Verge
https://www.theverge.com/2020/8/20/21377411/adobe-lightroom-ios-ipados-app-update-pictures-photos-presets-deleted

Adobe confirms Lightroom iOS photos erased due to update bug are'not recoverable'-9to5Mac
https://9to5mac.com/2020/08/20/adobe-confirms-lightroom-ios-photos-erased-due-to-update-bug-are-not-recoverable/

Since around 18th August 2020, reports such as 'When applying the latest update of Lightroom for iOS, the photo data saved in the application has been deleted' have been reported one after another on overseas bulletin board sites such as Reddit. One Reddit user said, 'I have been talking to customer service for more than 4 hours in the last two days and the problem hasn't been fixed a minute ago. Customer service said lost photos are unrepairable. Has been told," and reports that over two years of photos edited in Lightroom for iOS have disappeared.

Twitter user Lauren Lambert said, 'Is anyone else missing a photo or preset with Adobe's Lightroom update? That's literally the worst. I have 800 photos and paying tens of thousands of dollars I lost my presets' and reported that not only the photos edited in Lightroom, but also the paid presets were deleted.

Did anyone else lose all your @Adobe @Lightroom photos and presets with their last update?! ???? This is literally the worst.I lost 800 pictures and all my paid presets (which are worth hundreds of dollars.) All they have to say is we apologize. ???? pic.twitter.com/5xGsJ3nEaR

— Lauren Lambert (@llambert89) August 20, 2020


Rikk Flohr of Adobe is reported to update Lightroom for mobile version 5.4.0 on iPhone and iPad on the official forum after users are notified that the update of Lightroom for iOS will delete photos and presets synced to the cloud Admits that photos and presets that have not been deleted may be deleted. Flohr added that the photos and presets that were deleted in the update were: 'Some customer presets will not be restored. Some customers know that some photos and presets cannot be restored. We sincerely apologize to the affected customers."

iOS: Missing Pictures, Presets, and Watermark Data after 5.4 Update | Photoshop Family Customer Community
https://feedback.photoshop.com/photoshop_family/topics/lost-my-pictures-and-presets-after-update-today-18th-august-2020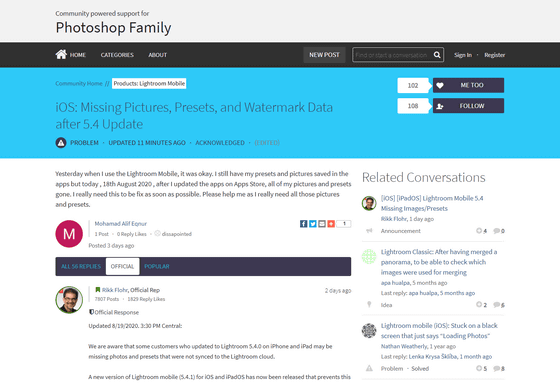 In addition, Adobe also acknowledges on the support page that some users who have updated to Lightroom for mobile version 5.4.0 have a bug that causes photos and presets to be deleted. According to Adobe, the bug that photos and presets are deleted seems to be affected only by users who use Lightroom for iOS without a subscription, and for Android version, macOS version, Windows version, Lightroom Classic It is not affected by the bug. In addition, deleted photos and presets cannot be restored even if you install version 5.4.1, which fixes a bug.

Lightroom for mobile (5.4.0) on iOS and iPadOS
https://helpx.adobe.com/lightroom-cc/kb/lightroom_mobile_5_4.html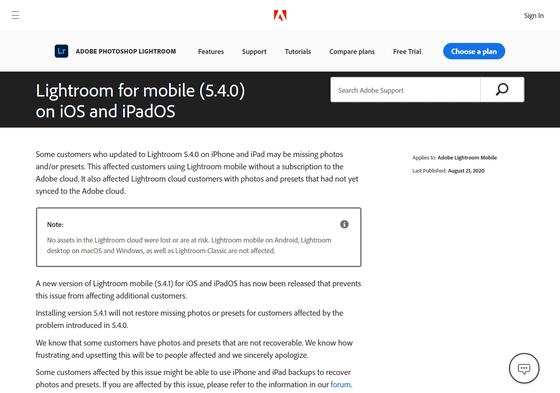 Note that Adobe has noted that some users may be able to restore data from iPhone or iPad backups.