'App store app review is not in the user's interest,' an email appealing to Tim Cook CEO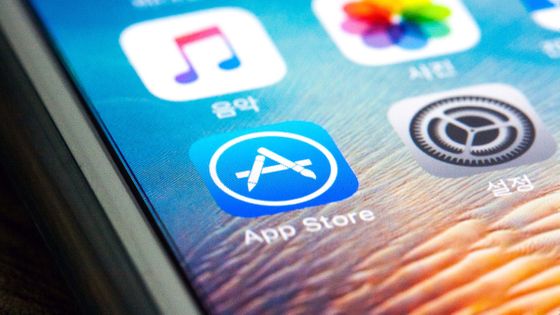 by
YunHo LEE
App Store, the app distribution platform for iOS, has undergone a rigorous examination by a dedicated team to check whether the app has any problems before it is published. Regarding such Apple's app review, an email was appealed to the CEO
Tim Cook
that the iOS app developer said, 'App Store app review is too powerful and not in the user's interest,' and was found on the Internet. It has become a hot topic.
iOS evangelist giving up apps based on appreview team | 015127.pdf
(PDF file) https://judiciary.house.gov/uploadedfiles/015127.pdf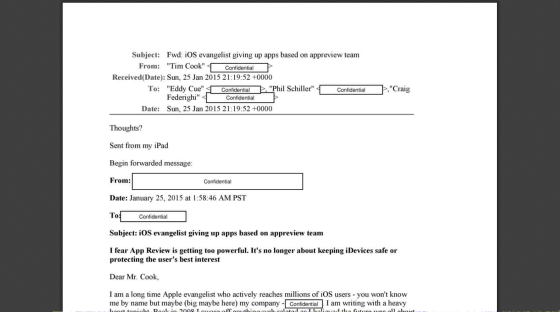 The date of the discovered email is January 25, 2015, and the person who is the author of the email operates an iOS application development company. In 2008, the author gave up on the web, and believes that it is now the age of apps, and has been focusing on development to improve people's lives through iOS apps.

As a result of continuing to develop iOS apps for several years since there was no iOS
software development kit,
the apps released by my company were downloaded by many users. However, it seems that the App Review team, who reviews the app in 2014, deleted the main application of the company.
Previously, my company had been hit hard by less than half its revenue as Apple changed its affiliate program rules. At this time, he seems to have endured with the idea that 'the application provided to the user, not the money is their core mission', but the situation that the essential application is deleted by Apple's hand was a big shock.


The review team pointed out that my app 'recommends other apps' violates App Store rules. I'm confused by the pride that I've been running a healthy business, but I've worked on a fix to republish the app on the App Store. However, even though I thought that I could correct it completely, the application was just rejected due to the fixed phrase and I wrote that I had to give up re-publishing the application.

Although I had no choice but to return to the web where I had to give up, I argued that offering the service on the web instead of the iOS app would inevitably reduce the user experience and the number of reachable users. The revenue is far less than the app, so the email says it has to shrink the size of the company.

The authors argue that their app has been well received by users and has received countless thank-you emails. 'I want Apple to take the role of App Review seriously.' 'I can't believe App Review helps the App Store thrive, and I'm hindering the user experience.' The author noted that it was a problem that the App Store app review had too much power.

After this email became a hot topic on the Internet, on the social news site Hacker News, the person with the user name 'mhafez17' claimed to be the author of this email. mhafez17 says that Apple isn't the only one who suddenly deleted an app, and many peers have suffered more from app reviews.

Wow. I am the author of this email. I have no idea how it resurfaced after 5 yea... | Hacker News
https://news.ycombinator.com/item?id=24190694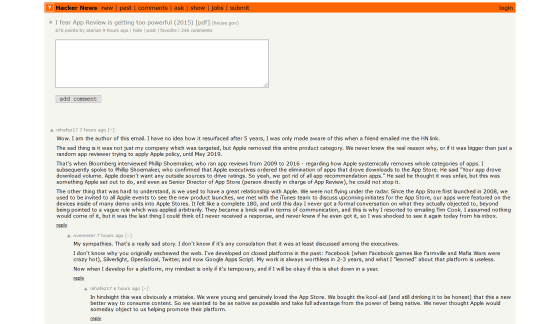 A few years after sending this email, mhafez17 had the opportunity to talk to Phillip Shoemaker, who was in charge of app review at Apple from 2009 to 2016. "Your app has boosted the downloads of other apps. Apple doesn't want external sources to boost app ratings, so we recommend all apps," Shoemaker said. "Apps" have been eliminated." Shoemaker himself felt this policy was unfair, but Shoemaker couldn't reverse Apple's decision.

Also, it seems that mhafez17 and Apple had a very good relationship before the app was removed. Mr. mhafez17 has been invited to events such as new product launches sponsored by Apple and has talked with the iTunes team about the future efforts of the App Store, so I still can not understand that Apple's response changed 180 degrees He said.

While sympathetic comments were sent to mhafez17 on Hacker News, 'Why did you avoid the web?' and 'It's dangerous to focus on a specific platform.' In response to these reactions, mhafez17 said, 'From now on, it was clearly a mistake to stick to iOS. We were young and we really loved the App Store.' At that time, I think it would be a strength to provide apps exclusively on iOS, and I did not think that Apple would oppose advertising the apps in the App Store.

This email was released as a document on Apple's market monopoly in a survey of market monopoly by an online platform being promoted by the United States House of Justice Committee . It seems that Mr. mhafez17 also does not know how this email got into the United States House of Representatives Judicial Committee, and there was no prior contact.

Online Platforms and Market Power | US House of Representatives Judiciary Committee
https://judiciary.house.gov/online-platforms-and-market-power/