US Department of Justice prosecuted that Chinese government hackers stole secrets worth several hundred billion yen from 11 countries including Japan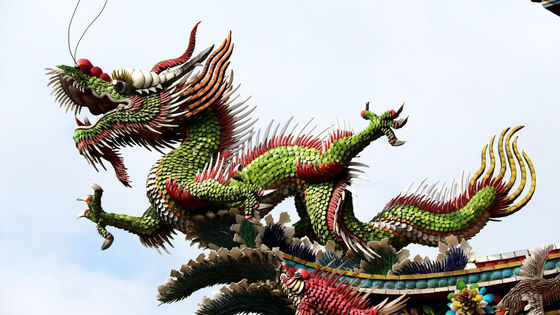 Based in China, he has repeatedly hacked into high-tech companies and government agencies around the world for more than 10 years and stole intellectual property related to military secrets and pharmaceuticals worth about several hundred million dollars (tens of billions of yen) The province has indicted two Chinese hackers. The two were suspected of involvement by the Chinese government, and Japanese companies were also targeted.

Li Xiaoyu and Dong Jiazhi indictment

https://www.documentcloud.org/documents/6999047-Li-Xiaoyu-and-Dong-Jiazhi-indictment.html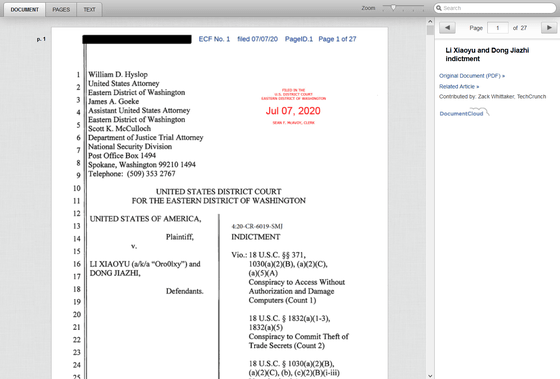 Two Chinese Hackers Working with the Ministry of State Security Charged with Global Computer Intrusion Campaign Targeting Intellectual Property and Confidential Business Information, Including COVID-19 Research | OPA | Department of Justice
https://www.justice.gov/opa/pr/two-chinese-hackers-working-ministry-state-security-charged-global-computer-intrusion
DOJ: Chinese hackers stole "hundreds of millions of dollars" of secrets | Ars Technica
https://arstechnica.com/tech-policy/2020/07/doj-accuses-chinese-hackers-of-trying-to-steal-covid-19-research-data/
The charges were Chinese nationals Li Xiuyu and Toshi Touji. According to the indictment, the two suspects received technical training in computer applications at the
University
of
Electronics and Technology in
China, and then at least 10 years from September 2009 to 2020, at least 10 years from the United States, Australia, Belgium, Germany, and Germany. He said he has continued to hack high technology companies such as Japan, Lithuania, the Netherlands, Spain, South Korea, Sweden, and the UK, as well as the munitions industry. 'Both suspects were commissioned by the Chinese government,' the Justice Department officially said. The following is a document released by the FBI that calls for information regarding both suspects.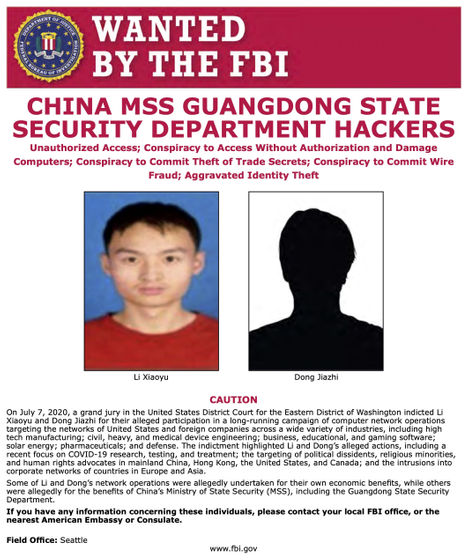 The target high-tech companies are medical equipment, industrial engineering, business, education, game software, solar energy, and pharmaceuticals. Most recently, it appears to have been hacking into an American biotechnology company developing vaccines and treatments for the new coronavirus. The total amount of damage caused by a series of hacks is worth hundreds of millions of dollars (hundreds of billions of yen), the Department of Justice notes.

The trick is to exploit known vulnerabilities in web server software, web application development suites, and
groupware.
I'm writing a guess. Both suspects were taking out the stolen confidential information as a
RAR file
so that it would not be detected. The invasion was said to be frequent, sometimes with a span of several years.


The two suspects each have a conspiracy to commit computer fraud (up to 5 years in prison), a conspiracy to commit business confidential fraud (up to 10 years in prison), a conspiracy to commit fraud in communications (up to 20 years in prison), and an illegal access (up to 5 years in prison). ) And a total of 11 charges of weighted identity theft, 7 in total.

``China, alongside Russia, Iran, and North Korea, now provides cybercriminals with a safe place to work, in the interests of their own country,'' said John C. Demers, Assistant Secretary of National Security. 'We have joined the shameful nation to meet the tireless hunger for intellectual property such as the new coronavirus research that other companies have been struggling to develop,' he said. Promises to bring accountability to the Chinese government.'