A function to divide a movie into chapters was added to YouTube, I actually tried using it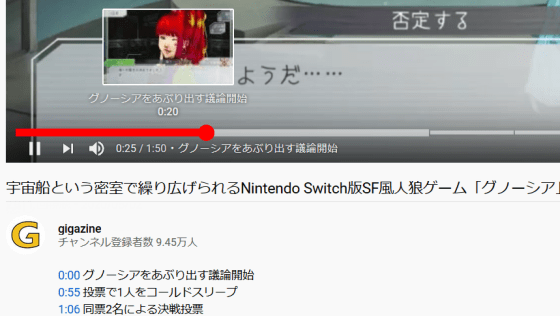 YouTube has announced that it will
introduce
the
chapter function
from May 29, 2020 (Friday), Japan time. The chapter function is introduced not only on PC but also on iOS and Android smartphones.
0:00 We heard you and added Video Chapters.
0:30 You liked it.
1:00 Now it's official: Video Chapters are here to stay.
1:30 Creators, try Chapters by adding timestamps starting at 0:00 to your video description. Viewers, scrub to find exactly what you're looking for.
2:00 Enjoy! Pic.twitter.com/bIHGsGVmyW

— YouTube (@YouTube) May 28, 2020


YouTube's new chapters feature is rolling out on desktop and mobile-The Verge
https://www.theverge.com/2020/5/28/21272095/youtube-chapters-feature-video-google-android-ios-desktop-mobile

For example, in a movie of a live concert, by setting a time stamp for each song, it is possible to play from the song you like, and in the game play movie of the game, it is possible to divide each scene. I tried adding a chapter to the movie that I played ' Gnocia ' on Nintendo Switch.

To add a chapter, you need to enter the chapter start time stamp and the chapter title in the video description. In addition, to add a chapter, 'start the time stamp from' 0:00 ',' specify 3 or more chapter start times ',' set each chapter to 10 seconds or more ' You need to protect.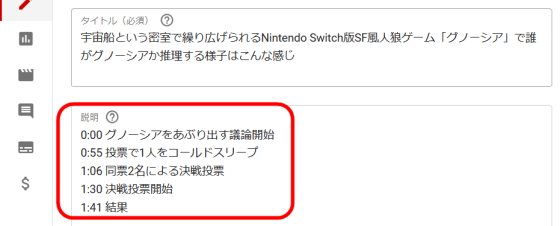 When you create a chapter, the chapter title will appear in the video progress bar.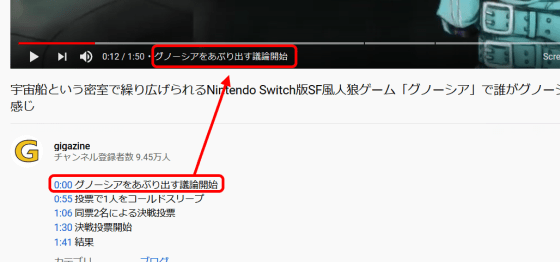 The chapter bar is also displayed on the progress bar.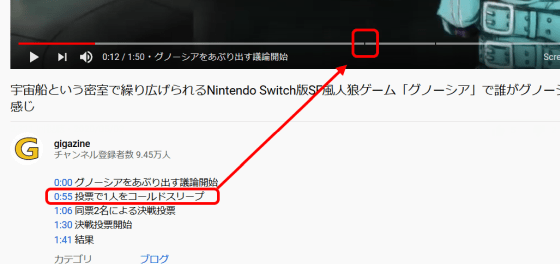 You can also drag the progress bar to see the mini window and chapter titles. Also, on smartphones, when you slide the progress bar with your finger, you will be notified of the chapter start position by vibration.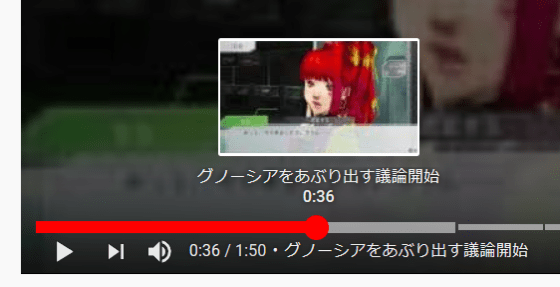 Previously, there was also the ability to click the time stamp and skip the movie to an arbitrary time.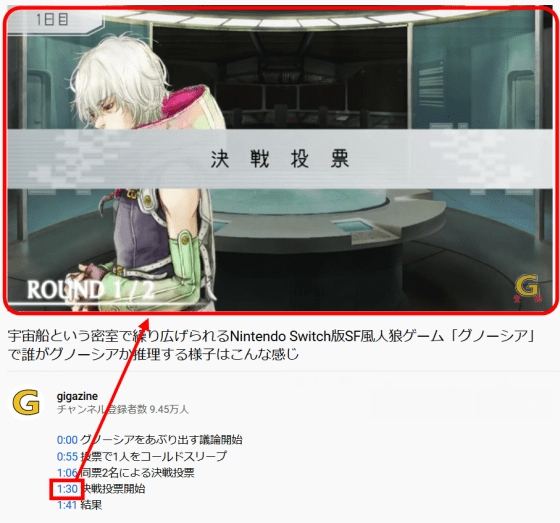 In addition, at the time of article creation, chapters are not automatically inserted in each movie, the poster side must visually check the movie and manually enter the position of the time stamp.

You can check the movie with the actual chapter added from the following. For embedded players, chapters are not displayed, so check the movie on YouTube to check the chapter function.

It is like this how to guess who is Gnocia in the Nintendo Switch version SF wind wolf game `` Gnocia '' that is held in a closed room called a spaceship-YouTube