Test operation of new coronavirus contact tracking application started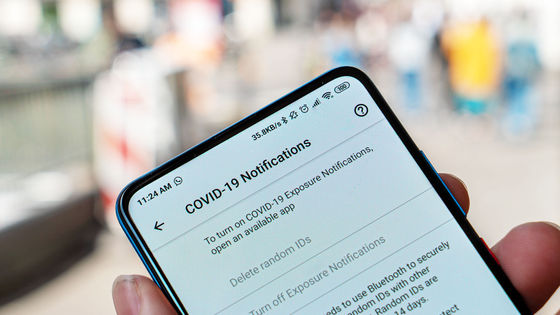 Swiss Federal Institute of Technology Zurich (ETHZ) and the Swiss Federal Institute of Technology Lausanne (EPFL) has been jointly developed, the new coronavirus infection (COVID-19) test the operation of the contact tracking application 'SwissCovid' has been started in Switzerland .. With this, Switzerland will be the first country in the world to utilize contact tracking apps using Apple and Google
APIs
.
Swiss tracing app goes on trial | ETH Zurich
https://ethz.ch/en/news-and-events/eth-news/news/2020/05/swiss-covid-app.html
Coronavirus: First Google / Apple-based contact-tracing app launched-BBC News
https://www.bbc.com/news/technology-52807635
On May 21, 2020, Apple released the latest version 'OS 13.5' of the OS installed in iPhone and other devices. iOS 13.5 includes new features such as
quick access to the passcode entry screen from Face ID when wearing
a
mask,
as well as 'API for COVID-19 contact tracking system jointly developed by Apple and Google' was introduced. It was
You can understand the update contents of iOS 13.5 by reading the following article.
`` IOS 13.5 '' released, Apple and Google's `` new corona virus infection contact notification API '' will be implemented-GIGAZINE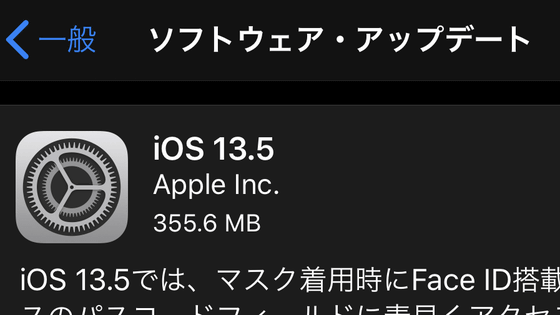 On May 25, 2020, ETHZ and others released 'Swiss Covid,' which was developed based on AP for the COVID-19 tracking system jointly developed by Apple and Google. SwissCovid's primary function is to track people infected with COVID-19 and alert people who come in contact with them. Once SwissCovid is installed on your smartphone, SwissCovid will use Bluetooth to find a device with SwissCovid installed. And when it finds a device within 2 meters of it for more than 15 minutes, it exchanges encrypted codes with each other.
SwissCovid users may optionally use SwissCovid to report to the municipality if they test positive for COVID-19. The municipality also anonymously notifies people who have been near the COVID-19 infected person via the exchanged cryptographic code. With this, it is possible to call attention to those who have had extensive contact with COVID-19 infected people, without clarifying who is infected with COVID-19.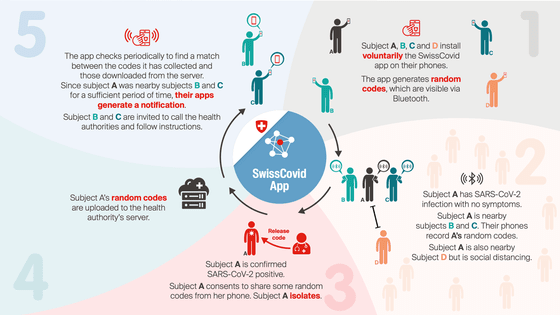 For the time being, SwissCovid will be used in beta by the Swiss military, medical staff, and civil servants, and will be available to all Swiss citizens by the end of June at the latest after approval by the Diet. This is the world's first effort by an app that uses an API for the COVID-19 contact tracking system, but the Republic of Latvia is also planning to introduce a similar app, Apturi Covid.

`` SwissCovid's data is processed locally and all data is automatically deleted in 21 days, '' said Professor Srdjan Capkun of ETHZ who worked on SwissCovid. 'Unmanaged, no data is sent from the device unless the user allows it. The SwissCovid app itself is also open source, and its design and implementation are all public,' he said. Made me confident.