Three new tasting reviews such as Lawson 'CUPKE (Kapke) Savory pie millefeuille' where sweet and sour strawberries and fluffy cream & crispy pie dough are stacked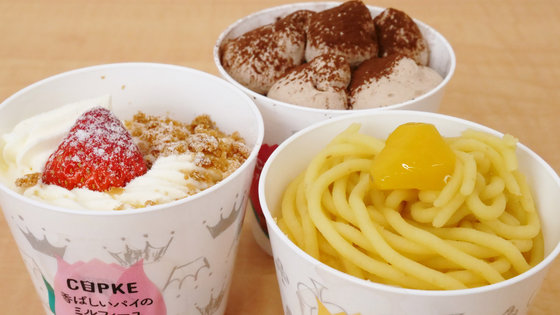 New works of Lawson's sweets series ' CUPKE ', ' Millefeuille of savory pie ', ' Chocolate of special cacao ', and ' Good old Mont Blanc ' have appeared on Tuesday, April 7, 2020. Instead of just a cupcake, I actually ate what kind of taste CUPKE's new spring product, in which 'a cake sold at a confectionery store' was placed in a small cup.

CUPKE Savory pie millefeuille | Lawson Official Site

https://www.lawson.co.jp/recommend/original/detail/1392106_1996.html
CUPKE Special Cocoa Chocolate | Lawson Official Site
https://www.lawson.co.jp/recommend/original/detail/1392108_1996.html
CUPKE Good old Mont Blanc | Lawson Official Site
https://www.lawson.co.jp/recommend/original/detail/1392107_1996.html
Three kinds of 'fragrant pie mille-feuille', 'special cacao chocolate', and 'good old Mont Blanc' look like this.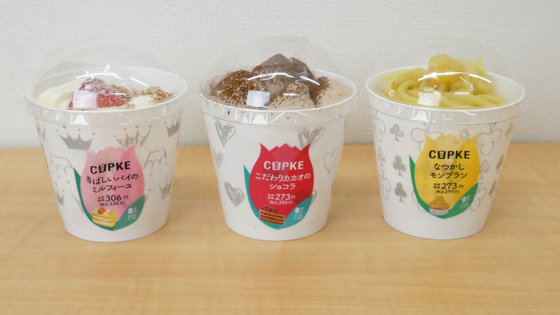 'Millefeuille of savory pie' (330 yen including tax) has pink tulips designed on the package.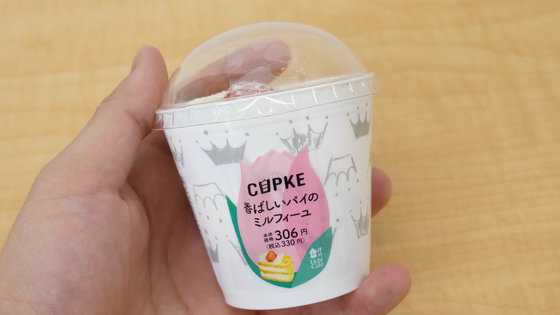 Ingredients include whipped cream, puff pastry, custard cream, eggs, sugar and strawberry sauce. The calories are 279kcal per one.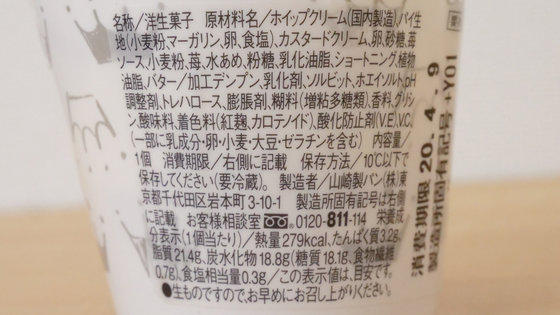 When I removed the cup lid, I saw red strawberries, white whipped cream, and a fox pastry, and powdered sugar was on top of it.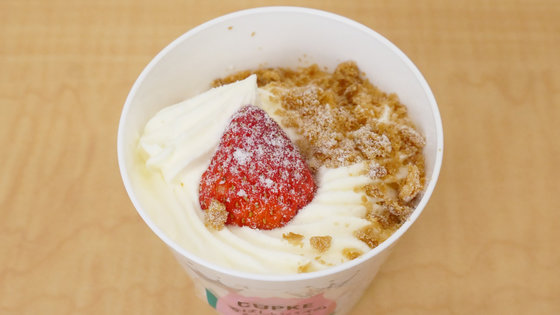 When you scoop and eat only the whipped cream in the upper part, it is rich and smooth.



When I rolled it further down with a spoon, it was layered with strawberry sauce, sponge cake, custard cream, and puff pastry. The puff pastry did not overlap like a real mille-feuille, and the crushed one was laid at the bottom, but when eaten with whipped cream or strawberries, due to the fragrance and bittersweetness of the puff pastry, Certainly, I was able to enjoy the taste of Millefeuille.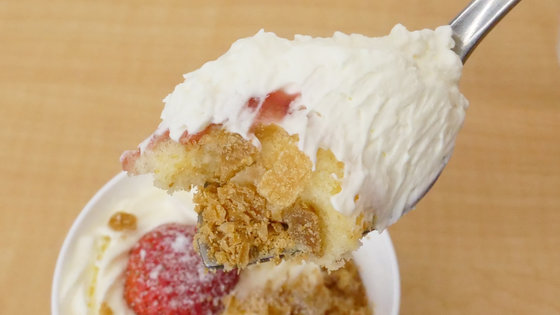 'Selective cacao chocolate' (295 yen including tax) is labeled with red tulips.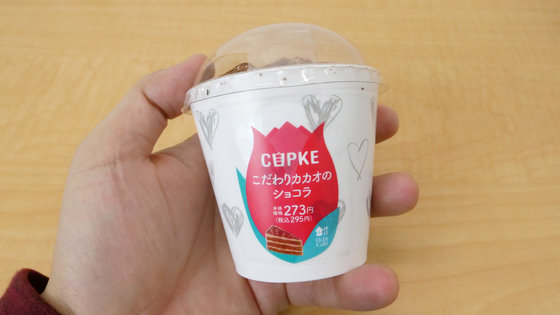 Ingredients include chocolate, egg, sugar, cream, flour, biscuits, etc. The calorie is 378kcal per one.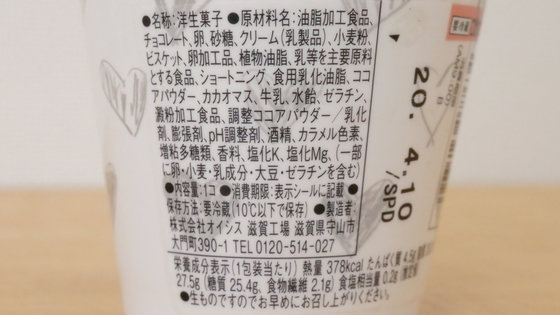 Cocoa powder is sprinkled on a light brown cream topped in a round shape.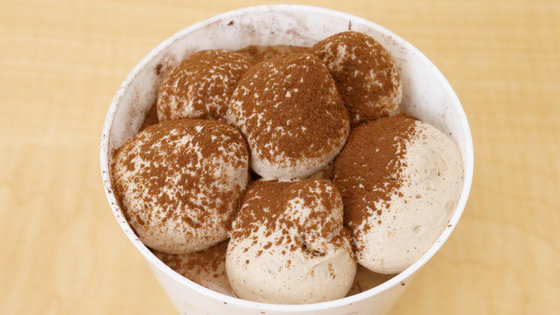 The cream on the surface has two layers, and the cream on the upper layer has a light mouthfeel and a modest sweetness, but below it is a thick and sweet chocolate cream. Cocoa powder is bittersweet and feels like 'sweets for adults.' 'Special cacao chocolate' uses dark chocolate made from Ecuadorian cacao mass to make it easier to eat even when the temperature is high.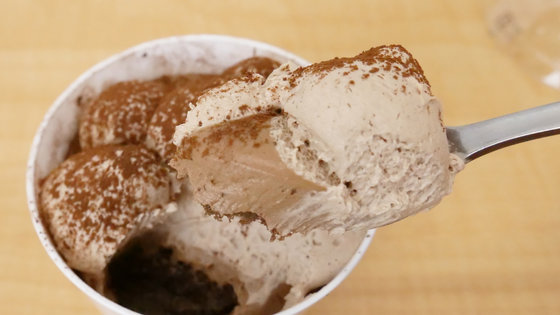 When I scooped the bottom with a spoon, I found a chocolate-flavored sponge cake and a crunchy biscuit.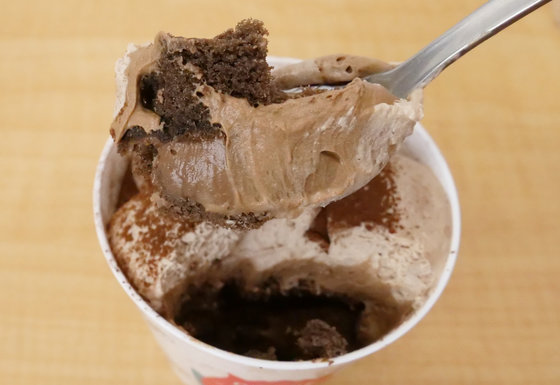 'Good old Mont Blanc' (295 yen including tax) has a yellow tulip designed on the label.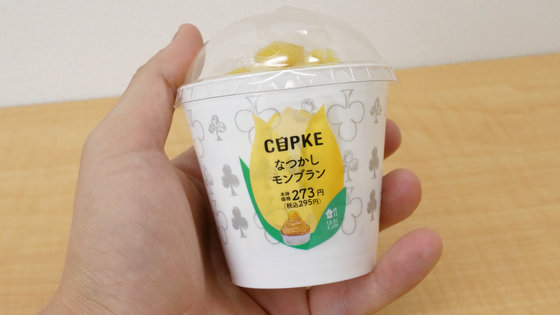 It is impressive that the top of the ingredients is written with white koshi-an, the ingredient for Japanese sweets. Others include malon paste, flower paste, eggs, sugar, flour, chestnut candied, biscuits, etc. The calorie is 241kcal per piece.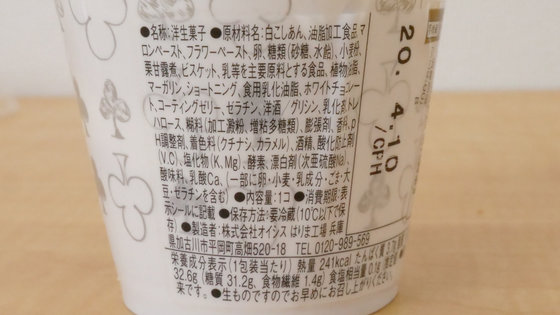 `
` CUPKE Gourotto Mont Blanc
'' which appeared in October 2019 had astringent skin chestnuts topped with Spanish malon paste, but this time `` Nakashi Mont Blanc '' has yellow chestnut honey stew on yellow cream It is listed.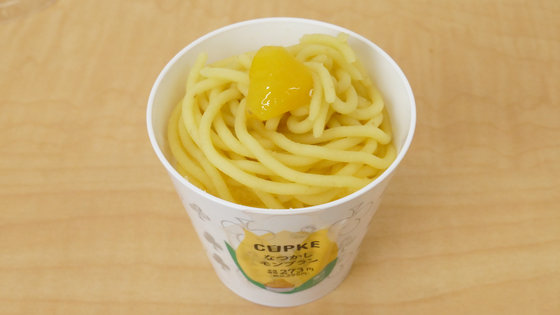 When I scooped up only the yellow cream and yellow chestnut candied stew, I found that the sweetness was relaxed and more like a Japanese sweet than a Western one. Chestnut flavor can also be felt firmly.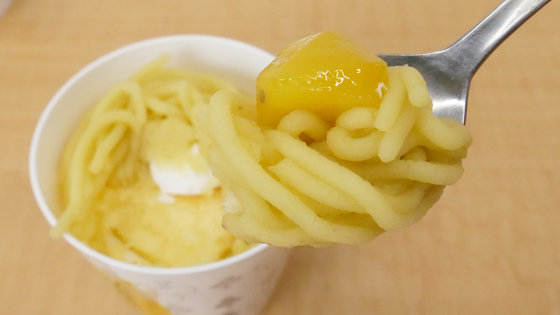 Underneath were sponge cake, whipped cream, biscuits and custard using yellow chestnut paste. When I try it, the crunchy texture of biscuits is accented in the smooth cream and fluffy sponge cake. On the official page, 'Mont Blanc with modest sweetness' was introduced, but the sweetness seemed to be quite rich.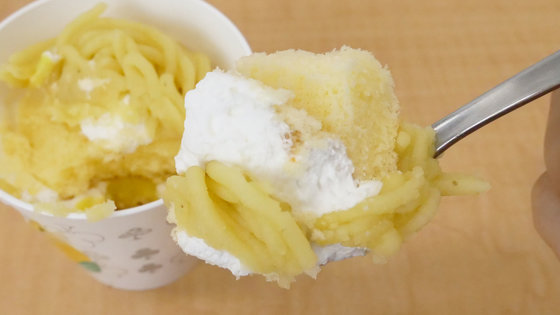 The new "CUPKE" series "Fragrant Pie Millefeuille", "Special Chocolate Chocolate", and "Good Old Mont Blanc" will be available at Lawson stores nationwide from April 7, 2020 (Tuesday).