A smartphone application `` Private Kit '' that can store the location information of the terminal for free and safely and prepare for the new coronavirus appears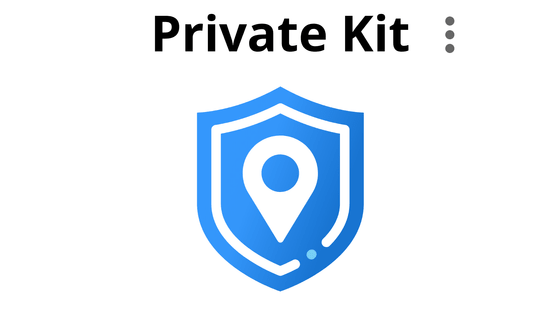 To halt the spread of the new coronavirus, the Israeli government has
announced the
use of a 'cell phone tracking system for terrorists' for its citizens. Tracking location information can be very helpful in determining the route of transmission of the new coronavirus, but many people may find it difficult for governments and businesses to track location information without their knowledge. The Massachusetts Institute of Technology (MIT) -led industry-government-academia collaboration project has released an application called "
Private Kit
" that securely tracks smartphone GPS information and records it with priority on privacy. This open source application is free and does not require complicated settings, etc.It stores GPS information only on the smartphone itself, so there is no risk of privacy being violated and it is possible to record location information safely .
Private Kit-Apps on Google Play
https://play.google.com/store/apps/details?id=edu.mit.privatekit
'Private Kit' on the App Store
https://apps.apple.com/gb/app/private-kit-prototype/id1501903733
Private Kit has released Android and iOS applications, but this time I will use the Android version. First, access
Google Play
and tap 'Install'.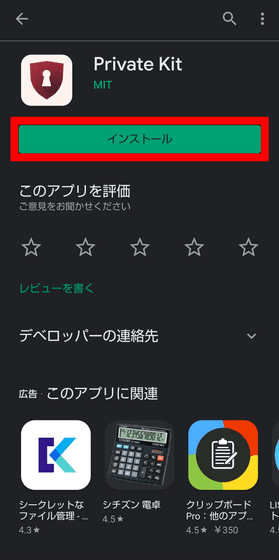 When installation is completed, tap 'Open'.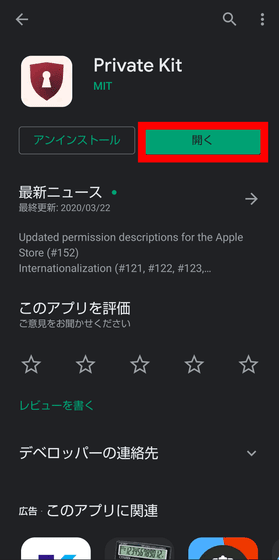 Tap 'NEXT'.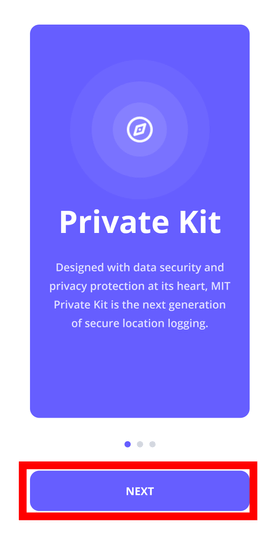 It states that the data capacity of the information tracked by Private Kit is extremely light, less than 100 KB, and that data will not leak without permission. Tap 'NEXT' to proceed.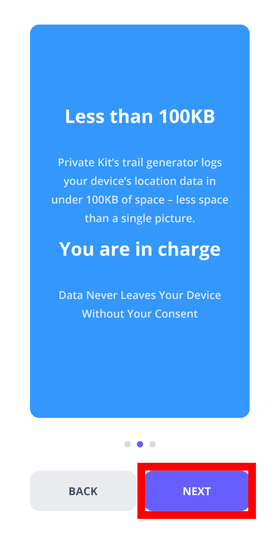 It is described that the application is intended for tracking pandemic, checking traffic conditions, etc. Tap 'START' to start using the app.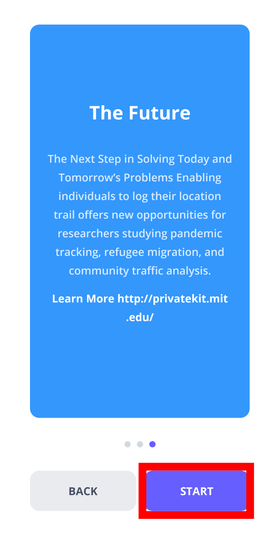 This is the 'Private Kit' screen. Even if you tap the menu button on the upper right, there is only the license information, so it is a very simple structure that has essentially only the function of 'tracking function on / off and data input / output'.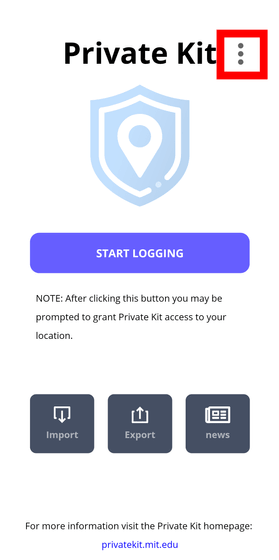 Tap 'START LOGGING' to enable the tracking function.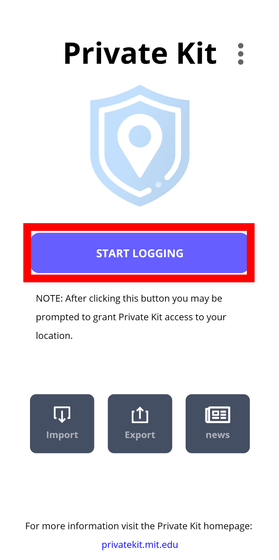 Tap 'Always'.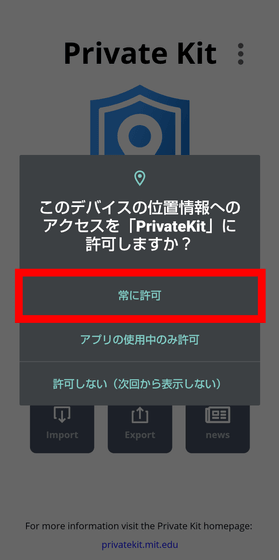 You have now started tracking. Tap 'STOP LOGGING' to turn off the tracking function.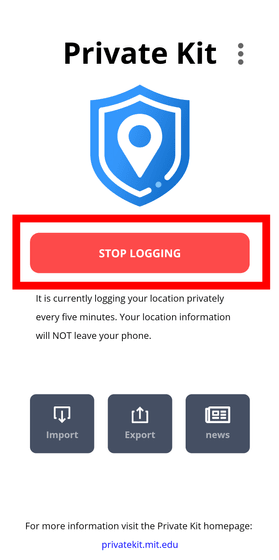 Tap 'Import' ...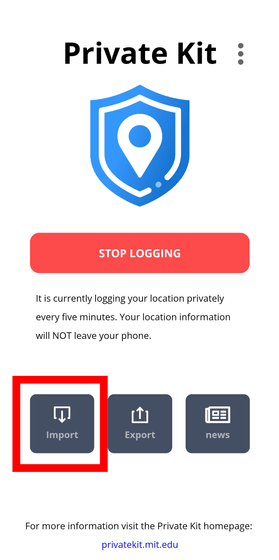 When the Google login screen appears, log in.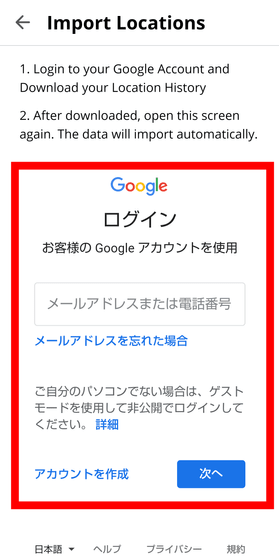 It is said that location history can be automatically acquired through a Google account, but at the time of article creation, both Android version and iOS version could not cooperate well. This app is still a prototype, and we hope to see improvements in future updates.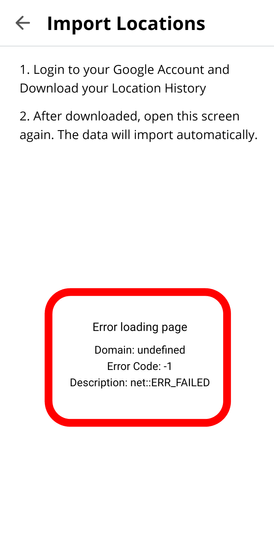 Tap 'Export'.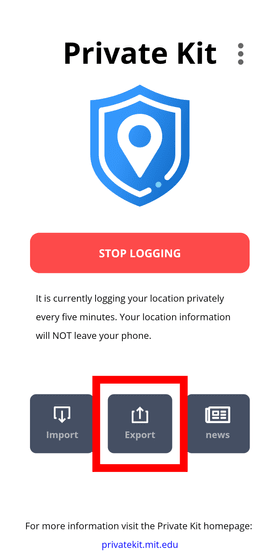 Tap 'SHARE' to output a compressed file containing the tracking data. This is a function that is supposed to be used, for example, to report past actions to health authorities if tests reveal that they are infected with the new coronavirus.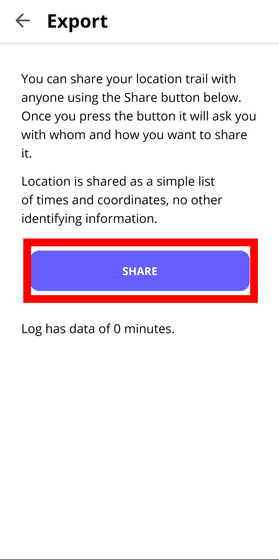 Tap 'news' ...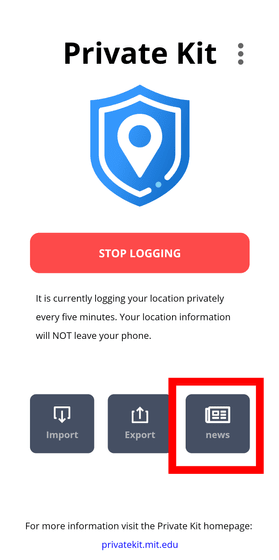 You can check the update information of the application.



'Private Kit' does not support Japanese at the time of article creation, but it is said that the service target area will be expanded in the short term in the future.