The air pollution in Italy has been dramatically reduced due to the influence of the new coronavirus, and a movie that shows that at a glance is also being released


Satellite observations have shown that air pollution has dropped significantly in Italy, where the spread of the new coronavirus is the second most serious in the world after China. This is due to a reduction in industrial activity and traffic in various parts of Italy due to the cancellation of events and the closure of facilities to prevent the spread of infection.

Italy sees drop in pollution amid coronavirus lockdown | TheHill

https://thehill.com/changing-america/sustainability/environment/487808-italy-sees-drop-in-pollution-amid-coronavirus
In Italy, which is the worst affected by the new coronavirus in Europe, deaths from the new coronavirus infection increased by more than 1,000 people in four days and exceeded 2,000 in total. The number of infected people has reached 27,980 as of March 16, 2020, and the spread of infection is intensifying.
Italy more than 2,000 dead More than 1,000 in just four days | NHK News
https://www3.nhk.or.jp/news/html/20200317/k10012334731000.html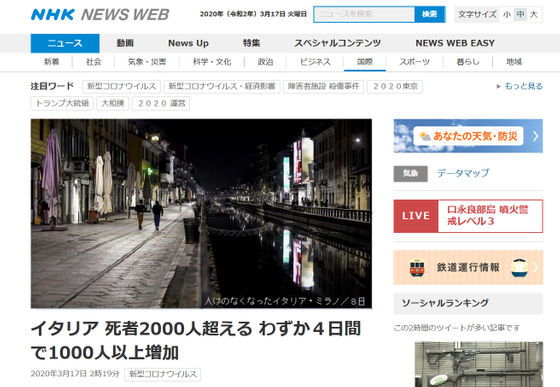 To cope with this situation, Italian government measures that 'such as pharmacies and grocery stores, to prohibit the sales of all commercial facilities other than the store to handle the daily necessities' to the March 11
announcement
. He called on Italians to refrain from going out of their way.
The closure of various facilities and the cancellation of events are widespread, such as schools, companies and sports competitions in various parts of Italy, and as a result, it has become a hot topic that `` people have disappeared from tourist spots in Italy which are full of tourists during peacetime '' I am.
When I checked the Italian tourist spot where people were gone with the new corona with a live camera, I was stunned 'Nanchu landscape ...'-Togetter
https://togetter.com/li/1481938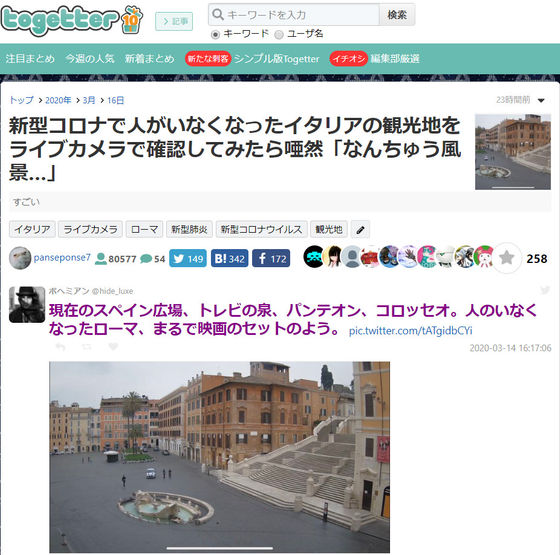 Meanwhile, the
Sentinel-5 Precursor, a
satellite of the European Space Agency (ESA), captured the unusual situation in Italy from a different perspective than live cameras on the street.
ESA's observations from satellites have shown that
nitrogen dioxide
over Italy has begun to decline dramatically around March 2020. Nitrogen dioxide is a toxic substance regulated by the Air Pollution Control Law of Japan. It is mainly emitted from automobiles, factories, and thermal power plants, and is one of the indicators of air pollution.
If you play the following movie, you can see that the air pollution in Italy has dramatically decreased since March 2020.
Coronavirus: nitrogen dioxide emissions drop over Italy-YouTube
Over January 2020, northern Italy has a red haze indicating high levels of nitrogen dioxide.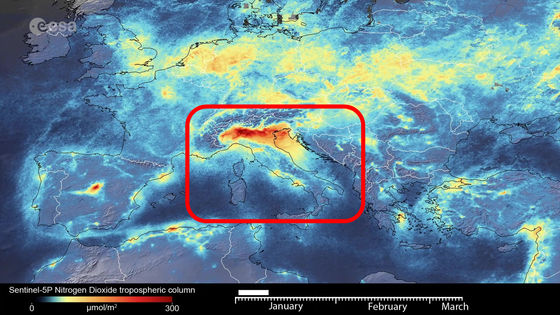 However, the concentration dropped noticeably in February.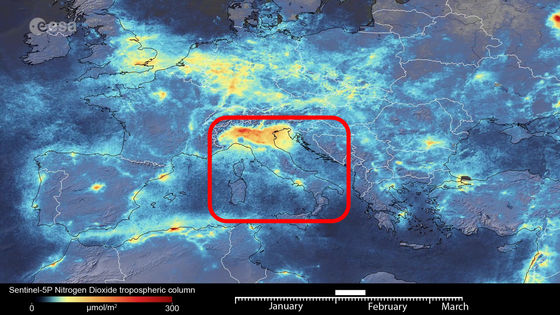 In March, it was almost unchanged from the rest of Europe.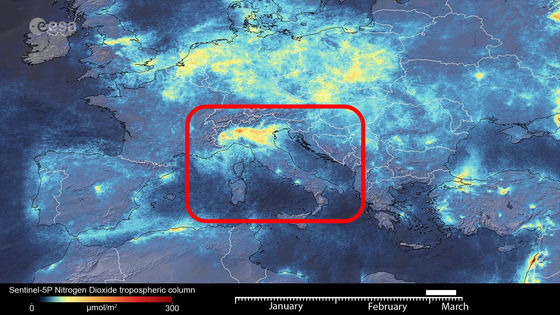 Klaus Zener, head of the Sentinel-5 Precursor observation mission at ESA, said, `` Observation data may fluctuate slightly depending on rainfall and weather, but the reduction of air pollutants we have found this time is Undoubtedly has to do with the blockade across Italy, which has caused a decline in traffic and industrial activity, '' he said, saying that reduced nitrogen dioxide is a sign of reduced economic activity due to the new coronavirus. Was.

The ESA has previously found that air pollution and greenhouse gas emissions have dropped sharply in China, where the new coronavirus infections are the most common.

Experts say China's air pollution is drastically reduced, it is the effect of closing measures of the new coronavirus-gigazine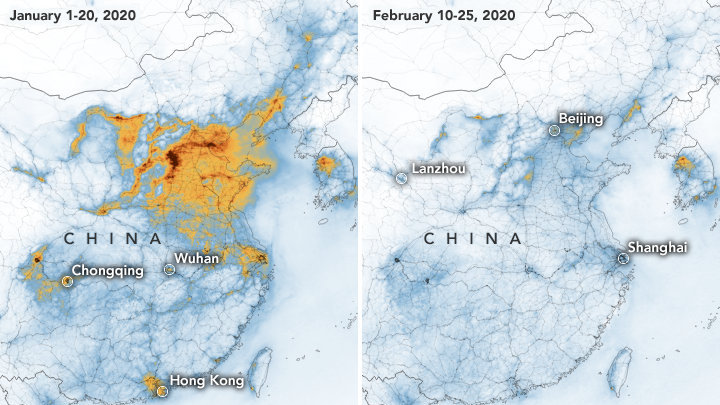 in Video, Posted by log1l_ks