Twitter is testing a tweet function `` Fleet '' that automatically disappears in 24 hours from posting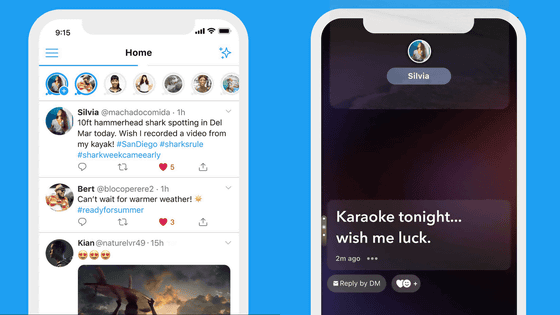 It is reported that Twitter is testing a new function ' Fleet ' in Brazil that automatically deletes posted content in 24 hours, similar to the 'story' function implemented on Instagram and YouTube.

Twitter is testing disappearing tweets-CNN
https://edition.cnn.com/2020/03/04/tech/twitter-disappearing-tweets/index.html

Twitter is testing ephemeral tweets in Brazil and calling them 'fleets'-The Verge
https://www.theverge.com/2020/3/4/21163877/twitter-stories-test-brazil-fleets-ephemeral

On Twitter, once a tweet has been posted, it remains forever unless deleted, and the posted tweet is displayed on the follower's timeline. However, unlike a tweet, a fleet will disappear 24 hours after posting. In addition, the fleet is not displayed directly on the follower's timeline, but is displayed by tapping the icon displayed at the top of the timeline.

You can see how the fleet is actually displayed by looking at the following movie tweeted by Kayvon Beykpour, the product lead of Twitter.

I know what you're thinking: "THIS SOUNDS A LOT LIKE STORIES!". Yes, there are many similarities with the Stories format that will feel familiar to people.There are also a few intentional differences to make the experience more focused on sharing Seeing People'S And Thoughts. Pic.Twitter.Com/OaGYZpChcN

— Kayvon Beykpour (@kayvz) March 4, 2020


You can't like or retweet your fleet, but you can also reply with emojis or text. Also, although the fleet will automatically disappear in 24 hours, 'Twitter policies are applied like normal tweets and violators will be penalized,' a Twitter spokeswoman said.

The fleet function is being tested in Brazil and closed testing among Twitter employees.

Twitter acquired the startup `` Chroma Labs '' in February 2020, which provides templates and editing tools for Stories, a few weeks before testing the fleet function.

By the way, the feature 'automatically disappears in 24 hours' was first implemented by Snapchat, a photo sharing SNS, in 2013 under the name 'Story'. Since then, similar features have been implemented on Instagram and YouTube. The implementation of the fleet function is a few steps behind the introduction of stories over other SNS, and CNN of overseas news media commented that 'Twitter is riding the fading content trend.'