Apple may abolish Lightning connector due to EU pressure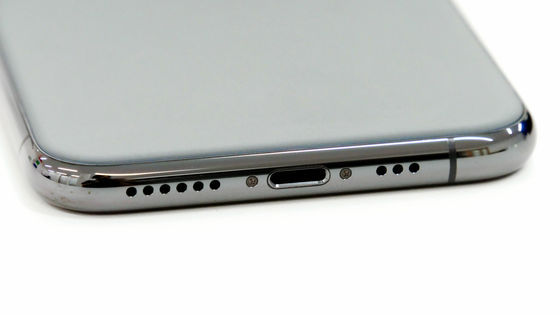 Apple's iPhone has long adopted a proprietary "
Lightning
" connector, but other smartphones have widely used standards such as
USB Type-C
. Many people have experienced that the standard was different and the iPhone could not be charged. It has been reported that Apple's proprietary Lightning connector can eventually be replaced by USB Type-C.
The EU could force Apple to abandon Lightning cables at long last
https://www.pocket-lint.com/phones/news/apple/150765-the-eu-could-force-apple-to-abandon-lightning-cables-at-long-last
Apple could be forced to finally drop Lightning for USB-C | Trusted Reviews
https://www.trustedreviews.com/news/apple-could-be-forced-to-finally-drop-lightning-for-usb-c-3970459
Apple's iPhone adopts its own standard Lightning, and it is necessary to use a Lightning cable when transferring terminal data and charging the main unit. The iPhone adopted the Lightning connector from
iPhone 5
, which appeared in 2012.
However, the same Apple products,
iPad Pro
and
MacBook
, have not adopted proprietary standards such as Lightning and
MagSafe
, and have adopted the more versatile USB Type-C.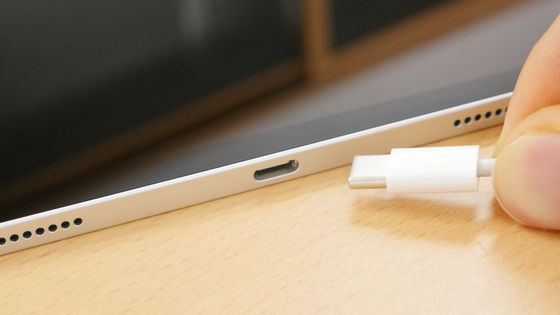 The
European Union
(EU) is concerned about proprietary standards such as Apple's Lightning connector. The EU announced in January 2020 that it was considering a bill to 'introduce a common charger for all mobile phones.'
Call to introduce common charger for all mobile phones | News | European Parliament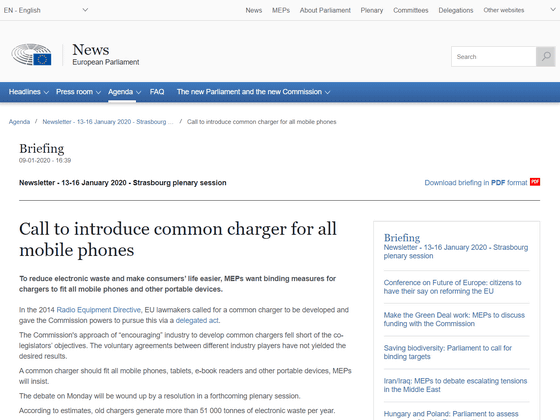 The EU is considering legislation to force electronics manufacturers to adopt common standards for all mobile phones and chargers for electronics to reduce waste in electronics and make life a little easier for consumers. You. According to the EU's estimation, old chargers generate more than 51,000 tons of garbage annually, so not only mobile phones but also tablets, e-book readers and other portable devices `` Charging of common standards '' They may ask you to adopt a "container".
The @EU_Commission strongly supports harmonisation of chargers for mobiles.In 2009, we had> 30 charging solutions.Now 3 main solutions.In the discussion w #industry we insist on the following objectives ✔️consumer convenience ✔️safety & interoperability ✔️reduction of e- waste.pic.twitter.com/jdcJ8pIk7s

— Maroš Šefčovič ???????? (@MarosSefcovic) January 13, 2020


Of course, you can't bind companies like Apple, which has global operations in the EU. However, it is different in the EU. If Apple is obliged to adopt USB Type-C on terminals sold in the EU area, Apple will `` provide iPhones with different connectors in the EU area and other areas '' or `` Connect all iPhones to USB Type You'll need to choose one of three options: 'Make it -C' or 'Give up selling iPhones in the EU.' Clearly, the most solid option is to make all iPhones USB Type-C.

However, foreign technology media Pocket-lint said, `` Another way around this problem is to completely abolish the iPhone charging connector by 2021 so that it can only be charged via wireless charging. '' It is written. The iPhone that appeared after 2017 already supports wireless charging, but at the same time adopts the Lightning connector, so you can charge the terminal both wired and wireless.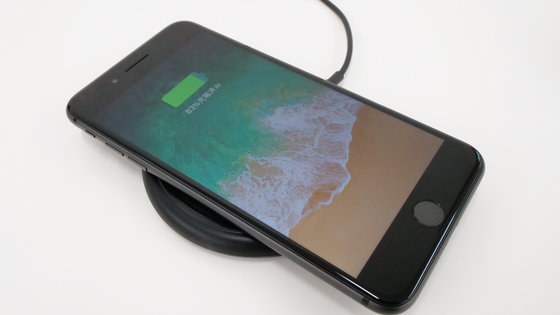 The problem is that Apple already sells many iPhones with Lightning connectors. In 2016, total iPhone sales exceeded 1 billion units, and as of 2019, the best-selling model in the smartphone market was the iPhone. Many users are already using iPhones with the Lightning connector, so changing the connector to USB Type-C is likely to cause unnecessary confusion for users.

iPhone sales top 1 billion units-gigazine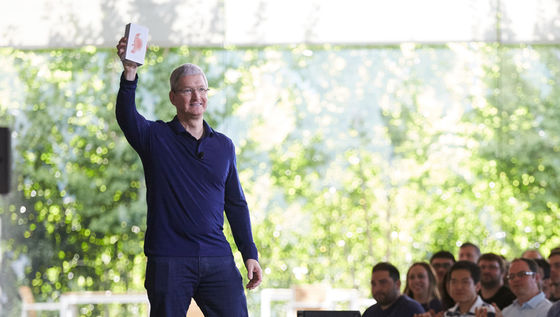 Apple noted in the past that this type of regulatory effort has been described in the past as saying, 'Regulations that unify the standard for connectors built into all smartphones will freeze rather than promote innovation. The proposal will have a negative impact on the ecosystem and cause unnecessary disruption for customers. '