Google announces that it plans to add more than 120 games, including 10 or more exclusive titles, to cloud game service `` Stadia ''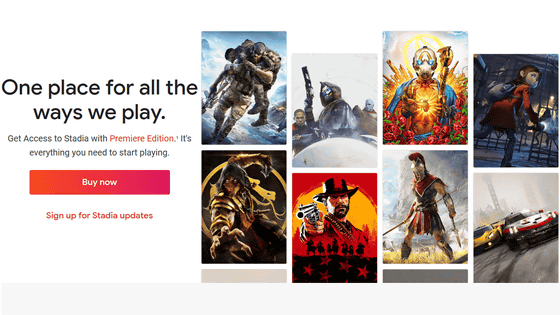 Regarding the cloud game service '
Stadia
' launched in November 2019, we announced that we plan to significantly increase the number of games that Google can play. The specific number is '120 or more', and it is said that more than 10 games dedicated to Stadia will appear in the first half of 2020 alone.
Stadia in the New Year-Stadia Community
https://community.stadia.com/t5/Stadia-Community-Blog/Stadia-in-the-New-Year/ba-p/13027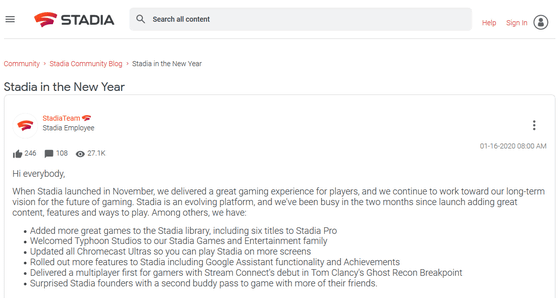 Google Stadia promises more than 120 games in 2020, including 10 exclusives-The Verge

https://www.theverge.com/2020/1/16/21068913/google-stadia-120-games-2020-10-exclusives-4k-controller
'Stadia' is a 'cloud game service' that can be played on any display such as notebook PCs, smartphones and TV monitors as long as there is an Internet environment. The user has only a dedicated controller and a video streaming terminal `` Chromecast Ultra '', there is no so-called `` game console '', all game-related processing is performed on the cloud, and only video is streamed is.
A review of `` Google Stadia '' finally launched appeared, making it feel the future, but still evaluation as rough-GIGAZINE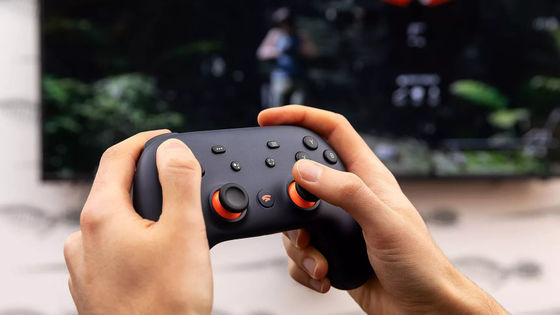 It was supposed to be a dream-like service that you can play without a `` game console '' as long as you have a display that displays images, but at the start of the service in November 2019 there are 26 games that can be played, of which only Stadia is dedicated The thing was one 'Gylt' work and a slightly lonely lineup.

Google has launched various measures, such as increasing the number of compatible terminals by improving Chromecast Ultra and acquiring Typhoon Studios to strengthen 'Stadia Games and Entertainment' to develop exclusive titles.

As a result of these efforts, the number of games that can be played will increase by 120 at a stretch in 2020. Exclusive titles are also expected to increase by more than 10 titles in the first half of 2020 alone. Although no specific title is provided in this release, it has been announced that Orcs Must Die! 3 will be released in the spring of 2020 with a time-limited exclusive.

Orcs Must Die! 3-Official Dev Diary | Stadia Connect-YouTube


In terms of features, support for 4K games on the web, addition of assistant functions, and wireless play on the web via Stadia controllers are expected to be implemented within three months.

Although some game developers are concerned about service continuity, 'Stadia', Google seems to be poised to further develop the platform with a long-term vision.


in Game, Posted by logc_nt