I have eaten a 1 pound burger at the Crown House that realized `` Let's eat a lot of meat '' with 4 patty layers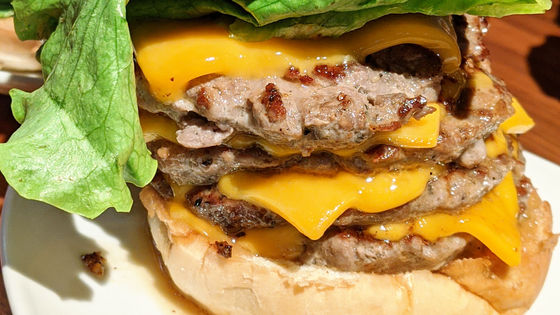 At the burger shop Crown House in Kichijoji, " 1 lb burger " with a total weight of about 450g is put out on the 29th of every month "Meat Day". I went to the Crown House because I had to eat it.

Crown House

http://crownhouse.jp/
"Crown House" was opened in October 2015 by Freshness Burger as a new business type store "pursuing new possibilities". You can tell what the main crown burger looks like by reading the following article.
Freshness burger has eaten crown burger at the new business store `` Crown House '' aiming for luxury space-GIGAZINE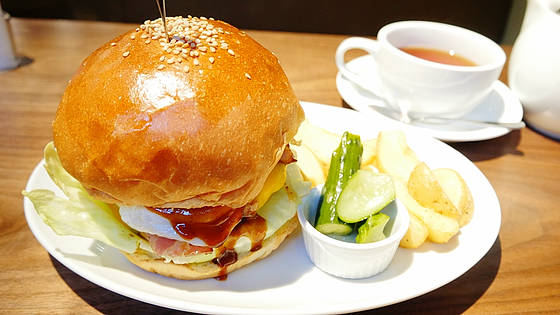 This time, we are aiming for a 1-pound burger from the "Meat Day" limited menu. Only on the 29th, a photo of a huge burger will appear in the menu served outside the store.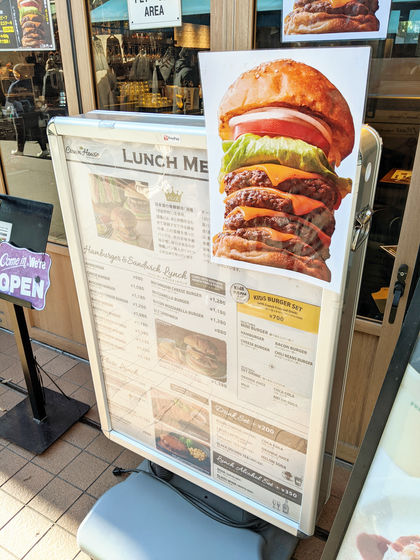 In addition to 1 pound burger (1129 yen tax not included), "Meat Day" is usually 4500 yen US Angus beef 1 pound rib roast steak for 2929 yen tax.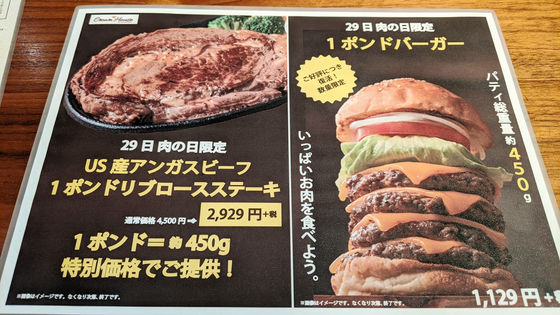 I decided to compare how great a 1 pound burger is with a normal hamburger (980 yen without tax).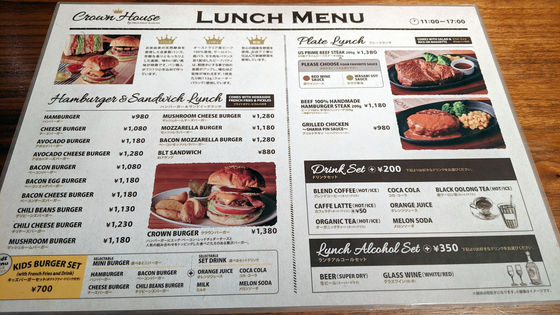 A hamburger that was delivered in about 5 minutes after ordering.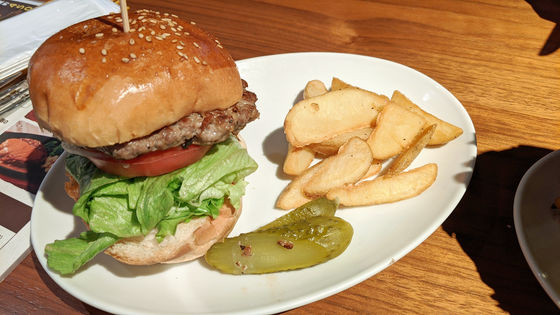 At the same time, a 1 pound burger also came. Fried potatoes and pickles are a set from the beginning.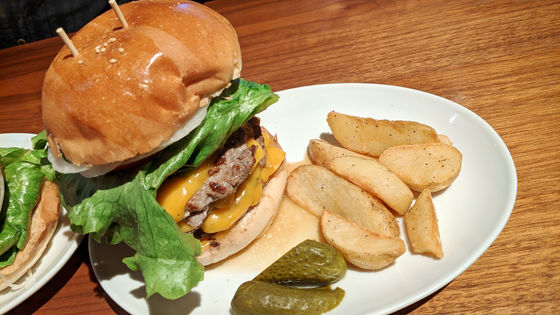 Ordinary hamburgers are too big for buns, but 1 pound burgers are larger than that.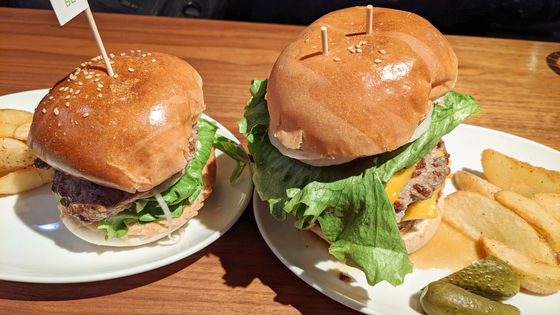 Because of its size, it has two skewers to maintain its shape. Still leaning.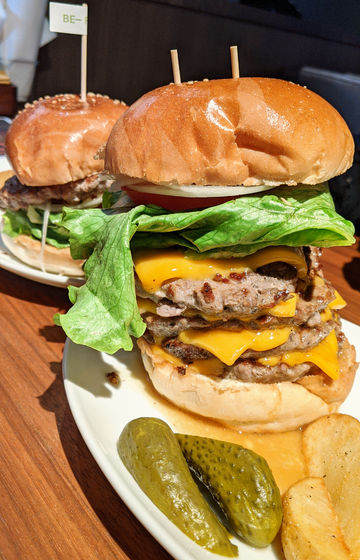 It is emphasized that the extra 1 pound burger is a solid figure when you put a hamburger in front.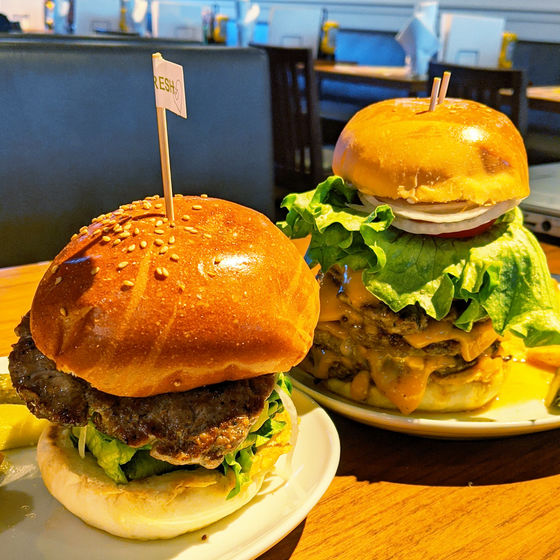 Cheese is peeking through the four patties.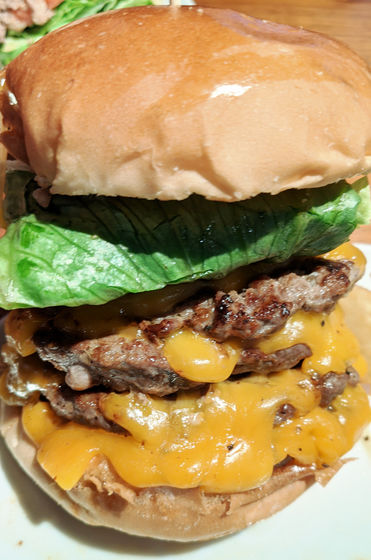 I can't eat it as it is, so I tried to cut it in two.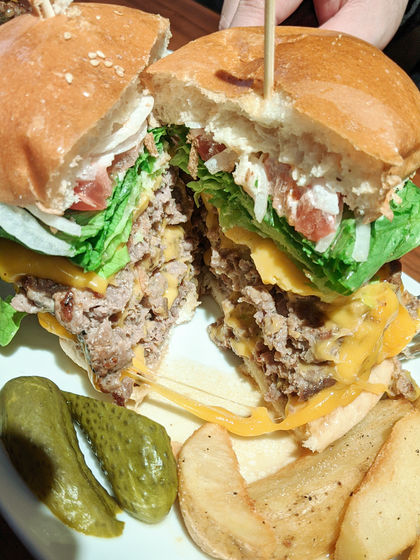 ...... It's a pretty difficult size to wear.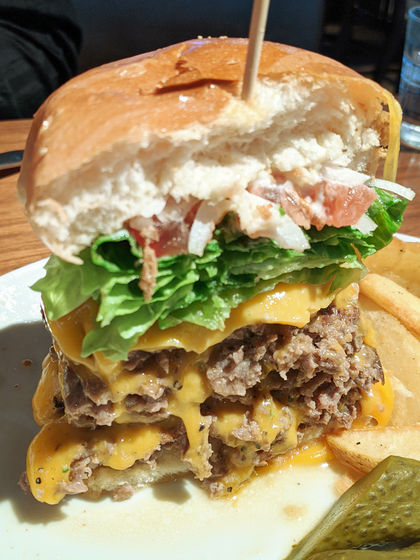 In addition, 1 pound burger is sandwiched in the order of tomato, lettuce, patty & cheese from the top, but the hamburger is sandwiched in the order of patty, tomato and lettuce. Sanding a 1-pound burger in the same order will result in 4 patties at the top, so it's more likely to collapse.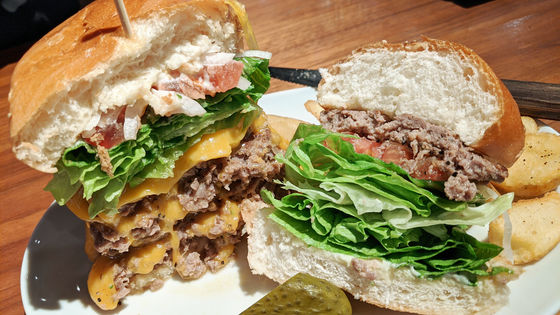 The patties baked after ordering are crisp and juicy. It is too unusual for this to be eaten for a regular hamburger for 149 yen. I am also convinced that it has been well received and revived. Fried potatoes are also hot and salty, there is no need to use ketchup on the table, pickles are at a level that is not strange even if there is an additional charge, and if there is a shop in the neighborhood, the meat day every month There was no doubt going to eat.