With just two taps, "the ability to repel shit" starts on Twitter in Japan


Twitter announced on the official Japanese blog on Thursday, September 19th, 2019 that it will begin testing the "Make Twitter conversations more manageable" feature in Japan and the United States. With this function, it is possible to hide the so-called "
fucking
" from your tweets.
Get more control over your Twitter conversations: start testing new features in Japan and the US
https://blog.twitter.com/en_us/topics/company/2019/more-control-over-your-conversations.html
You can hide the reply with just two taps as shown in the following movie.
Twitter has provided various functions for managing the information displayed over the past few years. We 've been testing new features in Canada for a few months, and we 're starting today in Japan and the US. See the blog for details. https://t.co/ZVYqXtxan6 pic.twitter.com/E3f07xL9yz

— Twitter Japan (@TwitterJP) September 19, 2019


When I looked at my tweets, I found a reply like advertising.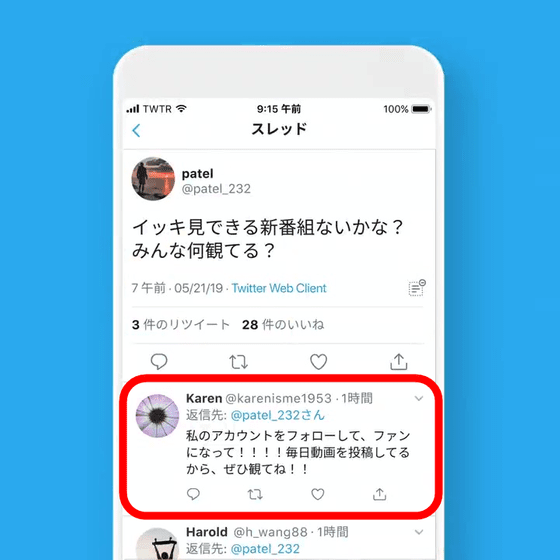 Then tap the drop-down icon of the advertising reply ……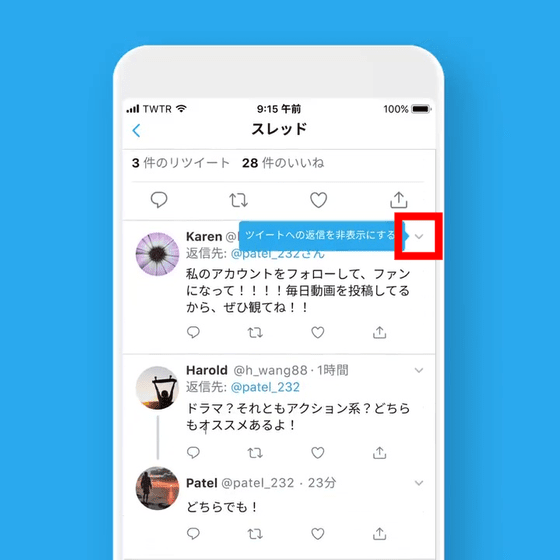 Tap 'Hide reply'.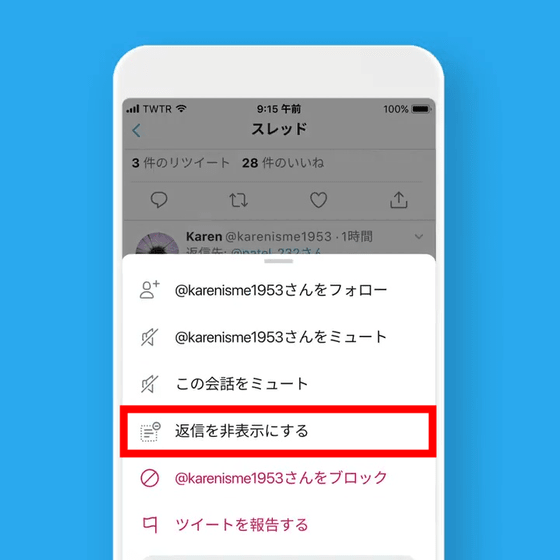 Then, the advertisement reply that was displayed earlier was hidden.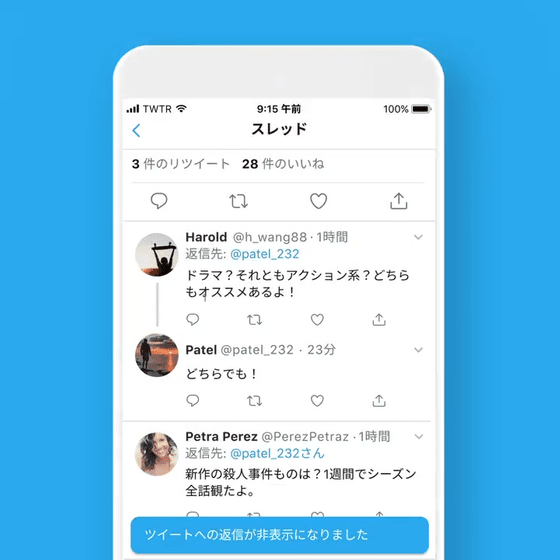 Replies are only hidden, not deleted. Tap the button at the bottom right of the tweet ...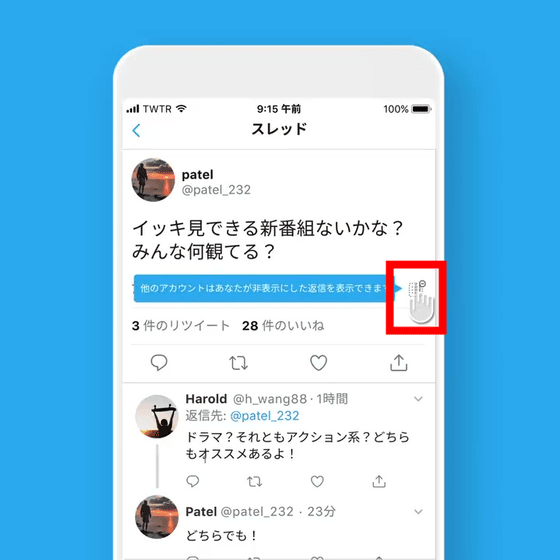 It is possible to see hidden replies. Not only the person who made the original tweet, but also all users can see the tweet hidden by the same operation.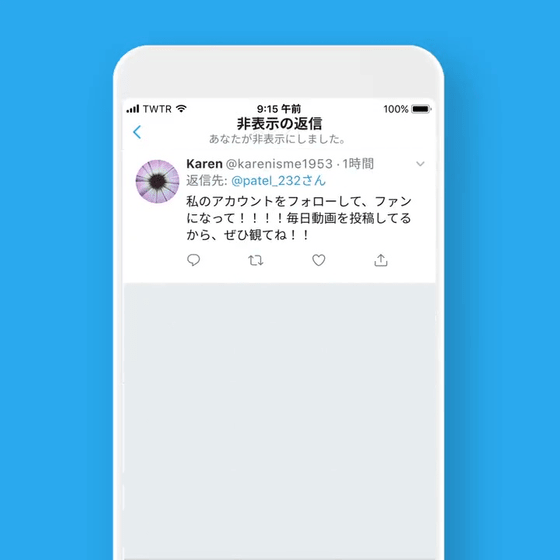 If you make a mistake and hide it, or if you want to cancel it, but you want to cancel it, tap the drop-down icon for the tweet you have hidden.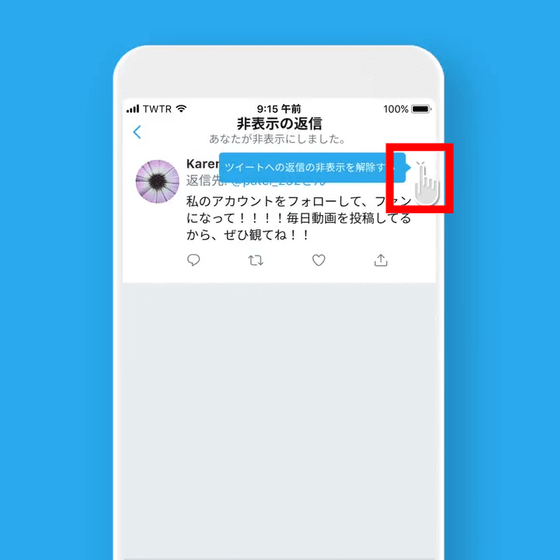 Tap "Unhide reply" to restore.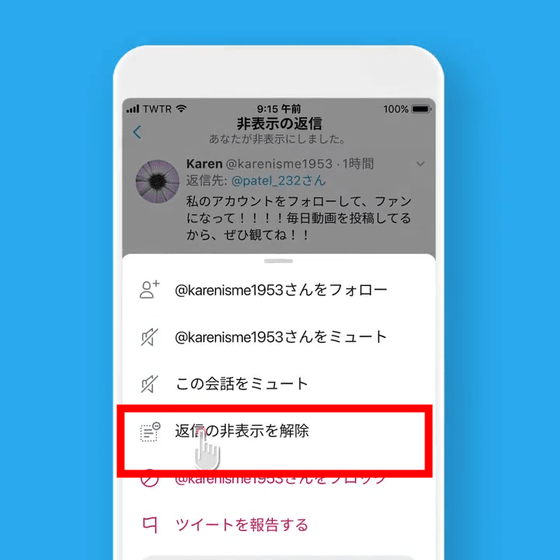 Twitter has been testing this feature in Canada for some time, but with this announcement, users in Japan and the United States can now use this feature.


Twitter is testing the `` hide tweets '' function that hides unnecessary things from replies-GIGAZINE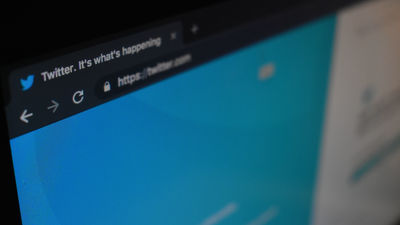 In the test, the function to hide the reply was used exclusively to hide 'irrelevant, aggressive or meaningless reply'. As a result, we 've found that the Hidden feature, like the Keyword Mute feature, helps manage a series of conversations that start with tweets.
Also, although the other party can tell that it has been hidden, about 27% of those who have hidden tweets responded that they "rethink how to interact with the other party" Not only did it make replies that I didn't want to see, but it also helped me constructive conversations. It seems that less than 30% of people who skipped their tweets did not seem to be too many numbers, but if you change your perspective, 30% of those who sent fucking lips will send constructive replies It can also be expected that
You 'll also be asked if you want to block the other party 's account. In addition to making it easier to prevent troubles from this, it seems that there is also an aim to avoid misunderstanding by emphasizing the difference from block, which is a clear rejection.
In addition to the app, you can use the hidden function on Twitter for PC as well.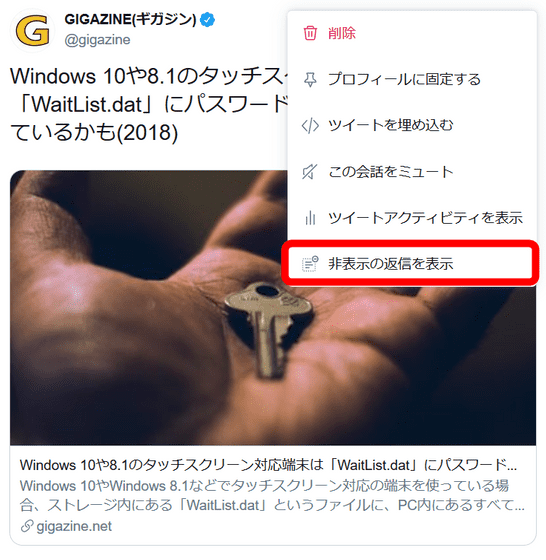 It is also possible for users other than Japan, the United States, and Canada to see replies hidden from the drop-down icon.