"IPhone 11" actual photo & movie summary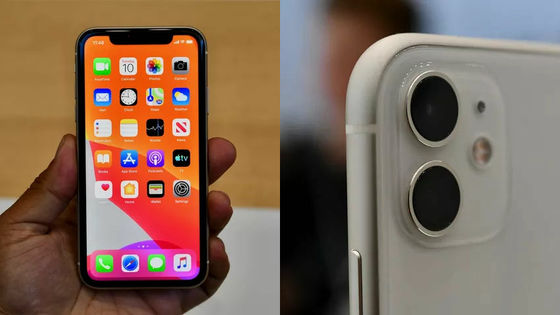 Apple unveiled the
iPhone 11
with a 6.1-inch display, the successor to the iPhone XR, at
Apple Special Events
on September 11, 2019. The actual machine is on display at the venue, and photographs and movies of the actual machine are released one after another from overseas media.
iPhone 11: a first look at Apple's new default iPhone-The Verge
https://www.theverge.com/2019/9/10/20857974/apple-iphone-11-hands-on-features-photos-video-price-camera
Hands on: iPhone 11 review | TechRadar
https://www.techradar.com/reviews/hands-on-iphone-11-review
The iPhone 11 is the successor to the iPhone XR that appeared in 2018. The display looks almost the same as iPhone XR, but ...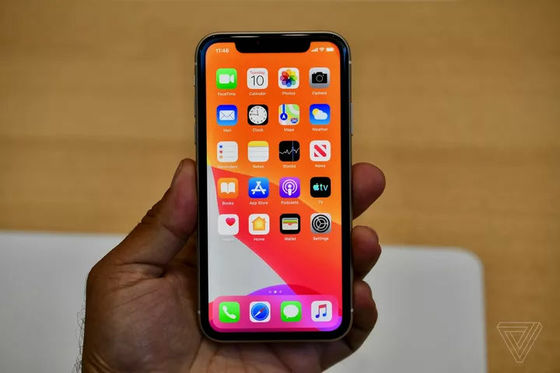 Like the iPhone X and XS, the back is like this, and it has evolved into a dual camera system with two lenses. The iPhone 11 dual camera is equipped with a wide-angle lens and a super-wide-angle lens, and the viewing angle of the super-wide-angle lens is 120 degrees, so photos of angles of view that could not be taken with previous iPhones are taken It will be possible.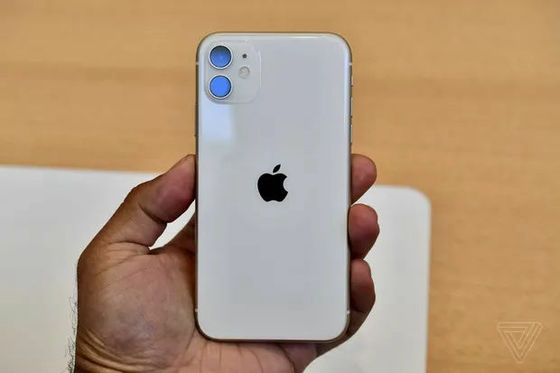 It is like this when shooting the rear camera module up. The iPhone X / XS was a vertically long module, but the iPhone 11 has a square camera module like the
iPhone 11 Pro
.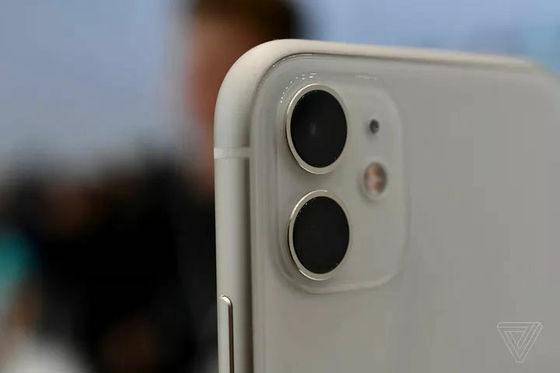 The camera module swells in a square shape, and the lens part of the camera swells further from there.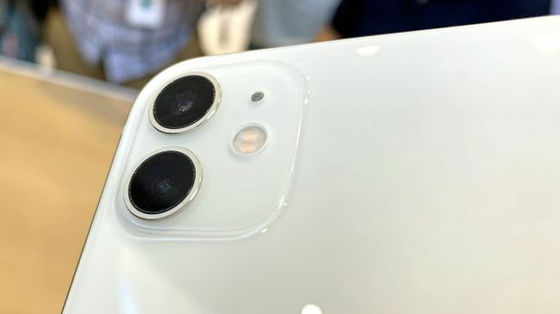 A new interface has been added to the camera, allowing you to see how the ultra-wide-angle lens looks outside the frame of the photo as follows: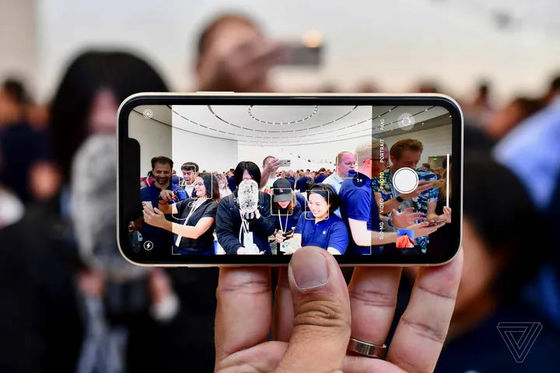 With a wide-angle lens ...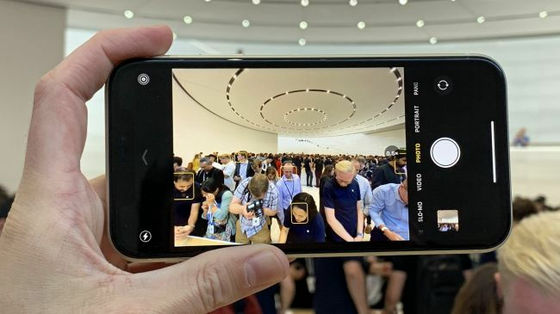 This is what the same landscape looks like with an ultra-wide-angle lens.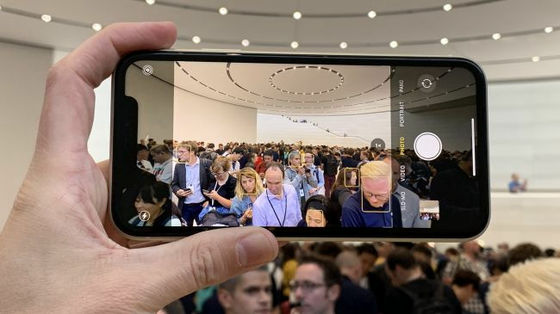 Until now, you could use burst mode (continuous shooting) by long pressing the shutter button of the camera, but on iPhone 11, if you press and hold the shutter button, it switches from photo mode to movie, and immediately shifts to movie shooting can do. If you want to use burst mode, swipe left while pressing the shutter button.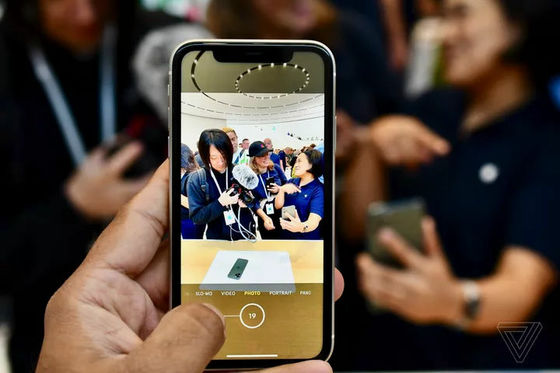 The TrueDepth camera in the notch at the top of the display has also evolved to 12 megapixels and can shoot slow motion "slofies".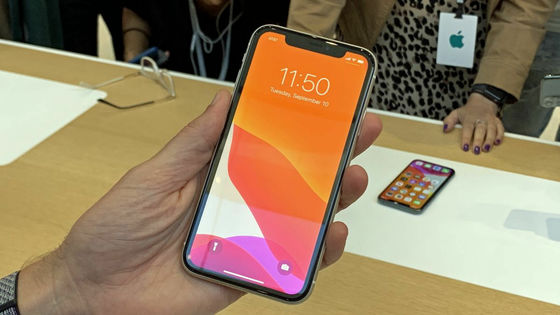 The camera has a night mode that enhances shooting in the dark.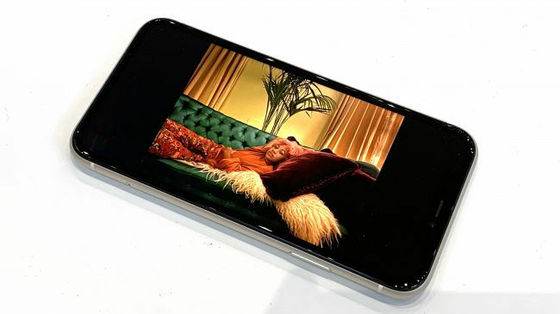 The aluminum frame of the iPhone 11 has not changed much from the iPhone XR.



The volume control buttons and mute buttons are unchanged.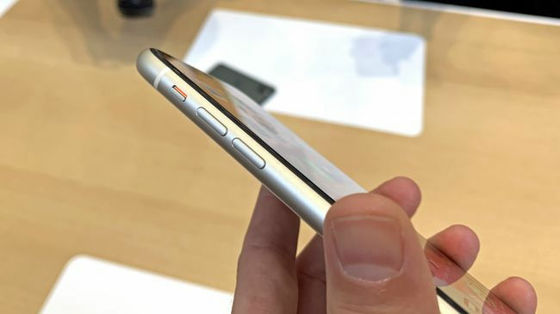 Compared to iPhone XR, the bezel is slightly thicker than the iPhone 11 Pro.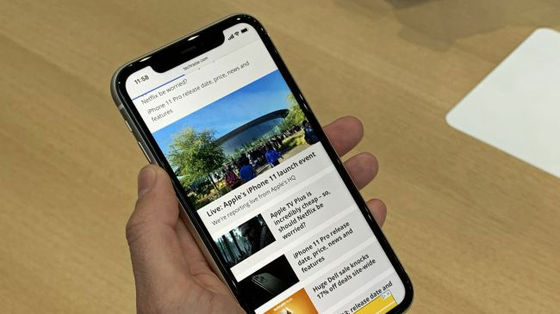 There are 6 types of terminal colors: white, black, green, yellow, purple, and (PRODUCT) RED.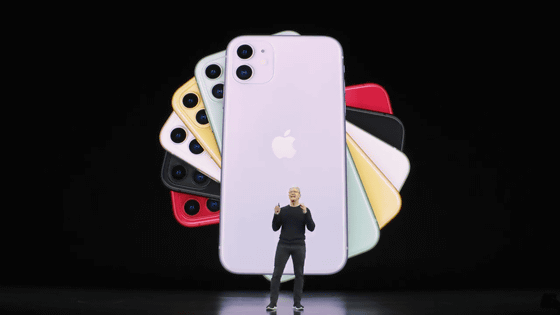 The battery is 'battery driving time that is up to one hour longer than iPhone XR'. Face ID works a little faster than iPhone XS / XR, and the face recognition angle is a little wider. The iPhone 11 has the same A13 Bionic as the iPhone 11 Pro, but The Verge wrote that the demo machine could not confirm how fast the chip was evolving.

In addition, a movie that touches and touches iPhone 11 at once is also released. Like iPhone XR, iPhone 11 has a glossy finish on the back glass, but iPhone 11 Pro seems to have a matte finish.

First hands-on video of Apple's iPhone 11-YouTube


iPhone 11 will be released on September 20th. The price is 74,800 yen for tax for the 64GB model, 79,800 yen for tax for the 128GB model, and 90,800 yen for tax for the 256GB model.

In addition, you can understand details such as new functions added to iPhone 11 by reading the following article.

Apple announces the new iPhone `` iPhone 11 ''-gigazine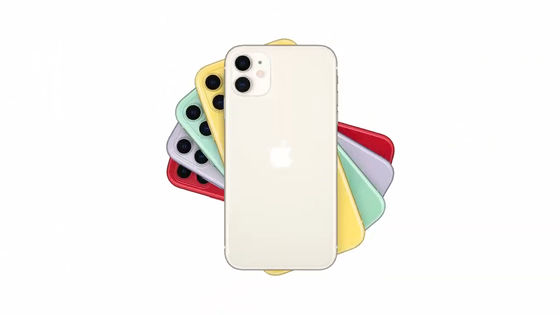 ・ Continued
Apple Watch Series 5 actual machine photo / movie summary, built-in compass & display can always be lit-GIGAZINE