Amazon's Personal Shopper, a service that lets your own stylist choose and deliver clothes that match your preferences and body shape, appears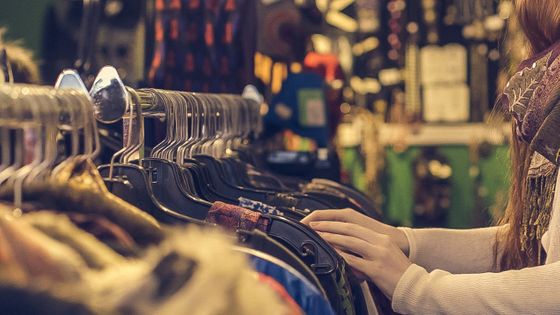 by
Burst
Amazon tries on apparel products and then decides to make a purchase and offers '
Prime Wardrobe
', a service that is completely free of returns. As a new service of such Prime Wardrobe, Amazon announced that the stylist will start the service '
Personal Shopper
' which chooses clothes that suit the taste and shape of the user.
Amazon.com: Personal Shopper Frequently Asked Questions: Clothing, Shoes & Jewelry
https://www.amazon.com/b?node=19190471011
Amazon launches a personal shopper service that sends monthly curated clothing boxes-The Verge
https://www.theverge.com/2019/7/31/20748632/amazon-personal-shopper-prime-wardrobe-service-style-subscription-box
Prime Wardrobe, a service provided by Amazon, is limited to prime members, and you can select at least two points and up to six points from the list of items marked with Prime Wardrobe, and try on clothes, shoes, and accessories delivered at home. Can. Considering whether you really want to buy clothes for up to 7 days of try-on, keep the items you want to buy and the rest can be returned free of charge to Amazon.
Furthermore, on July 31, 2019, Amazon announced that it will launch a new service called 'Personal Shopper' for Prime Wardrobe users. Personal Shopper is a service in which Amazon's stylist team chooses clothes that suit the user's taste, and asking people who have knowledge of fashion to have a store clerk give advice on coordination like an apparel store. That you can
Users who want to use Personal Shopper will answer the items such as their favorite clothing style, their own figure, and budget in the first questionnaire. Based on this information, the stylist carefully selects clothes, shoes, accessories, etc., and delivers up to 8 items at home. And just like with a regular Prime Wardrobe, you can try the item with a 7-day fitting period, buy it if you like it, or you can send it back if you don't want it.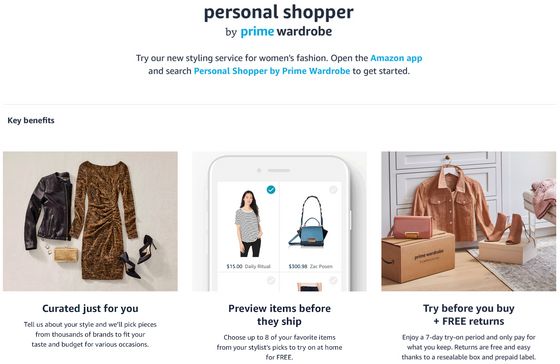 At the time of writing, Personal Shopper can only be used by Prime members in the United States and can coordinate only women's clothes. The service for men is also under development, and it seems that men's fashion will be selected in Personal Shopper in the future. Personal Shopper charges are $ 4.99 a month (approximately 540 yen), and it can be applied once a month for styling.

Technology-based media The Verge points out that Amazon's Personal Shopper competes with the online coordination service Stitch Fix , which was established in 2011. While Stitch Fix costs $ 20 (about 2400 yen) per delivery, it can be coordinated for all women, men and children, and its market capitalization is valued at $ 2 billion (about 240 billion yen) .

In recent years, Amazon has shown a stance of aggressively entering the fashion field, and is steadily strengthening its offensive. Prime Wardrobe and Personal Shopper are also considered as ways to capture Amazon's fashion sector.

Can Amazon beat any fashion market? -GIGAZINE