It is pointed out that the information is expensive due to the 'features of Google Chrome 76 for viewing paid articles for free'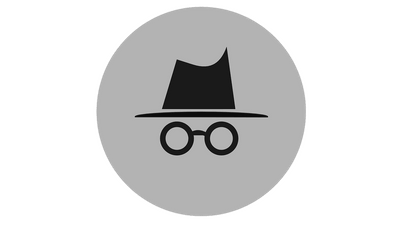 by
Nikin
Secret Mode
has been enhanced in
Google Chrome 76
, published July 30, 2019, and it is now possible to avoid parts of the
paywall
that block paid articles from free users. However, if this makes the information more difficult for users to reach, what
's New in Publishing
, an overseas media that handles news such as advertising technology, points out.
Google unlocks 33% of publisher paywalls on July 30. This is what happenings next. | What's New in Publishing | Digital Publishing News
https://whatsnewinpublishing.com/google-unlocks-33-of-publisher-paywalls-on-july-30-this-is-what-happens-next/
The paywall is a mechanism to charge part of the content on the website. One of the most commonly used billing methods in online newspaper versions, the
meter-based paywall
is 'A certain number of articles can be used free of charge, and if you want to use more than that, you can pay for it.'
It has been known that using Google Chrome's
Secret Mode
for a long time, it is possible to bypass Paywalls and view paid articles for free, but websites also detect access in Secret Mode and use 'instead of content' We have taken measures such as displaying a message prompting the browser to switch to the normal mode.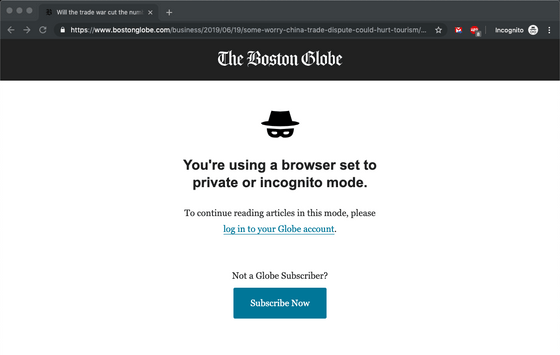 However, the latest version of Google Chrome, released on July 30, 2019, made it impossible for websites to detect incognito mode. You can read more about this change in the following articles:


'Google Chrome 76' Flash Rejection Moves Forward, Paywall Avoidance in Secret Mode Evolves-GIGAZINE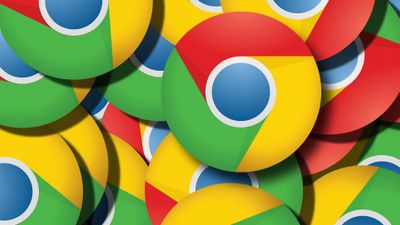 The
following image shows the power of Chrome 76's Secret Mode on the
New York Times
website. The left side shows the result of accessing Chrome 75 in secret mode, with the message 'You are using private mode' and a button to prompt you to log in, and you can not read anything except the beginning of the article. On the other hand, the right side using Chrome 76's Secret mode shows the full text without any problems.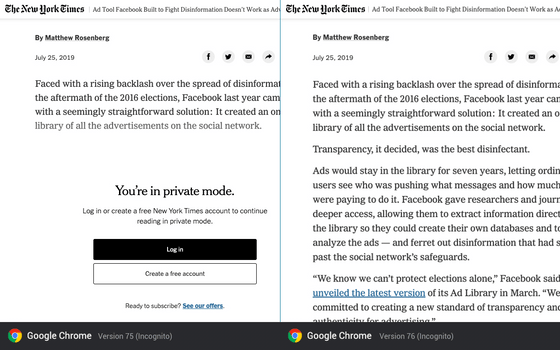 Washington Post
and ...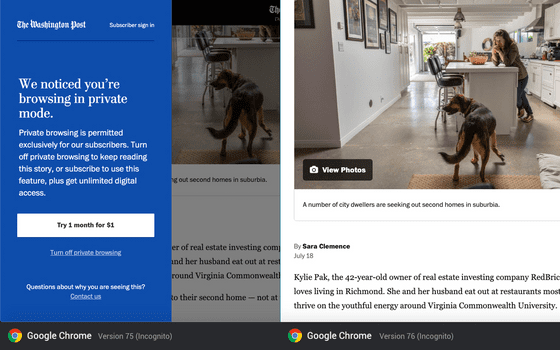 Similar results were obtained on the websites of newspapers such as The Boston Globe .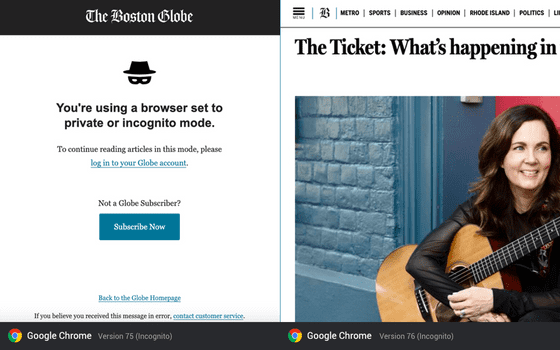 The media industry has been raging about this feature. Paris-based news site Worldcrunch COO Benjamin Sabbath said, 'On-line news media has taken 5-10 years to penetrate the Paywall . With the next Chrome, we will take 'You have to choose whether you want users to sign up for free or switch to the hard paywall.' 'In any case, it's almost like a flood of rivers,' he is angry.

Online news media have spent 5-10 years to get their readers used to metered paywalls & recreate value. With next # Chrome release, # Google gives them 2 weeks to switch to free registration or hard paywalls or ... whatever.
Another rock for Sisyphus! Https://t.co/CFToY6E2zt

— Benjamin Sabbah (@bsabbah) July 23, 2019


The hard pay wall is a system that 'everyone needs to pay for all content', and it can not cheat the number of articles read for free using Secret Mode. It is different from the general paywall.

Claudias St, head of subscription services to Business Insider , said, 'The company has already adopted hard paywall for paid members only articles, so there is no impact.' 'Many publishers pay this opportunity It will be to review the wall strategy. ' There are also reports that a large number of publishers have already begun moving to a more rigid pay subscription scheme.

Monojoy Bhattacharjee, a writer at What's New in Publishing, stated that 'Google is unexpectedly trying to result in a lot of content being hidden behind paywalls,' said private browsing He stated that Google's intention to respect the purpose would in turn hurt the interests of consumers.