ASUS announces ROG Phone II, a super-high-spec gaming smartphone with a dedicated controller that is no longer Nintendo Switch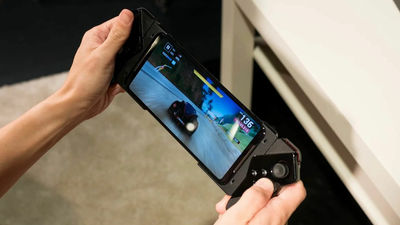 The global gaming market generated $ 134.9 billion in revenue in 2018, of which 47% came from the so-called 'smartphone game apps' market of smartphones and tablets. The game application for smartphones has become a market that is far larger than the PC game market and the home game console market, and it is easy to imagine that it will continue to gain momentum in the future. The gaming smartphone " ROG Phone II " made by ASUS has been announced to enable comfortable and smooth game play on such smartphones.

ASUS ROG Phone 2 preview: Changing the rules of the game | Android Central

https://www.androidcentral.com/asus-rog-phone-ii-preview
Until now, gaming smartphones such as the '
Razer Phone
' have existed. Asus has also released a terminal specialized for the game 'ROG Phone', but has announced 'ROG Phone II' which has further evolved this.
The look of ROG Phone II looks like this. The bezelless design looks like a smartphone. The display size is 6.59 inches and the aspect ratio is 19.5: 9. The terminal is 78mm wide. There is also a curved display on the screen of the smartphone adopted by Samsung's Galaxy series, but the flat panel has been adopted in consideration of long game play.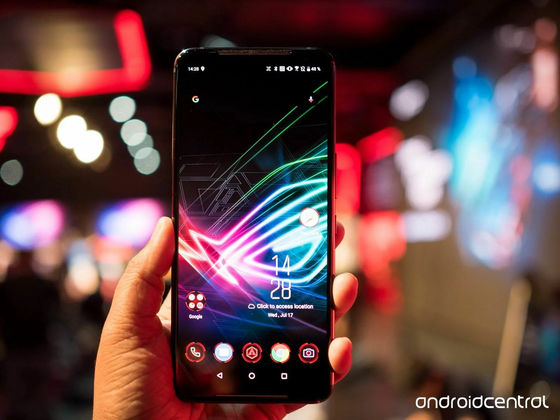 With a gaming smartphone, the display
refresh rate
is 120 Hz. In addition, ROG Phone II has succeeded in reducing touch response time to 49 ms so that screen taps are reflected on the game more quickly. I did some optimizations on the kernel part for this. The touch response time is 87 ms for Galaxy S10 +, 85 ms for OnePlus 7 Pro and 75 ms for iPhone XS Max, so you should know how fast the ROG Phone II is. Android Central notes that 'with a refresh rate of 120 Hz, short touch response times should make the game a noticeable difference.' In addition, ASUS has partnered with publishers such as Tencent to optimize some of its smartphone games to run at 120 Hz.
There is a speaker at the top of the display, and you can see that the in-camera is housed in the narrow bezel.
Gamers: We like high end specs

Asus: Say no more fam

Asus ROG Phone II
6.6 '120Hz OLED
Snapdragon 855+
12GB of RAM
512GB of storage
48MP camera
6000 mAh battery

Coming later this year ???? pic.twitter.com/RnSfHe7c5V

— Marques Brownlee (@MKBHD) July 22, 2019


The back looks like this. It is the first smartphone equipped with dual vibration motors, and it provides tactile feedback much better than previous smartphones.

Https://t.co/pju7WWcY2M pic.twitter.com/NMXbsn01fn Hype train!

— ROG North America (@ASUS_ROGNA) July 22, 2019


In addition, the logo of the ROG brand in the center is an LED light, and it is possible to change the color freely.
Asus ROG Phone II is officially a beast: SD 855 Plus, 120 Hz display, 6,000 mAh battery https://t.co/jy2c2hHobd pic.twitter.com/1JsNWlqqMa

— Android Police (@AndroidPolice) July 22, 2019


The main camera uses the same Joule as the ASUS ZenFone 6 camera, combining Sony's CMOS image sensor ' IMX 586 ' with a 13 megapixel wide-angle lens. The housing part is a slippery material that reflects light.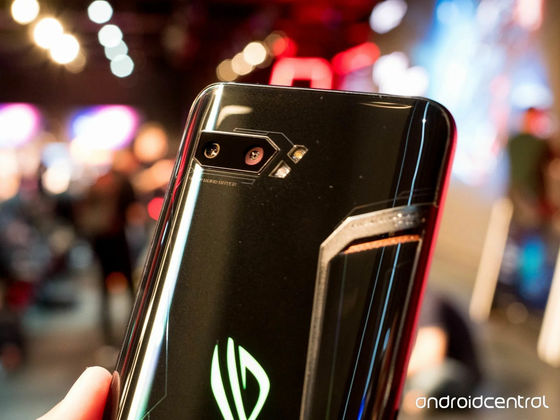 The side is dual USB-C port. The 3.5mm earphone jack is also included, and the terminal is also equipped with four microphones, so you can comfortably play voice chats while playing games.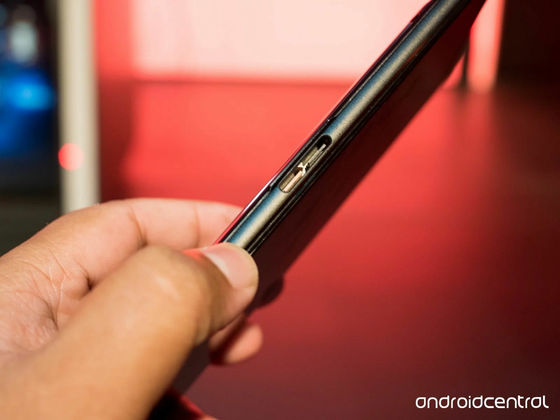 The ROG Phone II uses a heat
sink
to dissipate heat, and it can also cool the terminal by as much as 5 degrees Celsius if a dedicated heat dissipation device 'AeroActive Cooler II' is attached. It connects with the main unit via the dual USB-C port on the side, and it will draw in the internal heat. With these excellent thermal designs, ROG Phone II is designed to maintain peak frequency longer than other smartphones.
ASUS ROG Phone New II Comes With 120Hz HDR Display And Snapdragon 855 Plus Processor - Https://T.Co/8V2HFe9Abu Pic.Twitter.Com/yIP7junB3T

— MSPoweruser (@mspoweruser) July 22, 2019


At the heart, it uses Qualcomm Snapdragon 855 Plus . The CPU has eight cores and the maximum operating frequency is 2.96 GHz, and the GPU adopts the Adreno 640. The DRAM uses LPDDR4X, and the memory (RAM) is up to 12GB. The storage (ROM) conforms to the UFS 3.0 standard, enabling ultra-high-speed data transfer. The ROM can be selected up to 512GB.

In addition, Wi-Fi supports 802.11 ad. A multi-antenna for Wi-Fi is located at 4 locations on the device, enabling stable and high-speed network connection. In addition, the battery capacity is 6000 mAh, and it can be used for 2 days without charging if fully charged. It supports Qualcomm's high-speed charge standard Quick Charge 4.0, so it can be charged at 4000 mAh in 58 minutes from 0% battery condition, and can be fully charged in 1 hour and 21 minutes.

In addition, it has been announced that it is possible to switch from ZenUI developed by ASUS itself to a pure Android UI.

When equipped with the dedicated controller 'Kunai', it looks like a Nintendo Switch.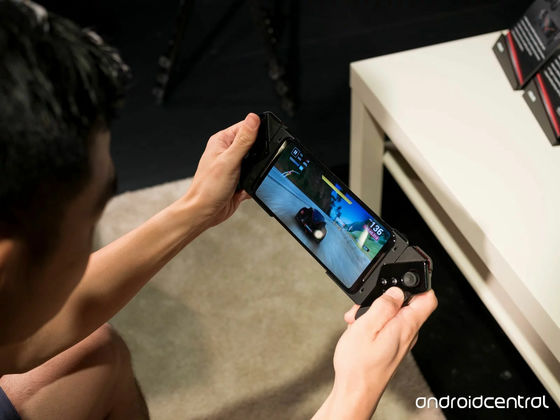 It can be used by removing it from the main unit. Kunai is used by pairing with the main unit in Bluetooth or 2.4 GHz band.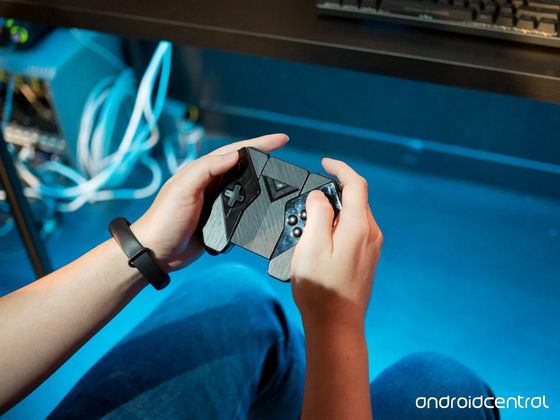 There is also a dedicated stand, the Mobile Desktop Dock.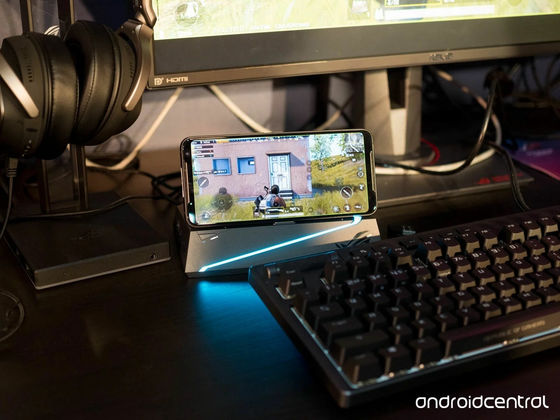 If you use WiGig Display Dock Plus, you can also stream the video of the main unit to the monitor.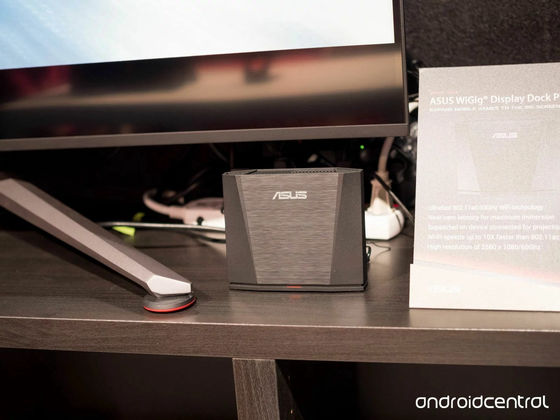 Besides this, there is also a device for ROG Phone II, which is an integrated controller, monitor and 5000mAh battery called TwinView Dock II. This will allow you to have two monitors, play the game on a dedicated controller, and use additional battery and turbo fans.

بطارية 6000 mAh شحن سريع 30 w
اندرويد باي + 3 منافذ USB-C في الأسفل واثنين على ا اليس اب وبصمة في الشاشة.
View ا ا ف ا ا حق عد دة ا ا جه ا ا ا ا ا ا ا ا ا م م م م م م م م م م م م م م م م م م م م م م م م م م م م
Halya La Mlwmat Wllasf n Alasar Bd. Pic.Twitter.Com/aPvGziu7CT

— TV قناة رقمي (@RaqamiTV) July 22, 2019


About ROG Phone II, we have already made a movie showing how multiple users are touching the actual device. It looks like she is holding the opening ceremony.

Asus ROG Phone 2 UNBOXING-World's FASTEST Smartphone.-YouTube


A movie where you can check the appearance of ROG Phone II thoroughly.

ASUS ROG Phone II: O CELULAR MAIS POTENTE DO MUNDO-YouTube


A movie that allows you to check the game playing on ROG Phone II.

ROG PHONE 2: O SMARTPHONE MONSTRO MAIS PODEROSO DO ANO!-YouTube


The ROG Phone II will be released in China on the fourth weekend of July 2019, and will be sold exclusively in China for more than a month. It will then be released for the global market on September 4th. Although the sales price is undecided, 'ROG Phone II may be sold for more than $ 1,000 (about 108,000 yen) considering that the ROG Phone was released for $ 900 (about 97,000 yen) 'High', says Android Central.