"Nexus 6P" haste movie & photo review, what kind of terminal is Google smartphone exclusively sold by Softbank?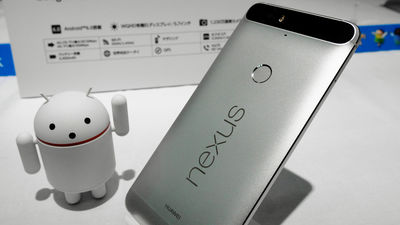 "Google and HUAWEI jointly developed"Android 6.0 Marshmallow"Flagship terminal installed"Nexus 6P"Will be sold exclusively from SOFTBANK. In order to actually verify a number of ultrahigh spec specifications suitable for a beautiful metal body and flag ship model,Softbank & Wy-Mobile new product launchI have touched "Nexus 6P".

Nexus 6P | Search products from the list | product information | mobile | SoftBank
http://www.softbank.jp/mobile/products/list/nexus-6p/

Arrive at touch & try booth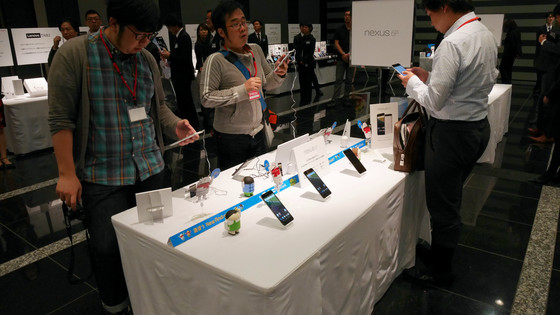 This is Nexus 6P. Main body color is aluminum, graphite, frost and gold in four colors, but only the aluminum, graphite · frost from the left was exhibited. Nexus 6P has different storage capacity depending on terminal color, 32GB aluminum and graphite, 64GB graphite frost gold.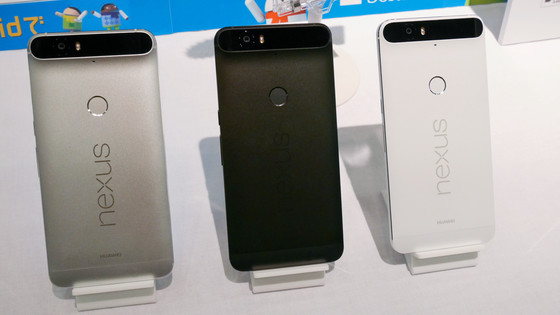 It actually looks like this when you bring it in your hand. Premium feeling of aluminum metal body is very good impression.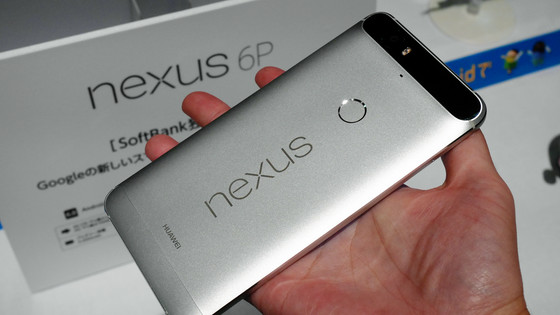 The body size is 159.3 mm in length × 77.8 mm in width × 7.3 mm in thickness and weighs about 178 g. The screen size is 5.7 inches, the resolution is 2560 × 1440, the pixel density is 518 ppi. As you can see, even an adult man can only grip with one hand a barely size.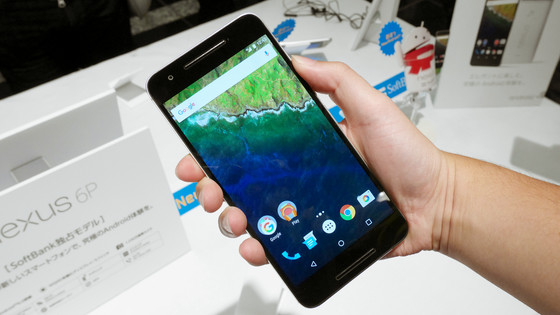 Qualcomm Snapdragon 810 (8 cores, 2.0 GHz + 1.5 GHz) CPU, RAM 3 GB, storage (ROM) 32 GB and 64 GB. However, note that it is not compatible with external memory. In addition, the battery capacity is 3450 mAh, the time it takes from full charge to full charge is very short, about 105 minutes.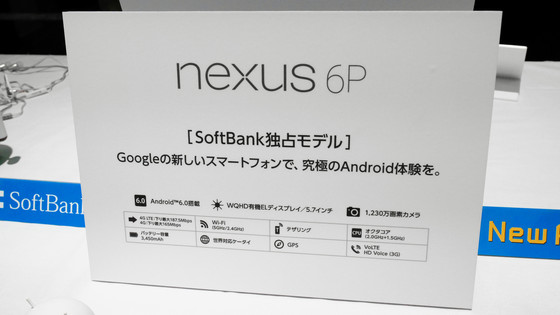 OS is of course equipped with Android 6.0 Marshmallow.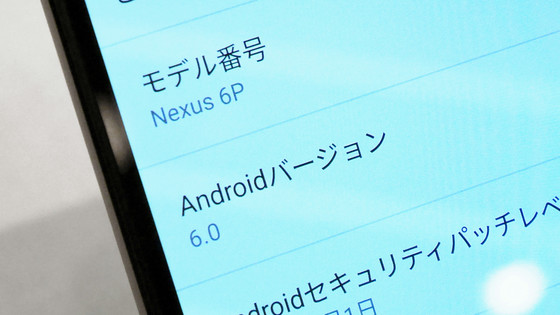 The surface looks like this, the in camera is 8 million pixels.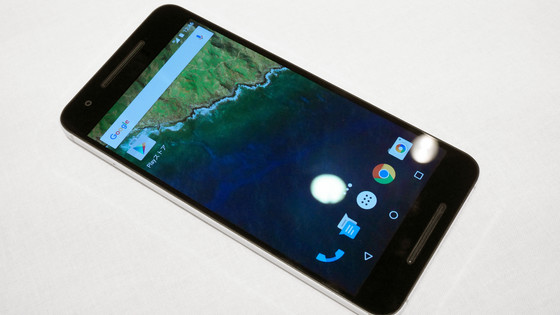 There are oblong lines above and below the display, but this is a dual stereo speaker.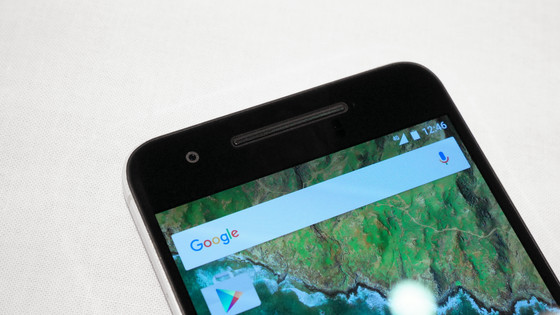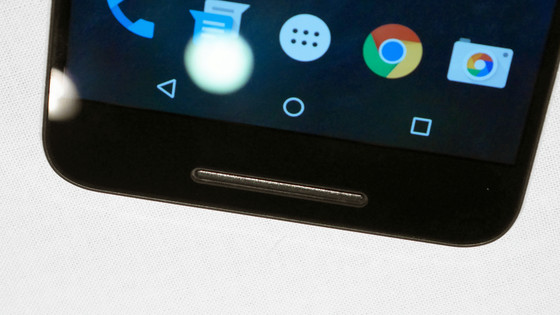 The back is like this.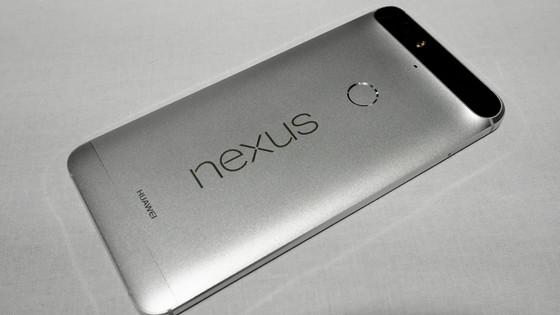 The main camera with 12.3 million pixels with a characteristic black line at the top.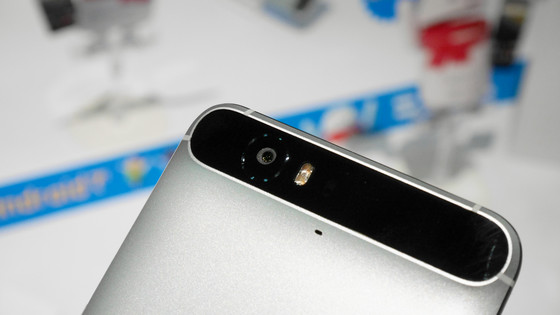 The main camera is slightly raised when viewed from the side.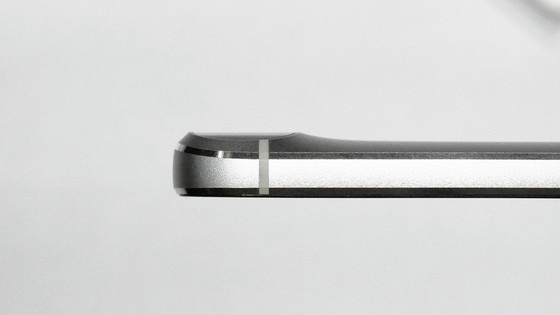 And in the middle there is a big "nexus" logo, under it the manufacturer "HUAWEI" logo.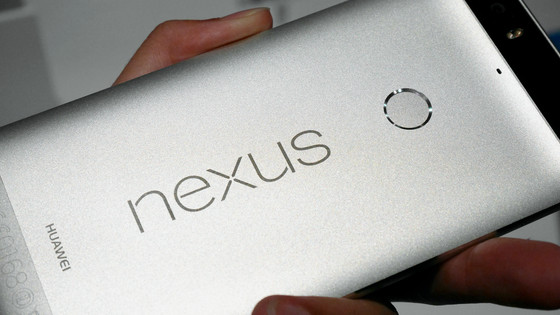 Fingerprint authentication between the main camera and the "nexus" logo. It is in a position where the index finger touches just when you hold the terminal vertically.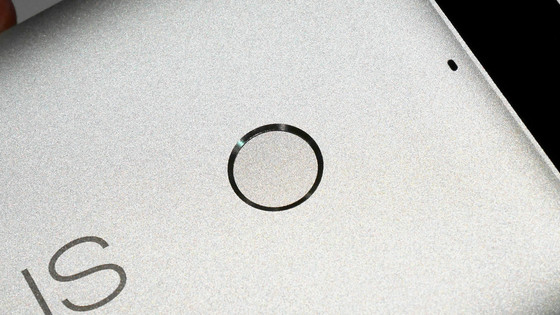 Earphone jack on the top.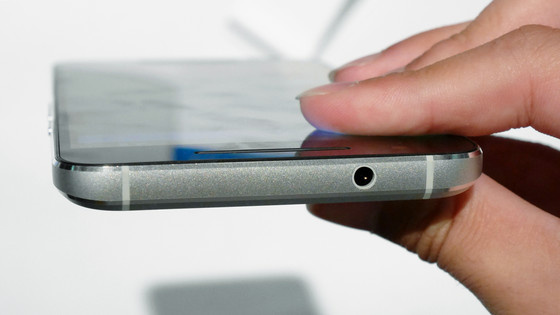 USB Type-C port for charging on the bottom.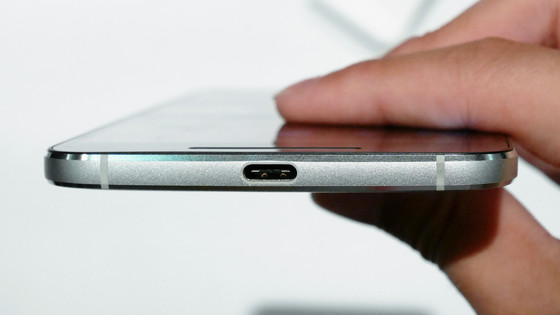 SIM card slot on the left side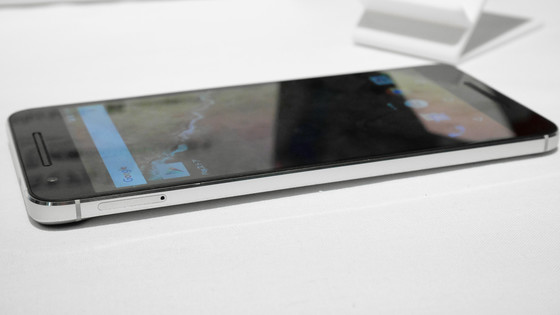 Volume adjustment button and power button from the left on the right side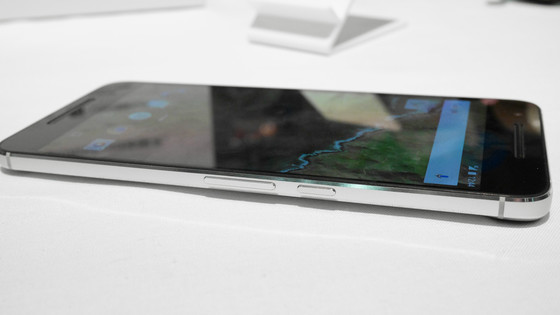 Impression that the edge part of the terminal is cleanly chamfered, and it is very sophisticated in design.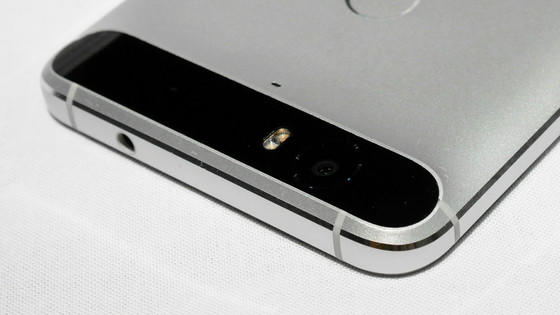 The body is made of aluminum, but sometimes there was something like a white resin line in some places.



Of course use Softbank's line. The communication speed is SoftBank 4 G LTE compatible area, maximum downlink is 187.5 Mbps, maximum uplink is 37.5 Mbps.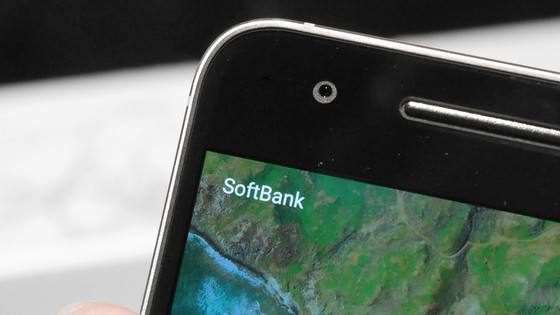 It is also possible to unlock by fingerprint. It was easy to set up.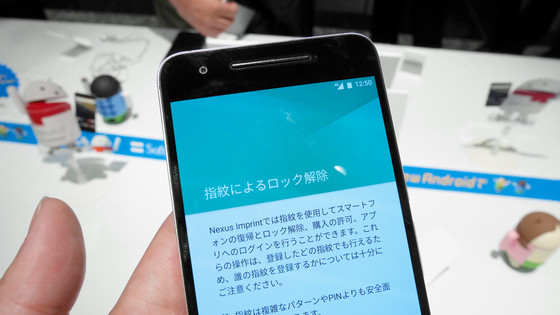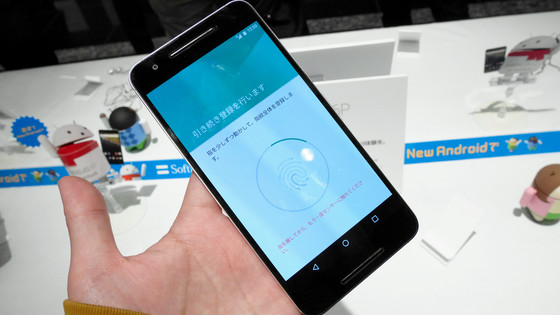 You can see the movies that actually showed that "Nexus 6P" is running.

Touching "Nexus 6P" looks something like this - YouTube


Detailed specifications are as follows.

size:Width 77.8 × height 159.3 × thickness 7.3 mm (excluding protrusions)
weight:Approximately 178 g
Continuous talk time (at rest):4 G LTE: about 1200 min / 3 G: about 1380 min / GSM: about 1200 min
Continuous standby time (at rest):4 G LTE: about 400 hours / 4 G: about 440 hours / 3 G: about 500 hours / GSM: about 450 hours
charging time:About 105 minutes
OS:Android 6.0
CPU:MSM 8994 2.0 GHz + 1.5 GHz (Octa core)
memory:ROM 64 GB (graphite, frost, gold) / 32 GB (aluminum, graphite), RAM 3 GB
Communication method:Domestic: 4 G LTE (FDD-LTE) 900 MHz / 1.7 GHz / 2.1 GHz, 4 G (AXGP) 2.5 GHz, 3 G (W-CDMA) 900 MHz / 2.1 GHz
Overseas: 900 GHz LTE (FDD-LTE) 900 MHz / 1.7 GHz / 2.1 GHz, 3 G (W-CDMA) 900 MHz / 2.1 GHz, GSM 850 MHz / 900 MHz / 1800 MHz / 1900 MHz
communication speed: SoftBank 4 G downstream up to 165 Mbps / upload up to 10 Mbps, SoftBank 4 G LTE down link up to 187.5 Mbps / upload up to 37.5 Mbps
Display size:About 5.7 inches
Display Resolution:Wide QHD (2560 × 1440)
camera:Main camera about 12.3 million pixels, in camera approximately 8 million pixels

In addition, "Nexus 6P" is scheduled to be released late October 2015, and terminal reservation started from October 9th. Although it is locked by SIM, it can be released after 6 months use as with other terminals.