'Nintendo Switch Lite' appeared that narrowed and reduced the Nintendo Switch to mobile mode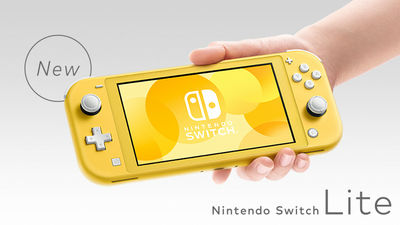 The Nintendo Switch Lite , which was released in March 2017 and sold over 34 million units in two years, has been downsized and lightened, and its portability has been improved, and will be released on Friday, 20 September 2019. Was announced.

Nintendo Switch Lite | Nintendo

https://www.nintendo.co.jp/hardware/switch/lite/
News Release: July 10, 2019-A new companion to the Nintendo Switch: A small, lightweight, easy-to-carry portable 'Nintendo Switch Lite' appeared | Nintendo
https://www.nintendo.co.jp/corporate/release/20019/190710.html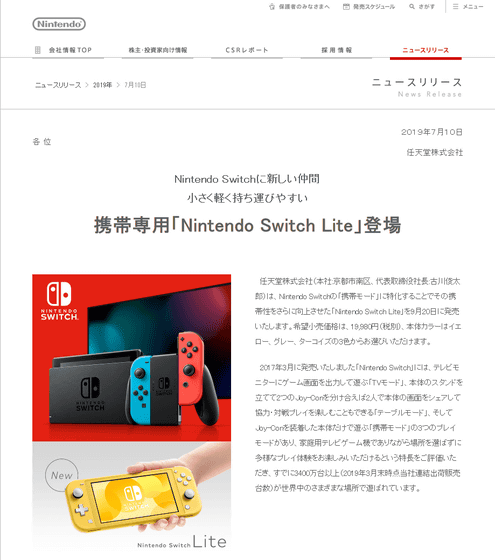 Nintendo Switch Lite premiere-YouTube
The small bargain version of the 'Nintendo Switch' was reported in February 2019.
It is reported that Nintendo plans a small and cheap Nintendo Switch-GIGAZINE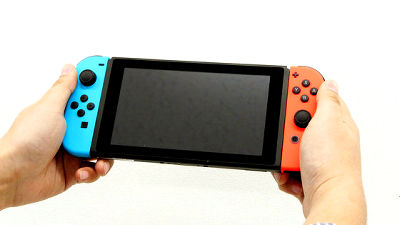 At this point, it was unclear what function would be removed because it was 'planning'.

According to Nintendo's news release, 'Nintendo Switch Lite' is more portable by focusing on the portable mode, so you can not play by connecting to a TV and outputting a screen, but in the portable mode It is possible to play all playable 'Nintendo Switch' software. Also, in multiplayer, you can join the game with the Nintendo Switch.

The size of the Nintendo Switch is 102 mm × 239 mm × 13.9 mm, while the Nintendo Switch Lite is 91.1 mm × 208 mm × 13.9 mm. Weight is about 398g Switch when wearing Joy-Con, about 275g Lite. The screen resolution is the same 1280 x 720 pixels, but the size is 6.2 inches for Switch and 5.5 inches for Lite. The battery life is about 3 hours to about 7 hours, which is longer than about 2.5 hours to about 6.5 hours of Switch.

Body color is yellow, gray, three colors of turquoise. The price is 19,980 yen excluding tax.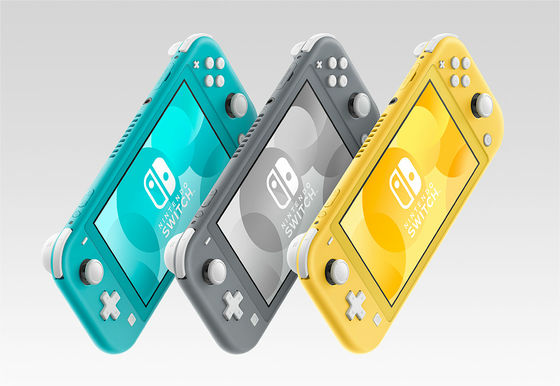 Since the controller is integrated with the main unit and does not support HD vibration or motion IR cameras, you need a separate Joy-Con to play games using these functions.

The Nintendo Switch Lite can only be pre-ordered on Amazon.co.jp only for the limited design version to be released on November 1, 2019.


Amazon | Nintendo Switch Lite The cyan and the magenta [cellular adapter and AC adapter included] | Game