Sony Introduces Compact PS2 with New Design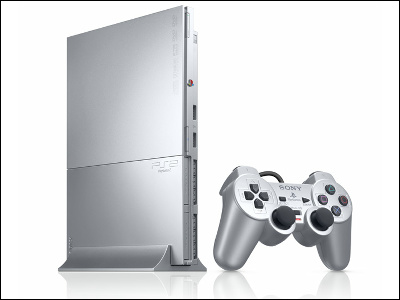 The other day at GIGAZINESony to launch a new model of PS2We took up Sony's PS2 "SCPH-90000 series" which was compact with a new design today.

It is said that it will be on sale from November 22 (Thursday), and the same three color variations as the current model are prepared.

Details are as follows.
"PlayStation 2" new design appeared on Saturday, November 22, 2007 (SCPH-90000 series) released | Press Release | Sony Computer Entertainment

According to this release, Sony celebrated its eighth year since its launch in 2000, and PS2 (SCPH-90000 series), which made a new design, was changed to 2007 From Thursday, November 22nd, it will be released at 16,000 yen including tax.

The same model as the current model "Charcoal Black" "Ceramic White" "Satin · Silver" color variations are prepared and on the same day a dedicated vertical stand of the same color will be released at 1500 yen including tax about.

In addition, in addition to the newly designed and designed parts of the main body of the PS 2 to be released this time, the weight has been reduced as well as the built-in AC adapter which had been connected externally with the main body, so that PS2 main unit and power supply It is said that it became easy to connect and use it without taking the place with only the code.