Sony lowered PS3 main unit price to 24,980 yen, all models targeted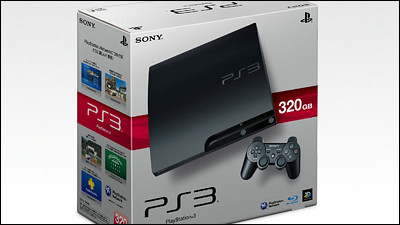 Sony announced that it will price PS 5 's main unit price by 5000 yen.

The price reduction of the main unit price will be done since 2009, when we announced a new model which has become significantly thinner and lighter than before, and it seems that further spread will be expected by becoming less expensive.

PlayStation 3 price revision suggested retail price 24,980 yen (tax included) | PlayStation Official Site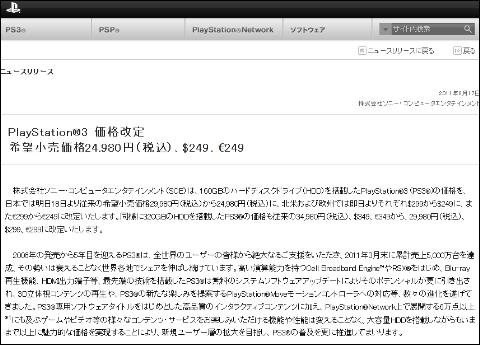 According to the press release of Sony Computer Entertainment Inc., the company will release the 160GB model PS3 from 20,000 yen to 20 4980 yen from 18th August tomorrow, the 320GB model will change from 30,4980 yen to 20,990 yen It is said that it will be cut in yen.

PS3 celebrates its fifth year since its launch in 2006, but at the end of March 2011 it has achieved cumulative sales of 50 million units. We are planning to further promote the spread of PS3 with the aim of expanding the number of new users by realizing a more attractive price than ever with a large capacity HDD installed.

In addition, "Sengoku Musou 3 Empires" and "Monster Hunter Portable 3rd HD Ver." "Tales of Exilia" "Dark Soul" "PlayStation Move Everyone's GOLF 5 Beginners Pack" "RESISTANCE 3" "ICO" "Wanda and the Colossus" Ted - Atlantis sleeping in the desert - "will also be on sale.

Furthermore, the price of "PlayStation 3 TALES OF XILLIA X (Cross) Edition" which was set with "Tales of Exilia" scheduled to be released on September 8 and the special specification PS 3 with 160 GB HDD mounted as the original planned suggested retail price of 30,000 Changed from 7980 yen to 29,980 yen.

And the new PS 3 released in June "CECH-3000 series"We are adding a classic-white model to the 160 GB model.
in Game, Posted by darkhorse_log