Large-scale failure involving Discord, Amazon, etc. occurs, 'the real cause is Verizon' and Cloudflare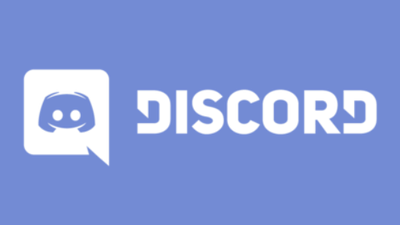 A major failure occurred in Discord,
AWS
, Twitch, etc. at around 21:00 on Monday, June 24, 2019 Japan time. About two hours after the outbreak, the failure recovered, but the cause is believed to be
Verizon, a
major US communications company.
How Verizon and a BGP Optimizer Knocked Large Parts of the Internet Offline Today
https://blog.cloudflare.com/how-verizon-and-a-bgp-optimizer-knocked-large-parts-of-the-internet-offline-today/
Discord was down due to Cloudflare and Verizon issues-The Verge
https://www.theverge.com/2019/6/24/18715308/discord-down-outage-cloudflare-problems-crunchyroll-feedly
Verizon, AWS experience system outages, customers report-The Washington Post
https://www.washingtonpost.com/technology/2019/06/24/verizon-amazon-web-services-outages-reported-throughout-northeastern-us/?utm_term=.eec4533b131c
The large-scale communication problems that occurred this time mainly affected the gamer chat app
Discord
. Users were unable to connect to Discord, and it was difficult to check the
server status
of Discord temporarily.
According to Newsweek,
there are 100,000 tweets that say 'I can not connect to Discord'.
Discord (among other sites) is down and people are freaking out.

Trending when your product goes down the best sign that you've built something people love. Pic.twitter.com/TXKkdkmKQM

— Blake Robbins (@blakeir) June 24, 2019


The direct cause of Discord's communication failure is Cloudflare, which provides DDoS protection and proxy services for enterprises. Cloudflare reports that it is 'observing the progress of the problem' at around 20:00 on June 23, and worked to understand the problem and investigate the cause.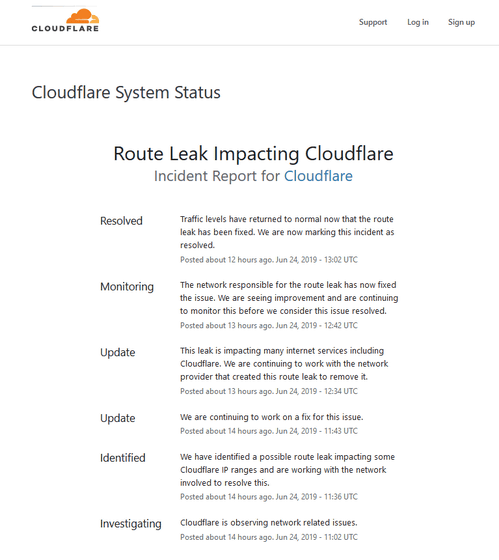 The findings from Cloudflare's research indicate that the root cause is the 'BGP Optimizer' service by Noction Verizon uses. BGP is like 'route search of the Internet', and it is used to search for a route on the Internet without waste, just like moving from Osaka to Tokyo without going through Okinawa. It will be The BGP Optimizer service has now been shown to a large number of users that Verizon's network is 'optimal' on the Internet. As a result of the false indication that 'Verizon is the best route!', The traffic flowing into Verizon increased rapidly.

Originally, BGP Optimizer had to be equipped with a filter function to 'stop BGP when traffic surged'. However, Verizon does not use this filter function and can not stand up to traffic spikes and services are down. As a result, many Internet services such as AWS, Linode and Cloudflare have been affected, and Discord, which used Cloudflare, has received an aftermath.

Cloudflare's Matthew Prince commented on Twitter that Verizon and Noction will be terribly embarrassing, as Verizon did not turn on the basic filtering features. Since then, he has strongly criticized Verizon's responsiveness, such as 'Verizon's Technical Operation Center has no response.'

Teams At The Attoverizon And Attonoction Should Be Incredibly Embarrassed At Their Failings This Morning Which Impacted AttoCloudflare And Other Large Chunks Of The Internet. It'S Absurd BGP Is So Fragile. It'S More Absurd Verizon Would Blindly Accept Routes Without Basic Filters.

— Matthew Prince ???? (@eastdakota) June 24, 2019