Google's cloud server temporarily goes down, the aftermath affects Pokemon GO and Spotify etc.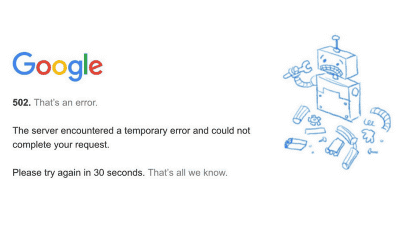 Google App Engine , part of Google's "Google Cloud Platform", a platform for web application realization, temporarily went down. This resulted in a temporary downtime of services such as Pokemon GO using the same service.

Google outage briefly takes down major services including Snapchat and Spotify - BNO News
https://bnonews.com/site/index.php/2018/07/google-outage-takes-down-major-websites/

This incident occurred around 12 o'clock in the afternoon on July 17, 2018 at Pacific Standard Time on the US West Coast where Google is based. The server providing the Google App Engine failed, which led to the situation where the application service using this service stopped being provided.

In the Status Dashboard showing the state of Google Cloud provision, information recording the situation at that time is released.

Google Cloud Status Dashboard
https://status.cloud.google.com/incident/cloud-networking/18012

According to the page description, Google is investigating the obstacles occurring in services such as Google AppEngine, Stackdriver , Dialogflow as of 12:34 . After that, at 12:54, it was shown that the majority of obstacles were recovered and headed towards normalization, and at 13:19, all obstacles were resolved at 13:05 It is written.




In response to this aftermath, service provision temporarily stops with Pokemon GO which uses Google services, Spotify of music streaming service, Snapchat of picture sharing application, voice call for gamer, Discord etc of VoIP free software etc A situation occurred. As this occurred in Japan time, it was an early morning event around 5:15 on July 18, 2018, so it seems that there was not much influence in Japan.

In comment to this, Google commented that "we carry out an internal survey and will make appropriate improvements to minimize the likelihood of a similar disability in the future".