'Avengers / end game' scene additional version to the theater release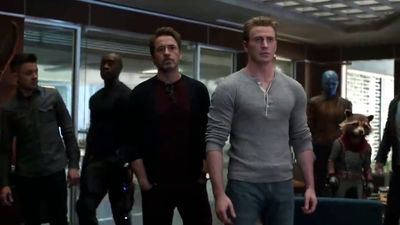 In the movie, there is a work in which a funny scene is inserted after the end credit that the cast and the name of the staff flow. "Marvel Cinematic Universe" is more than just a bonus, but it may be an important scene related to the next work, but "
Avengers / End Game
", which is a compilation of works so far There was no this scene. However, according to producer Kevin Feigi, before the release of '
Spider-Man: Far From Home
', there is a plan to release an additional version of the scene after the end credit of 'Avengers / End Game'.
Avengers: Endgame Returning to Theaters Next Week With New Post-Credits Scene
https://screenrant.com/avengers-endgame-rerelease-post-credits-scene/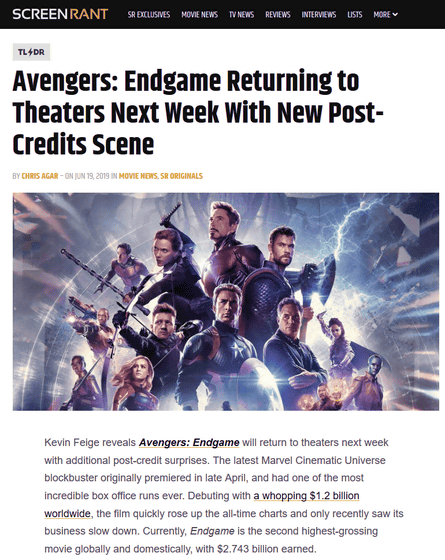 This information came to light when the movie information site Screen Rant interviewed Mr. Faigi about 'Spider-Man: Far From Home'.

According to Faigi, the scene is not added to become a 'Avengers / end game full version', but it is a recovery of the deleted scene. It's a little
tribute,
and it looks a bit surprising. The movie Blu-ray and DVD often include unreleased scenes that were not used in the main part as bonus movies, but those that can be seen on the theater screen, and Screen Rant are examples. You are
However, the other scene after the end credit is familiar scene in Marvel ・ cinematic universe work, and in "
Iron Man
", SHIELD director Nick Fury visits Stark, "
Avengers
" heroes I was silently eating
shawarma
that appeared in the conversation during the work. Rather, the 'end game' which was nothing after the end credit is more unusual, and the 'end' is on the '
List of films with post-credit scenes (list of movies with post-credit scenes)
' page on Wikipedia. It is noted that it is not in the game.
The release date of this scene addition version is the timing before 'Spider-Man: Far From Home' release. However, the 'end game' has become a form that was deprived of the screen by the release of works such as '
X-MEN: dark phoenix
' and '
men in black: international
' It is unknown yet.
The 'Avengers / End Game' ranked second in all generations with $ 2,744 million in global box office revenues. It is said that this is a campaign aimed at this record, as it has reached as little as the '
Avatar
' ($ 2,788 million, approx. 300 billion yen), which is the 1st place in history.
All Time Worldwide Box Office Grosses
https://www.boxofficemojo.com/alltime/world/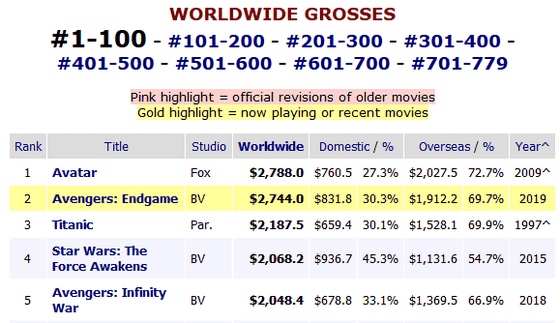 In Japan, eight years after its release, the company will record at least 6 billion yen in box office revenue and 4 million spectators, and the screening will end on June 27, 2019 (Thursday). It is unknown if there is a release of additional scenes.

By the way, "Marvel Cinematic Universe Phase 3" is completed with this "Avengers / End Game" and "Spider-Man: Far From Home". For the next phase 4, Mr. Faigi is expected to release information at the San Diego Comic Con in July 2019.


in Movie, Posted by logc_nt