Music site accused 'Google has been copying lyrics for many years'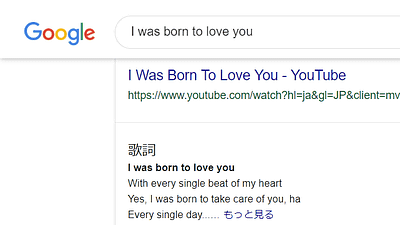 Since December 2014, Google has been able to display the title and lyrics of the song above the search results when entering the song title and lyrics on the search engine. This is a useful feature when saying 'What is this phrase for?' But Genius Media, which specializes in the lyrics of songs, 'Google has been publishing for years for inclusion in search results. I have been copying the lyrics.

Lyrics Site Accuses Google of Lifting Its Content-WSJ

https://www.wsj.com/articles/lyrics-site-genius-com-accuses-google-of-lifting-its-content-11560677400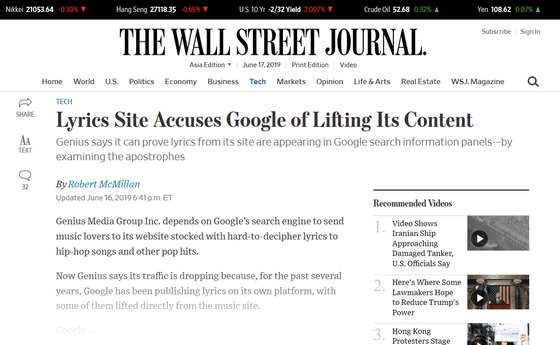 Genius.com accuses Google of copying its song lyrics-The Verge
https://www.theverge.com/2019/6/16/18681225/genius-com-accused-google-copying-song-rap-lyrics
Since 2009, Genius Media has provided 'Genius Lyrics' as a platform for annotating various songs and allowing discussion among music fans as 'a platform for annotating the lyrics of clever raps'.
For example, in the case of a song called 'Money In The Grave' by rapper Drake, song names, artist names, lyrics, playback buttons, comments by users, etc. are lined up, as a community of people who want to know the lyrics and who want to talk about songs. It works.
Drake – Money In The Grave Lyrics | Genius Lyrics

Such Genius Media claims that Google copies only the lyrics from Genius Lyrics and displays them in the search results. Genius Media has been complaining to Google for many years.
'It is clear that Google is displaying in the search results the lyrics copied by Google from Genius Lyrics in the search results, and Ben Gross, an executive of Genius Media We have presented it to Google many times, which is a serious problem and we need to address it. '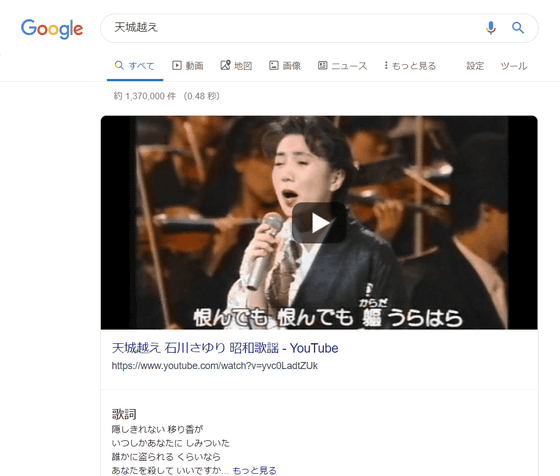 Genius Lyrics introduced a mechanism to display the word 'Red Handed' when converting a pattern hidden in lyrics to Morse code in order to see if the lyrics written on the site are not stolen And that. Therefore, it seems that you can easily determine whether Google is stealing lyrics.

When the Wall Street Journal asked Google to comment on the matter, Google is copying content from Genius Lyrics, saying it is licensing content from another company that handles the lyrics (LyricFind). I have denied it. However, according to a Google statement issued by The Verge, a Google spokeswoman confirmed that the information contained in the search results was licensed from a variety of sources. 'I'm just doing it.'