Sony and Microsoft have strategic alliances in the field of cloud gaming and AI, and a new platform for developers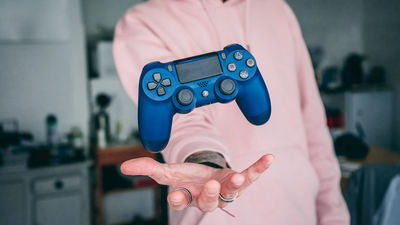 by
Florian Gagnepain
Sony, which has PlayStation, and Microsoft, which has Xbox, have two major players in the gaming industry, and announced two strategic alliances in cloud-based solutions and AI-based solutions in games. You are
Sony and Microsoft to explore strategic partnership-Stories
https://news.microsoft.com/2019/05/16/sony-and-microsoft-to-explore-strategic-partnership/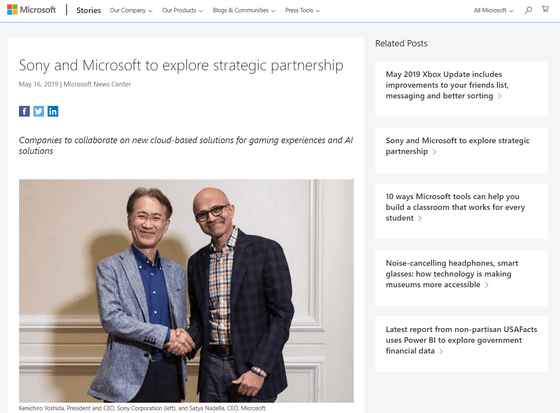 Microsoft and Sony form cloud gaming and AI partnership-The Verge
https://www.theverge.com/2019/5/16/18628090/microsoft-sony-cloud-gaming-ai-partnership
On Thursday, May 16, 2019 local time, Microsoft announced that it had a strategic alliance with Sony. 'The two companies have announced that they will work on new innovations to improve the customer experience in the area of consumer entertainment platforms and AI solutions,' a release from Microsoft states.
'The partnership means Microsoft and Sony are collaborating on cloud games. This is a significant event, and the major competitor in Microsoft's cloud, a big loss for Amazon,' said The Verge of foreign media. It is also pointed out that. In addition, Google, which announced its own cloud gaming service,
Stadia
, is a threat to both Microsoft and Sony, and it seems that Sony and Microsoft have teamed up with infrastructure support to counter this. The Verge says.
Kenichiro Yoshida, president and CEO of Sony, and CEO of Satya Nadera from Microsoft.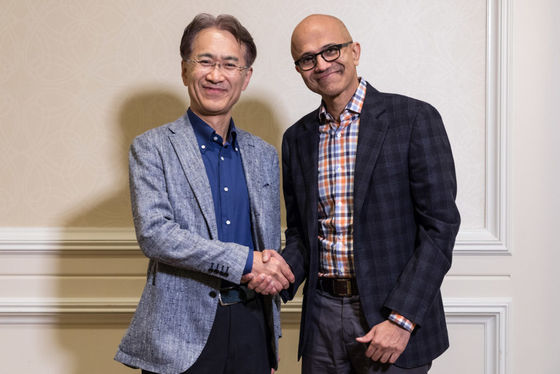 During the strategic alliance, the two companies are considering the future development of future cloud solutions in Microsoft Azure to support streaming services for game content developed by each. In addition, Microsoft Azure data center-based solutions used at Sony's streaming services for game content at the time of writing will also be reviewed. The two companies have stated that they are aiming to provide a richer entertainment experience to customers all over the world through a strategic alliance, and plan to build a better development platform for the content creator community. It is also revealed.

The strategic alliance also suggests that Sony and Microsoft may pursue joint research in the semiconductor and AI fields. In the case of semiconductors, 'joint development of a new intelligent image sensor solution is included'. Specifically, by integrating Sony's state-of-the-art image sensor development technology with Microsoft's AI and cloud technology into a hybrid, we aim to be able to provide new customers with unprecedented new solutions. pattern. With regard to AI, the two companies are considering incorporating Microsoft's advanced AI platform and tools into Sony's consumer products in order to provide a very intuitive and user-friendly AI experience.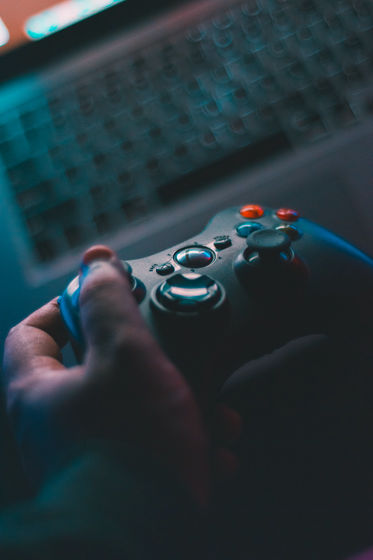 by Hardik Sharma

'Sony is a creative entertainment company with a strong base of technology. PlayStation was born through the integration of creativity and technology. Our mission is to continue to provide the best immersive entertainment experience,' said Yoshida, president of Sony. In order to evolve the platform seamlessly, with a cloud environment that guarantees the best experience anytime, anywhere, for many years Microsoft has been an important business partner for us, but in some areas has competed with us I believe that the joint development of cloud solutions for the future announced under such circumstances will greatly contribute to the advancement of interactive content, and in the semiconductor and AI fields, the two companies' complementary technologies will complement each other New to society by I expect that I can create great value, "he said, adding that he is pleased with the strategic alliance.

'Our partnership will bring the power of Azure and Azure AI to Sony and deliver a new gaming and entertainment experience for our customers,' said Microsoft CEO Satara Nadela.