Adobe does not certify some older versions of Photoshop, Premiere, etc. in Creative Cloud, 'may be claimed to be infringed by third parties'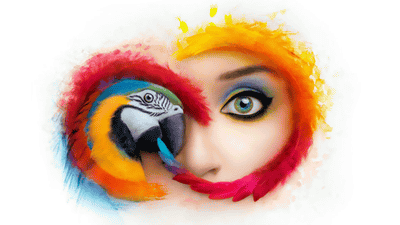 Users of 'Adobe Creative Cloud', a service that lets you use many of Adobe's applications on a monthly basis (subscription basis), have been notified by Adobe that they want to move to the latest version. It is not uncommon to say that 'latest than the previous version' is not unusual, but in the case of Adobe this time, some older versions of software are treated as 'not certified' and continue to use 'rights from third parties This has led to confusion among users around the world, as it has been reported that it may be allegedly infringed.

Changes to Creative Cloud Download Availability | Adobe Blog

https://theblog.adobe.com/changes-to-creative-cloud-download-availability



The official blog's guide says that Creative Cloud users will only be able to download the latest two major desktop applications for download in the future, saying 'The power of the two largest major releases used by the majority of users Will further develop the required functionality and achieve the best overall performance and benefits. "

However, if a corporate user is requested to update to the 'certified version' and if they continue to use the non-certified version without updating, there is a 'potential infringement claim by a third party' The notification of has arrived.


Adobe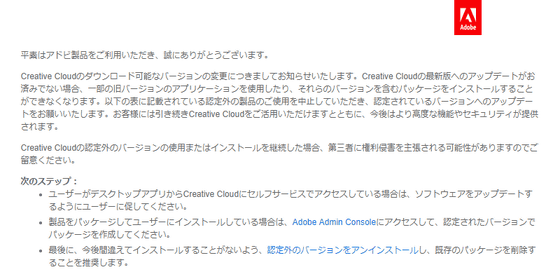 According to Adobe, the certified version of Photoshop is 'CC 20, CC 19, CC 18. 1.7', the certified version of Premiere Pro is 'CC 13, CC 12', and the certified version of After Effects is 'CC 16, CC 15' The certified versions of Animate (formerly Flash) are 'CC 19 and CC 18'. In addition, certified versions are specified by InDesign, Media Encoder, Audition, Lightroom Classic, Bridge, Prelude, and Captivate. Because SpeedGrade has been discontinued, everything prior to 'CC 9' has not been certified. Meanwhile, all versions of software not included here are certified.

The impact is also on the pros like Ashley Lynch, who works on post production for movies and TV series, including "Wild Speed ICE BREAK".

Pic.twitter.com/8t0tx8FTeO Adobe no long long long long is is is is sub sub sub sub sub sub sub sub sub sub sub pic pic pic pic pic

— A As ASHLEY LYNCH ᴍʏ @ @ @ (@ashleylynch) May 10, 2019


Game creator Matt Roszak is told that he will stop using 'Animate 15.0 (formerly Flash CC 2015)', which he is paying for, and 'I think it's time to cancel my subscription,' Tweet.

I just got an email from @Adobe that I'm no longer allowed to use the software that I'm paying for. Time to cancel my subscription I guess.

Plz Share. Pic.Twitter.Com/ZIIdqK5AkM

— Matt Roszak ???? (@KupoGames) May 10, 2019


Mr. Daisuke Shinozaki, a web designer who was also involved in the book 'Kinpichi Photoshop [Web Design] ', also 'changed the contents of the contract which would be quite disadvantageous for the user without any prior notice' In the case of no post-reporting, there is a problem.

'Adobe CC CS6 and later apps can be used all the time,' Adobe CC of the cliché, but there is no post-report and past apps can not be used | Stocker.jp / diary
https://stocker.jp/diary/adobe-cc/

The wording on the official blog after CC announcement remains about 'You can use CS6 as the oldest version and any version, as long as you subscribe to Creative Cloud'.

Frequently asked questions and answers after Photoshop CC announcement
https://blogs.adobe.com/japan/faq/

According to Junichi Ayukawa, who is an ex-DTP operator, "If Illustrator and InDesign are not opened in the same version as when they were created, letter typesetting may be shifted or expression may differ, resulting in a finish different from the author's intention. It points out that there is a big impact on the printing industry, especially in the DTP field.

Do you use CS6 even if you have a contract with Adobe CC? Furthermore, in the policy that CC does not permit the use of the old version. | Jdash 2000 site
https://jdash.info/archives/Do not use CS6 even if you subscribe to Adobe CC. html

There are voices pointing out that this is related to Adobe's dispute over the payment of license fees with Dolby.

Dolby sues Adobe for dodging license fees • The Register
https://www.theregister.co.uk/2018/03/14/a_dolby_sues_adobe_for_dodging_cloud_license_fees/