The official site of the anime 'Love Live!' Is taken over by someone, the cause is 'approval of domain transfer'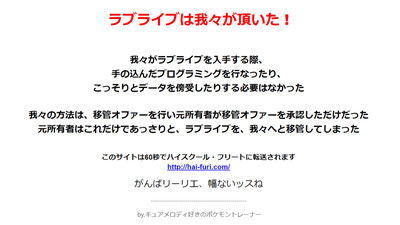 On April 5, 2019, the official site of the anime '
Love Live!
' Was hijacked by somebody, and the text that appeared to be a message from the hijacker was displayed. Although it became inaccessible at the time of article creation, it revives again. You still see the message 'Love Live is what we got!' The 'Love Live!' Official Twitter account has been called to avoid unintended access, as it may be subject to malicious tricks.
Currently 'Love Live! ] On the official website of the series, there have been reports of problems in which page content has been tampered with.
We are currently investigating the cause, but it is possible that the viewer may be subjected to malicious tricks, so please refrain from silent access.

- lovelive! Series official (@ LoveLive_staff) April 4, 2019


'Love live!' Is a media mix project originally started in the magazine 'Dengeki G's magazine' in 2010, and a television animation version was broadcast in 2013. The idol group " μ's " that appears in the play has gained great popularity, including being part of the 66th Red-White Song Battle.

The official site looks like this, and in 60 seconds it is redirected to a completely unrelated animation in 60 seconds. As per the written text, when the perpetrator made an application for domain transfer, the official who is the administrator of the domain has approved for some reason and succeeded in hijacking the domain without any trouble. It seems that it has been done.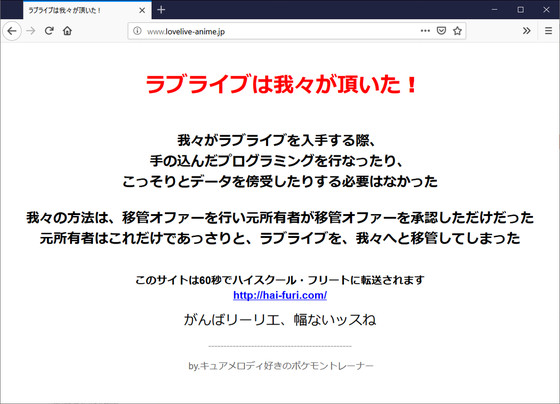 Since the official site of animation comes to the top even in Google search, it has become an abnormal situation where a message from a perpetrator is displayed at the top of the search results.




As far as the source is seen, the page is written in HTML and is very simple. The music file of MP3 format was played by BGM designation, but it did not flow even if it actually accessed.

Love Live Hijacking Source Analysis pic.twitter.com/rdW2SVAoAp

— The Secret Secretary (@Odango_P) April 4, 2019


At the time of article creation, the URL of the official site has been restored once, but it has been restored and the hijacking page is still displayed. The official side continued to investigate the cause and said that it intends to transmit information on official Twitter for a while.

We will tell about the future situation in this official Twitter.
We apologize for all the support you have always given, but I am sorry to trouble you, but kindly thank you.

- lovelive! Series official (@ LoveLive_staff) April 4, 2019