Headline News for March 28, 2019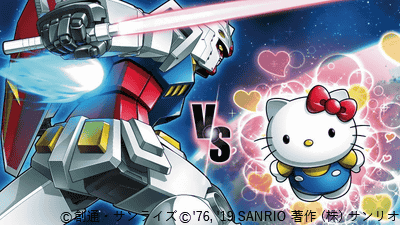 The "Hello Kitty", which celebrated its 45th anniversary, the "Mobile Suit Gundam", which is the 40th anniversary, and the " Gundam vs Hello Kitty Project, " in which two national characters face each other, were announced. At first Marugame Seimen from April 2 (Tuesday) to May 19 (Sun), 'Confrontation' will be held at Ito-Yokado specialty store street from May 1 (Wed) to May 6 (Mon) .


It was announced at an interview earlier. What is Kitty's opponent? Mobile Suit Gundam! The confrontation between Kitty, who will celebrate the 45th anniversary, and Gundam, which will celebrate the 40th anniversary, will begin now. https://t.co/F3sFzssmwB # Gundam Kitty pic.twitter.com/2hE07UgnzV

— Gundam vs Hello Kitty Project (@gundamvskitty) March 28, 2019


By the way, such an article was published on the same day in the past on the same day.

A book of action MORPG's 'Diablo', a game that shines in the history of games, is on display-GIGAZINE

Aluminum foil blacksmith who beats aluminum foil and heats it to make a kitchen knife appeared-GIGAZINE

Go Nagai hopes to see 'quickly' in 'DEVILMAN crybaby', which director Masaaki Yuasa said, 'Create for the original last scene' and 'Draw Asuka Ryo'-GIGAZINE

Japan's Shining Mud Dumplings became art abroad-GIGAZINE

I stayed at the ONOMICHI U2 complex where you can stay by bike in Onomichi overlooking the Shimanami Kaido-GIGAZINE

◆ neta (memo, various other)

At a Japanese confectionery shop that somehow stopped, I sold 'dough-baked with dry curry' and sold it twice, and despite the name being 'Indra' I laughed out in spite of having a glance at that spot ... Zulu ... pic .twitter.com / JNm1gph9KT

— Momo (@ mo69tsun) March 27, 2019
The shape of Hokkaido is amazing. I have no regrets, but I think that if this is a form of Tochigi, it can not be sold. pic.twitter.com/ogmF6ckeno

— Taku Omura Taku Omura (@ trialanderror50) March 28, 2019
The bend of the wing is good, but the shellfish plays a leading role too ... pic.twitter.com/c2zwLbaMp5

— Katsuru Miyamoto (@KE_mi) March 27, 2019
I feel like I can not find any more hidden mickeys. pic.twitter.com/hSWSefYRYy

— Yohana (@ yoka__1128) March 27, 2019


◆ Science (Science, Learning, Technology)

It is such a thing of esserian system pic.twitter.com/mWdjy7sLiV

— The vest (@ kaito143051) March 27, 2019


From Hideyoshi to Kato Kiyomasa Seal command found in Korea dispatch first thing is Aichi | NHK News

◆ Society, politics, economy (case, world news, business)
The prime minister and the former Democratic Party administration criticize, child allowances circulation "At that time, there are many who think that they are fools"-Mainichi Shimbun

UK Prime Minister May Resign to the ruling party after passing a draft EU withdrawal agreement | Reuters

Doctor overtime work Exception 1860 hours Overwork death line significantly overrun | NHK News

Strengthening support measures for the utilization of human resources in the "Glacier Job Age" generation Government | NHK News

It will not end if it is as it is now ... 'The documentary' of 'Moryu case'-YouTube


Suddenly closed kindergarten 'half of the planned admission admission is not established' | NHK News

The high court overturns the decision of a prisoner former employee Koransha bail for murder murder | NHK News

Toyota and Honda 'tag' in the new transportation service company 'Monet' | NHK News

The Prime Minister May Resigns After Approval of the Withdrawal Agreement 'Absolute Tactic'-Mainichi Shimbun

Metal parts in rice fields fall from aircraft or just under Narita Airport flight route | NHK News

Matsuhashi case, acquittal for murder crime Kumamoto district court 'no crime proof': Asahi Shimbun digital

Disposable plastic bans across Europe EU parliament approves bill 1 photo International News: AFPBB News

Resistant virus from more than 70% of patients with influenza treatment 'Zophusa' | NHK News

Is the 'news station' that reports Yuri Geller's 'supernatural power' a news program? (Shoko Egawa)-Personal-Yahoo! News

House flames 'tempura forgot to burn out, break': Domestic: Yomiuri Shimbun Online

◆ Lifestyle (life, life, health)

Taste the world's feast, rare food series, and Indian style 'camel tomato curry'. https://t.co/f3gN8x8RrY

— KEISUI ART STUDIO (@keisuiart) March 27, 2019


70% of job hunting students are away ... why 'hidden as a substitute for work' is rapidly increasing | Daily Gendai DIGITAL

'I can not understand the difference in pronunciation even if I study' Foreign Phase | NHK News

High school students who are troubled, it is too early to choose 'Faculty of Psychology' |

News Up Why young people in Hong Kong get married in Aomori | NHK News

Painful News (No∀ `): First Warning for Ramen Jiro' Please eat within 15 minutes '-Livedoor Blog

Strange habit of 'determining the salary considering the previous job'-De-lived blog


Compact and beautifully housed in a narrow valley between mountains,
Takaoyama Interchange is an art. pic.twitter.com/mGUsiKC4J6

— Mira Inosine-Headquarters-Yamaguchi Incubation (@mirainoshiten) March 27, 2019
Several years ago, my grandfather was found to have cancer for several months. My grandfather sang when I had a meal with my relatives as my last memory.
'I want to go to the Hooters'
Everyone laughed loud and moved to Akasaka. This smile Taruya. After all, his grandfather lived a year and a half, and he died without suffering at the end of his life.
I do not laugh at the Hooters. pic.twitter.com/XwnCFCpaPk

— Masayoshi Hi Grandson (@ yoshiQ1) March 26, 2019
I don't understand the meaning at all, but in the Fujino parking area, a Pakistani family suddenly called out 'Don't eat because I made Biriyani?' And I had a delicious chicken Biriyani as a feast. pic.twitter.com/IVJ79wQqyB

— U-zhaan (Uzarn) (@u_zhaan) March 27, 2019


'To a girl who has been manicured with a high-speed bus' Rethink the dangers of using highly volatile paint in areas where ventilation is not possible-Togetter

◆ IT · gadget (net, software, hardware, mobile)
Google Developers Japan: Neural networks visualize what they are watching Activation Atlas

Are NTTCom employees really engaged in rugby club members? -show log @yuyarin

We made a request to the Hyogo Prefectural Police to disclose information on 'crimes concerning fraudulent order electromagnetic recording' (Part 3)-donkey electron clogged up

How Japanese software engineers do high-impact work in the US-Method Shop Blog

Giving to a Web App Engineer Thinking of Serverlessness in Application Development / The concept of serverless in application development-Speaker Deck

The Backside of Large-scale Services Changing with Ruby on Lambda / Ruby on Lambda makes a change to Eight's backend-Speaker Deck

JIT can be used with PHP8-Qiita


I traveled with a friend I can not see today.

It is a play where a friend who is in his own room travels together while navigating by LINE call and Google map, while I am in communication restriction. I felt like I was traveling with the ghost, and I was so embarrassed that I could not talk to myself from the virtual and analog point of view. pic.twitter.com/ksCQTj4hhG

— Good cat 247 (@yoineko 41) March 27, 2019


Start offering Amazon Alexa skill 'pixiv today's title'! It's easier to find your drawing theme |

"FamilyDotTM (Family Dot)" allows you to check where your family is at any time on your smartphone | Sourcenext Company Site

About NTT Com's Technology Recruitment-A Lifelong Diary of a Certain University of Technology

Ended offering of Hatena Haiku-Hatelabo Developer Blog

◆ Anime · Games · Manga (Sub-Carl)
TV animation 'Occult civil servant of midnight' PV third-YouTube


<Story> Festival ~ 10th Annivarsary Story ~ 2nd PV-YouTube


Just before release Trinity highlight point-YouTube



# Chemlilla pic.twitter.com/56YndQFOzg

— Tatsuki / irodori @ Cemricix (@ irodori7) March 27, 2019
The story of 'Suggested for late reading'. pic.twitter.com/KfFs47DjhD

— The first volume of manga editor Yamanaka @ Tsukioki Life has been released! (@ComicYamanaka) March 24, 2019


'ULTRAMAN' feature video / 'ULTRAMAN birth!'-YouTube


People who question the reputation of the Chemrixa and Takutsuki director are too high. 'The director's believer is too noisy' 'Tatsuki is not the director'-Togetter

【# ム ー ク リ 回 last-viewer】 "I was glad to believe in Tatsuki" Impressions and highlights of the final round. And plenty of fan art-Togetter

A story that declined to be animated. (Nanase summer door @ Nanase Natsuhi)-Kakyumu

Though it was 'Soloy Soyuz' which was released on December 15, 2017, there was actually an offer for animated theater. This is the story until we refuse it. It is not a disclosure or accusation, but a report to readers who have just supported.
It is good for men in the world to follow Vegeta pic.twitter.com/HO2s3H2J87

— Bianchi (@ Bianchi_8190516) March 27, 2019
Many of the nerds can see what this figure is highly abstracted pic.twitter.com/b1aFnUgDbE

— Yu Tsuyu (@ foj5f) March 27, 2019
Huh?
'Humblebee' is not a movie like this ... pic.twitter.com/Ka7PJd3DxX

— Kazuya Tani (old type) (@ ta_02k) March 27, 2019
I said that Goku, which is DB super, because I like this kora made by foreign fans because it is sarcastic. Forgot the author. pic.twitter.com/sIsKs5VRS1

— The Nappas (@nappasan) March 27, 2019
Life-size Canna! There is a powerful image pic.twitter.com/4uXuH6T392

— Cool Christians @ Shintosha (@ coolkyou2) March 27, 2019
Family of Surprise wwwwwwwww lie Daburyudaburyudaburyudaburyuwwwwwwwwwwwwwwwwwwwwwwwww Pic.Twitter.Com/T1IG4f2Nj6

— Stomach (@haraitaisan) March 27, 2019
My grandma and partner of the gallop #PokemonGOAR #GOsnapshot # Pokemon AR photo # Pokemon GO Pic.Twitter.Com/MTaHrOxx0i

— Cats (@ neco PG 0415) March 27, 2019
We have drawn the concept escort 'Sasakami Sohana' at the FGO new event 'Tokugawa Saten Labyrinth Ooku' held from today! Because it is a Japanese-style dresser of the night castle of the corner and Mata Hari, it is not an ordinary Japanese style dress, but I put accessories or bangs and made it feel exotic ...! Thank you! # FGO pic.twitter.com/Z2Y2trNJvv

— TAKOLEGS (@takolegs) March 27, 2019
Good Morning!
Asahina Mirai and Mofrun pic.twitter.com/gh96dHlSo7

— Kamikita Futago (@ futagokamikita) March 27, 2019
39!
# Hatsune Miku # Miku's Day pic.twitter.com/O64KuX5Blo

— Hajijiro (@mamimumemonoma) March 27, 2019
The new daddy's cartoon is too evil no matter how you look at it 2 pic.twitter.com/XcYmyfzHyt

— Ryoichi Yokoyama (@yokoyama_bancho) March 27, 2019
Hairstyle circumstances recent here pic.twitter.com/0NNLDOohWl

— Also ~ (@ mori2ta) March 28, 2019
Kokkoro pic.twitter.com/CZCwlO1WSa

— Jehyun (@ tjwpgus012) March 28, 2019
A woman is such a skill value and good-looking pic.twitter.com/KRIKjhzRjM

— Chinese cabbage (@ hnn2_1) March 26, 2019


'TSUBURAYA GALAXY' 4.12 first issue! Premium digital media that considers the future from Tsuburaya's fantasy science story, design, technology-YouTube


TV Animation 'If it was for my daughter, I could possibly defeat the Demon King.告知 Animated announcement PV-YouTube



A highly abstracted startup screen that you can see if you are a retro gamer pic.twitter.com/kP1mDCmz7r

— Green \ ('ω') / box (@midori_box) March 27, 2019
The story of a Bobcut woman giving birth to a virgin 1 pic.twitter.com/ql9c38B6lt

— Issue 41 (@Fortyone_go) March 26, 2019
3⃣9⃣ pic.twitter.com/6MrrcoRbBf

— Kisumi Yayoi (@kisumirei 41) March 26, 2019
Cute thing pic.twitter.com/ezN0mSbqdJ

— Tota @ Komi 1A 62a (@totakeke ___) March 27, 2019
Karma! #FGO pic.twitter.com/HDnT2A2x3D

— Shinta Kusano (@kusanosinta) March 27, 2019
Sakura Tears # Sakura Day # Sakura pic.twitter.com/brqivK60am

— Star tea (@ hoshi0tea) March 27, 2019
echiechihmrchang ,,,, pic.twitter.com/VfwIf5PHb2

— Machi (@mate_wm) March 27, 2019
Pic.twitter.com/R48yGwsahV asked to be a live watcher

— American Beast (@Beijuu 545) March 27, 2019
Sakurairo Drops and Miku # Sakura Day # Sakura pic.twitter.com/tF42elju8u

— Yu (@youcapriccio) March 27, 2019
# Sakura Day pic.twitter.com/FbzF5ToWKT

— Yen Morikura (@morikuraen) March 27, 2019
Wither and decay ... pic.twitter.com/plaeBb5jUw

— Kawa CY (@kawanocy) March 27, 2019
I was in charge of Kama at the FGO event 'Tokugawa Saten Labyrinth Ooku' held from today. Thank you in advance. #FGO pic.twitter.com/lOb0wPmO4N

— ReDrop / snacks (@otmm) March 27, 2019
# Matsuya arrow I tried to make # March 28 Mitsuya day pic.twitter.com/M1V2G6hsAp

— Dark brown / CGCh (@ BARD713) March 27, 2019


Game market's first exhibit that sold 380 self-made board games-Introduction | Yoshihiro Shindo | note

◆ Sports, Entertainment, Music, Film (Entertainment)
Mr. Kobayashi Yoshinori, assault damage NGT Yamaguchi Mayo 'is good on a beautiful top'-Entertainment Society-SANSPO.COM

Hoshi Hou · Hayashi Kazunari rages at the signature stealing of Narashino 'I have proof. I can show you here in the video' and: Nanji Great Stadium @ What J Summary

◆ New product (clothes, food, housing)
A sweet break honey mustard from the Koikeya Minutes series for individual meals.