Compare the new 'iPad Air' and 'iPad mini' with other iPad models, and which one should you buy?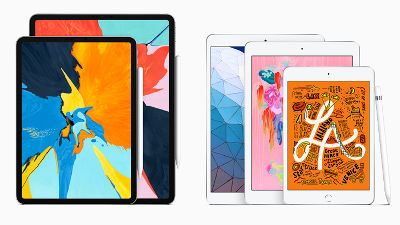 Apple announced the 10.5-inch
iPad Air
(3rd generation) and the 7.9-inch
iPad mini
(5th generation)
dated March 18, 2019
. As a result, the iPad series will be developed with 4 models and 5 sizes: 'iPad Pro (large and small)', 'iPad Air', 'iPad' and 'iPad mini', and there should be people who do not know which one is good .... For such a person, we are comparing how Apple related information media
9to5Mac
is different in each iPad.
Which iPad should you buy? Here's the new iPad Air compare to the rest of the lineup-9to5Mac
https://9to5mac.com/2019/03/18/ipad-air-mini-lineup-compare/

◆ Display
The display size, resolution, PPI, display brightness, True Tone, P3 color, ProMotion technology, full lamination display, the presence or absence of specifications such as anti-reflective film feel like the following. Both the newly released iPad Air and iPad mini have the same specifications as the iPad Pro except for ProMotion technology, and they also support a wider color gamut because they support P3 color. The 9.7-inch iPad, on the other hand, does not have many features of other models.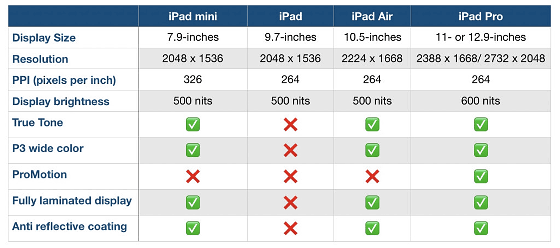 'With ProMotion technology, Apple says,' Provides a refresh rate of up to 120 Hz, providing fluid scrolling, good responsiveness, and smooth motion content. '

Processor & Storage
A major feature of the new iPad Air and iPad mini is that the chip has been revamped and equipped with the A12 processor. This is a big difference, considering that the 4th generation iPad mini used the A8 chip. Also, the 9.7-inch iPad has two options for storage: 32GB or 128GB, while the two new models have two options: 64GB or 256GB.

The following is a comparison list. From top to bottom processor, storage, RAM, Touch ID, Face ID, Apple Pencil compatible, keyboard compatible. The two new models are said to be equipped with 3GB of RAM, and are now compatible with the first generation Apple Pencil. The iPad mini is compatible with Bluetooth keyboards only, but the iPad Air also supports Apple's
Smart Keyboard
. Only iPad Air can use Smart Keyboard except iPad Pro.



◆ Size · weight · battery life
With regard to battery life, each terminal can be used for '10 hours of use of web movies and music' with a single charge. The comparison of battery life, weight, height, width and thickness is as follows.




◆ Price
According to Apple's official page, iPad Air is 64GB, Wi-Fi model is tax-excluded from 54,800 yen, Wi-Fi + Cellular model is tax-excluded from 69,800 yen. And iPad mini is 64GB, Wi-Fi model is tax-excluded from 45,800 yen, Wi-Fi + Cellular model is tax-excluded from 60,800 yen. If you look at the table below, the iPad Air is about 100 dollars higher (about 11,000 yen) higher than the iPad mini of the same specification.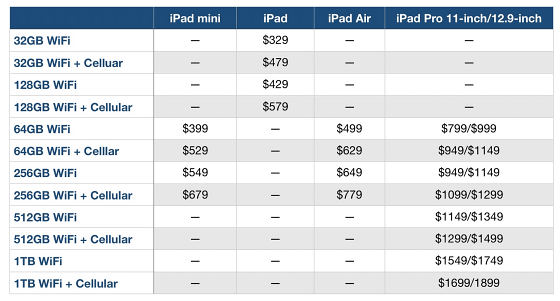 In detail, the iPad Pro does not support the Lightning Type terminal but USB Type-C, and does not have a headphone jack, but other iPad models include new models and non-USB Type-C compatible headphones Equipped with a jack. The iPad Pro is equipped with a 12 megapixel camera and can shoot 60 fps 4K movies, but the iPad, iPad mini, and iPad Air are all 8 megapixel cameras, and the movie shooting is up to 1080p.