Twitter is testing the 'hide tweet' function which hides unnecessary things from reply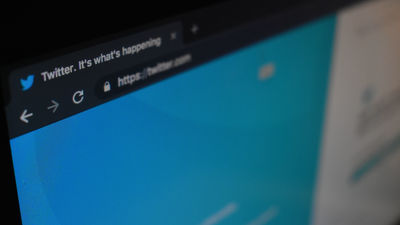 by Con Karampelas

Twitter turned out to be working on implementing a new feature called " Hide Tweet ". By blocking or muting accounts on Twitter, there is already a function to keep distance from people you do not need or displease for yourself, but if you use the "hide tweets" feature you can It is possible to hide only unnecessary things from the reply to tweets of Twitter.

Twitter confirms it's working on a 'Hide Tweet' feature | TechCrunch
https://techcrunch.com/2019/02/28/a-new-hide-tweet-button-has-been-spotted-in-twitters-code/

Jane Manchun Wong, an engineer, found the "hide tweets" feature first. While using the Android version of the official Twitter application, I found the option "Hide Tweet" that I did not exist in "Others" options so far.

Mr. Wong says, "Twitter has tested reprint editing.This feature (hide tweet) allows users to hide the reply to tweets and there is an option to display hidden tweets "I am tweeting.

Twitter is testing replies moderation. It lets you to hide replies under your tweets, while providing an option to show hidden replies pic.twitter.com/dE19w4TLtp

- Jane Manchun Wong (@ wongmjane) February 28, 2019

On the left red frame part is the "hide tweet" function, the right is an option for displaying the hidden tweet. From pointed out by Mr. Wong's "I am testing the reply's editing", it can be inferred that the "hide tweet" function is "a function that allows users to hide reply to their own tweets freely".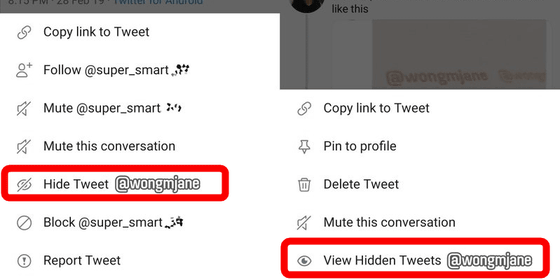 After that, Twitter spokesperson officially acknowledged that Twitter is working on development about "tweet hiding" function.

Users who hide certain tweets, like 'Tweet Hide', may hide only tweets that are disadvantageous to you. For example, against a reply against controversial tweets, if you hide critical tweets and leave positive tweets intact, in fact tweets that should be pros and cons are actually accepted positively from many people It will be reflected as if it is. Of course it is possible to display the tweets hidden from options, but if a third party fails to confirm the tweets that are hidden, the possibility that "incorrect facts" will be transmitted is also fully conceivable. However, if the user can edit the reply, it will make the user feel more comfortable sharing various things on Twitter and the possibility of having a big influence on the growth of users on the platform of Twitter There is also.

From the screenshot that Wong first posted, I did not know whether the "hide tweet" function worked well for everyone else. However, Wong immediately disclosed the code reference itself, which shows that the "hide tweet" function is functioning as an editing action. In other words, the "hide tweet" function is not a disappearance only from the user's screen, but it is shown that it is a function that can hide tweets from every user's screen.

The wording in the app's code suggests this "Hide Tweet" is about moderation pic.twitter.com/PO4m9bI7Pc

- Jane Manchun Wong (@ wongmjane) February 28, 2019

Michelle Yasmeen Haq , senior product manager at Twitter about Twitter's "tweet hide" feature discovered by Wong explains the "hide tweet" feature in a series of threads.

1/8 Thanks to Jane and @ Matt Navarra for starting the conversation about the this feature we are developing to provide a little more context on it. Https://t.co/Ws2rJfa8sl

- Michelle Yasmeen Haq (@thechelleshock) February 28, 2019

According to Mr. Haq, "The existence of those who start some interesting conversation on Twitter is very important to us and giving some kind of control to those users will make the conversation they do as healthy as possible I hope to keep it in a state, "he says about the circumstances that led to the development of the" hide tweet "function.

3/8 People who start interesting conversations on twitter are really important to us, and we want to empower them to make the conversations they start as healthy as possible by giving them some control.

- Michelle Yasmeen Haq (@thechelleshock) February 28, 2019

Twitter has tried to preserve the integrity of conversation by using the functions such as block, mute, and reporting so far, but these tools can not deal with every problem alone. Blocks and mutes change the appearance of the user side using these functions and can not be a fundamental solution to users who post problematic postings. And because reports work only for content that violates our policies, we can not deal with any tweets that make users uncomfortable.

5/8 We already see people trying keep their conversations healthy by using block, mute, and report, but these tools do not always address the issue. Block and mute only change the experience of the blocker, and report only works for the content that violates our policies.

- Michelle Yasmeen Haq (@thechelleshock) February 28, 2019

However, if you use the newly hidden "Tweet Hidden" feature, people who started conversation can hide the reply to their tweets, so they could not deal with block mute / report so far You will be able to deal with problems yourself. In addition, since hidden reply can be displayed from option, there is a possibility that it will be fair for all users, not replying unilaterally.

7/8 We think the transparency of the hidden replies are not the same as the people to use the feature to hide content they disagree with. We think this can balance the product between the original Tweeter and the audience.

- Michelle Yasmeen Haq (@thechelleshock) February 28, 2019

According to Mr. Haq, it seems that the function "hide tweets" will be publicly tested within the next few months.

8/8 In the coming months, we plan to start testing this publicly so stay tuned for more and keep telling us what what think!

- Michelle Yasmeen Haq (@thechelleshock) February 28, 2019