Twitter announced 'a new function to embed the original tweet in a video or photo and quote it', and pointed out that it copied the function of TikTok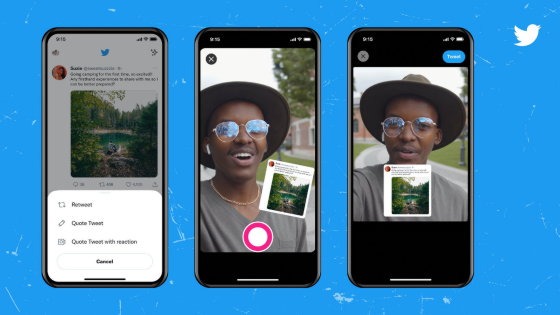 Twitter has announced that it is testing a new feature on iOS called 'Quote Tweet with reaction' that allows you to embed tweets in videos and photos and post them. This new feature, which is considered to be a type of quoted tweet, is expected to have a wider range of expressions when responding to tweets, but it has also been pointed out that it is a copy of TikTok's video reply function.


Tweet reaction videos can now start on Twitter!

On IOS Testing:. When You Tap The Retweet Icon, Choose 'Quote Tweet With Reaction' To Create And Customize Your Very Own Tweet Take - A Reaction Video (Or Photo) With The Tweet Embedded

Pic.Twitter.Com/1E30F8rKYh — Twitter Support (@TwitterSupport) January 6, 2022


Twitter tests redesigned retweets that let you react with a photo or video --The Verge
https://www.theverge.com/2022/1/6/22870872/twitter-quote-tweet-with-reaction-tiktok-video-photo

On January 6, 2022 local time, Twitter's official support account ( @TwitterSupport ) announced that it is testing a new feature on iOS that allows tweets to be embedded and posted in photos and videos.

According to Twitter, when a user who has access to the function taps the RT icon of the tweet, in addition to the conventional 'Retweet' and 'Quote Tweet', 'Quote Tweet with reaction' 'Is said that the item is displayed. When you tap 'Quote Tweet with reaction' ...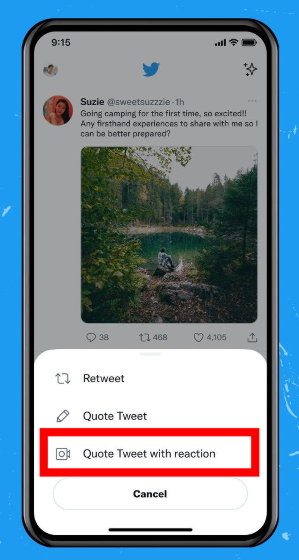 You can paste the tweet in the form of a sticker on a photo or video and post it in the form of a quoted tweet. The size and position of the tweet to be quoted can be changed freely, and the photos and videos to be posted can be selected from the camera roll or taken from the Twitter app at the time of posting.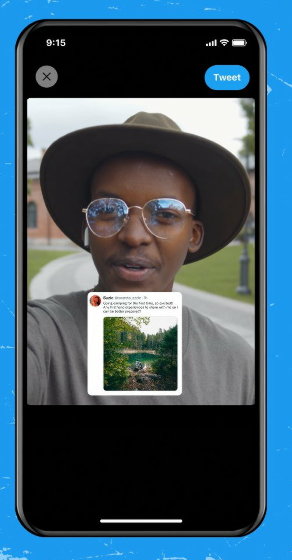 In fact, Sam Haveson, who belongs to the Twitter product team, posted a video with the official announcement tweet pasted using 'Quote Tweet with reaction'.

We want to give you more creative ways to join the conversation and express yourself on Twitter. Starting today, we're rolling out a test on iOS that gives you the option to Quote Tweet with a reaction video (or photo) with your very own Tweet Take.

Here's my take ???????????? https://t.co/RLolp062GA pic.twitter.com/21qlYk2hh5

— Sam Haveson (@samhaves) January 6, 2022


It has already been pointed out that 'Quote Tweet with reaction' is similar to the 'function to reply to comments with a video' provided by TikTok. In December 2021, Instagram announced 'Reels Visual Replies ', a function that allows you to reply to comments using the video function 'Reel', and SNS companies have added TikTok's video reply function. It seems that you are paying attention.

How to reply to a comment with a video --Creator Portal | TikTok
https://www.tiktok.com/creators/creator-portal/ja-jp/tiktok-content-strategy-ja-jp/howtoreply/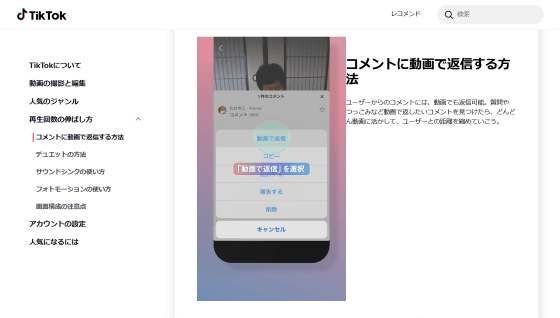 Some Twitter users and members of overseas media, The Verge, are concerned that the new ability to embed tweets in photos and videos could be a simpler and harder-to-remove means of harassment. While it's relatively easy to moderate text attacks on platforms like Twitter, it's difficult to censor the content of photos and videos. What's more, the new feature runs as a quoted tweet and cannot be protected by the ' features that limit who can reply'.

In response to The Verge's inquiry, Twitter spokeswoman Viviana Wiewall acknowledged that the reply restriction feature is not applicable to 'Quote Tweet with reaction' and said, 'Security on Twitter is our number one. It's a priority. We don't expect new features to be used in harmful ways, but we will carefully monitor their use and ensure that fraud is ruled according to Twitter rules. ' Said.

In addition to the video reply function, Twitter also announced that it is testing a design that allows you to post tweets directly from the timeline without moving to the tweet screen.

We're making it easier to start a Tweet with a new composer bar above the bottom navigation menu. Now testing with some of you on iOS. Pic.twitter.com/jXb260Gm08

— Twitter Support (@TwitterSupport) January 6, 2022