A VR game with sales explosion and sales page access count of 4000% increased in just one week, what the hell happened?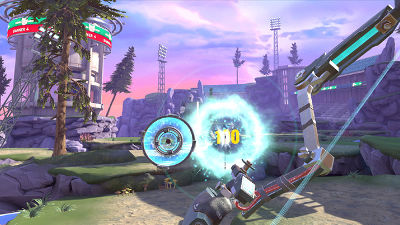 " Apex Construct " is a first-person perspective action adventure game exclusively for VR that battle the devastated land that the robot became control over brains and weapons. This Apex Construct, released on Steam on 20th March 2018, has increased the number of PVs on Steam by 4000% in just two weeks and renews sales in 2018 in just one week in China We have recorded amazing sales to do. The overseas game media reports what happened to Apex Construct of the VR game.

VR game Apex Construct sales spike after players mistake it for Apex Legends | PC Gamer
https://www.pcgamer.com/vr-game-apex-construct-gets-huge-sales-spike-after-players-mistake-it-for-apex-legends/

VR Game Sees Huge Increase In Sales As Players Confuse It For Apex Legends
https://kotaku.com/vr-game-sees-huge-increase-in-sales-as-players-confuse-1832688662

Apex Construct is a game developed and sold by Fast Travel Games , a development studio dedicated to VR games. Synopsis is "a world that an asymptotic robot dominates as a result of human experiments of stupidity, from a synthetic life form trying to hunt enemies on a new battlefield, survive only with brains and combat capabilities as weapons" So, it is becoming the first person perspective action adventure game with a unique atmosphere dedicated to VR appealing.

Steam: Apex Construct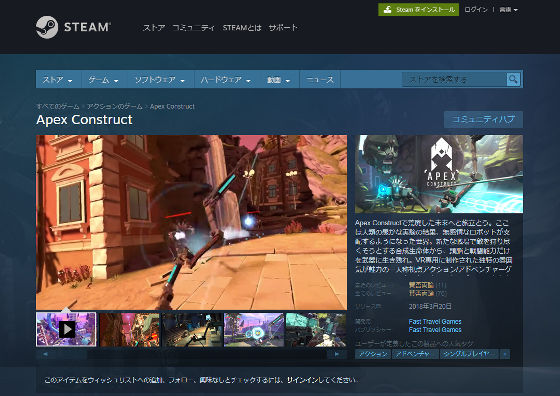 Apex Construct 's launch trailer is now available for viewing from below and you can tell at a glance what kind of game it is finished in one shot. In addition to PS VR , it also supports HTC Vive, Oculus Rift, Windows Mixed Reality.

Apex Construct - Launch Trailer | PS VR, Oculus Rift, HTC Vive & Windows Mixed Reality - YouTube


The reason why sales of such Apex Construct began to increase sharply in 2019 is said to be in "Battle Royal game" Apex Legends "which gained more than 10 million players in just three days from delivery. You can tell what kind of game Apex Legends is by checking the following article.

What is "Apex Legends" who gained more than 10 million players in just three days from delivery? - GIGAZINE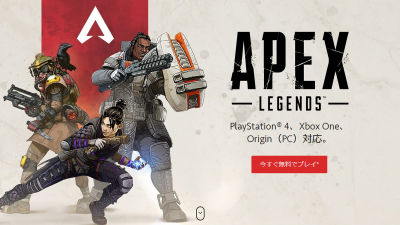 According to Andreas Juliusson, who works for Fast Travel Games, developer of Apex Construct, "A gamer looking for Apex Legends coincidentally found Apex Construct and accidentally found Apex Construct without knowing that Apex Legends is basic play free I have purchased it. " As pointed out by PC Gamer of overseas game media "It may be related to the fact that the logo is somewhat similar", not only part of the name is the same but also the logo is similar, so it makes extra mistakes It may be that there are many users.

Fast Travel Games said on February 14th on the official Twitter account, "For some reason, the number of visitors to Apex Construct 's Steam sales page has increased by 4000% since last week, Posted a tweet saying "Do you have something to remember?" In the screenshot that was posted at the same time, it compares the logo of Apex Construct (left) and Apex Legends (right) and shows that "Left is Apex Construct!" At the time of posting this tweet, Fast Travel Games seems that the number of visitors to Apex Construct has exploded because of the similar names and logos to Apex Legends which started delivery in February 2019 I can tell you what I guessed.

Any thoughts, we have seen an increase in people visiting the Apex Construct store page on Steam with 4000% over the last week. Any thoughts as to why this might be? #NotThatApex pic.twitter.com/Cx8ezAadwf

- Fast Travel Games (@fasttravelgames) February 14, 2019

Comparing with just the logo looks like this. Apex Legends is on the left and Apex Construct on the right.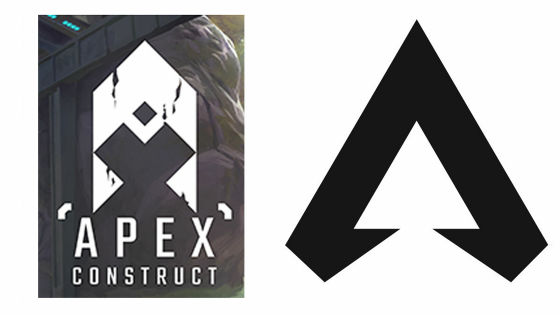 Juliusson of Fast Travel Games also shares this strange story on Reddit, an overseas bulletin board, "Since the release of Apex Legends on February 4, the number of accesses to the Apex Construct page on Steam is 4000% Apex Legends is an EA Origin limited delivery, not delivered on Steam. "" Even more troublesome is that more severe things happen in Apex Construct than in the whole period of 2018 in the past seven days Apparently people seem to be prepared to purchase Apex Legends which is basic play free for $ 29.99 (about 3300 yen), probably refund processing will be done for parts purchased by mistake " It is written as.

FUNNY STORY: Apex Construct gets 4000% increase in Steam store page visits after Apex Legends was released :-): vive_vr
https://www.reddit.com/r/vive_vr/comments/aqlhcn/funny_story_apex_construct_gets_4000_increase_in/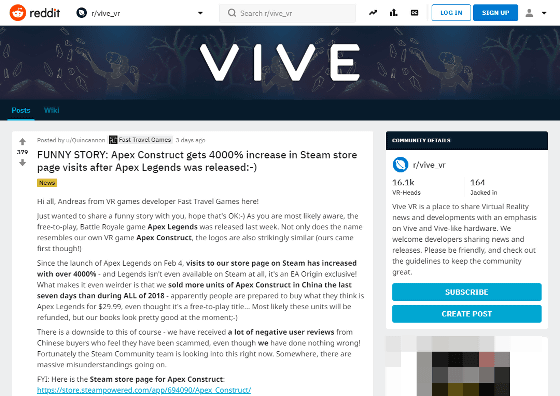 It is Apex Construct which attracted attention from an unintended direction, but it seems that the user who purchased Apex Construct by mistake "Is going to put a low rating on Steam review" problem is occurring. However, Juliusson said, "Fortunately, the Steam Community team is investigating our situation that there is a serious misunderstanding somewhere," he says, the possibility that the problem will be solved It suggests.