Why does the ad blocker do not hide the pop-up 'Please turn off ad blocker' itself?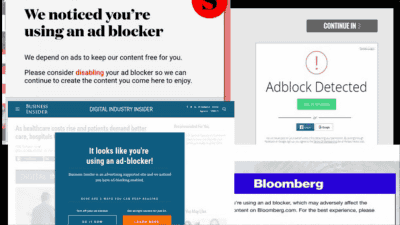 If you are using "Ad Blocking Tool (Ad Blocker)" which hides advertisements on web pages such as Adblock, you may encounter a site displaying a pop-up "Ad blocking function detected" . "So, why not make the ad blocking tool itself not hide this popup itself?" Seems to have surprising consideration.

Why Does not My Ad Blocker Block 'Please Turn Off Your Ad Blocker' Popups?
https://motherboard.vice.com/en_us/article/j5zk8y/why-your-ad-blocker-doesnt-block-those-please-turn-off-your-ad-blocker-popups

Many people are introducing ad blocking tools for reasons such as "Advertisement is troublesome", "The speed of reading pages slows down", "Useless communications are done due to large advertising", and so on. In addition, there are users who use ad blocking tool which hides advertisement to prevent damage caused by fraud which advertisement banner was abused.

When you visit a specific site with such an ad blocker, there is a thing (pop-up block wall) that pops up saying "I detected an ad blocking tool". A message from the ad blocking wall / site administrator is a message asking "please stop the advertisement blocking tool", and a message saying "a mandatory measure that we will not let you access in the state using the ad blocking tool" In any case, in any case, the advertisement blocking tool user will stop and consider the correspondence.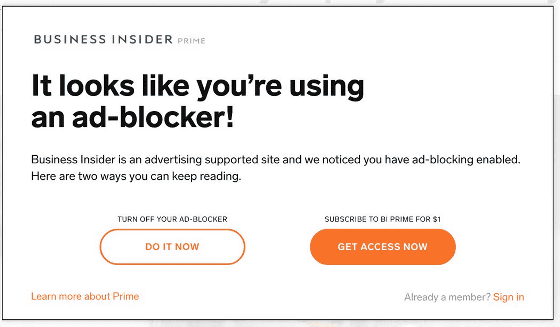 Then, can you block the ad blocking wall completely by setting such pop-up detection of ad block detection itself as "bothersome"? People who think that they may also get inside. Many ad blocker developers say that such functions can be added relatively easily. However, there are only a few ad blocking tools actually equipped with the ad blocking wall / blocking function, and developers are trying not to dare to include the function.

For this reason AdBlock posts a reply page . According to it, the AdBlock user has the right not to display advertisement that he / she does not want to display, while the publisher requests "to whitelist the user who accessed the content or to subscribe It is because it has a right to persuade. Judging that there are many problems with the current web advertisement, it seems that judgment that we must consider also the position of the publisher who still has to rely on web advertisement revenue.

Nonetheless, there is also data that "74% of Americans who came across the ad blocking wall function to detect ad blockers and display pop-ups will leave the page" There seems to be a severe reality that the establishment itself does not necessarily lead to the profit increase of the publisher.