An editor tool 'dokieli' expressing the thought of Solid project which redistributes the Web again


" Solid " is a project that arose with the goal of redistributing the Web, concerned about the centralized Web by Google, Facebook, etc. The editor tool " dokieli " incorporating the specification of Solid is a tool that shows what type of Web can be realized by Solid.

Solid
https://solid.mit.edu/

dokieli
https://dokie.li/

Solid is a project moving around Tim Bernards-Lee who invented the World Wide Web.

"Web father" Tim Berners-Lee announces new platform "Solid" - GIGAZINE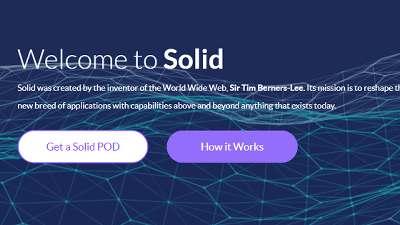 In the article mentioned above it is stated as follows.


With Solid, all users can have "Personal Online Data Store (POD)". POD will have a contact book, a To-Do list, a calendar, a music library, and other individuals or specialized tools, "Google Drive, Microsoft Outlook, Slack, Spotify are possible at the same time in one browser" Thing. The unique point of POD is that data storage location and where "what kind of information is accessed" are completely left to the hands of the user, permission gives permission to families and colleagues to transfer their own data to someone else In addition to being able to view one data simultaneously with a different application, it becomes possible to share it.

"Dokieli" is an editor tool that embodies the concept of Solid above. Even though it is an editor tool, its appearance is a static website, and it can operate on any server / local machine. You can browse like a regular Web site, and you can use additional functions such as comments and editing by logging in. For logging in, use " WebID ".



When you select the body, a popup appears above. Besides attaching comments, it is possible to bookmark and share.



If you add a comment, that comment will be displayed to other people as well.



You can also share an article with a person registered in POD.



"Anchor" is attached to every part of the article. Copy this anchor ... ....



You can paste as a comment in another article.



The information of the referring source is automatically written to References.



Also, on the referenced side, notifications such as "what page was referred from", "what part was referred to", etc. are made to go.



In addition, it has a function to change the appearance at the time of browsing. In the image below, "left" is changed to "basic" and right is changed to "acm" style. The right is in the form that the body is divided into two rows of left and right.



The image below is the scene where we switched to "LNCS" format. In this way, viewers can read articles in their preferred format.



In addition, you can see how to set up dokieli actually by looking at the official documentation .