Waymo (former Google) launched the testing of fully automated driving cars for drivers in California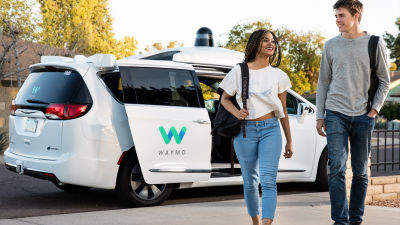 A fully automatic driving car of Waymo , Google's brother company under Alphabet, got permission to run on public roads in California, USA. Driving test of fully automatic driving car not putting people in the driver's seat will follow the state of Arizona USA.

A Green Light for Waymo's Driverless Testing in California
https://medium.com/waymo/a-green-light-for-waymos-driverless-testing-in-california-a87ec336d657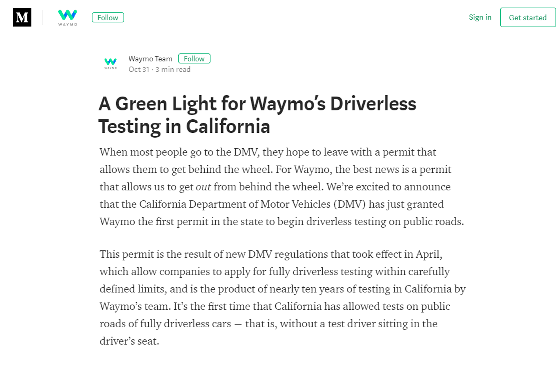 Waymo gets the green light to test fully driverless cars in California - The Verge
https://www.theverge.com/2018/10/30/18044670/waymo-fully-driverless-car-permit-california-dmv

Google's automated driving car development project began in 2009, after that, in 2016 it became independent as "Waymo" and became independent. You can experience Waymo's automated driving car called "It is coming to practical use one step ahead" in the 360-degree movie from the following article.

Automatic driving car of Waymo (former Google) runs "public" on public roads, released 360 degrees movies, virtual experiences moving in automatic driving possible - GIGAZINE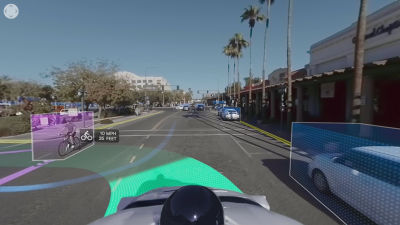 Google's self-driving car has been running tests for about ten years, but until now California State with Silicon Valley has not been permitted running test "Do not put a driver in the driver's seat". However, in April 2018 the California Department of Vehicle Management (DMV) established a new regulation, for the first time that permission for a fully automatic driving car to run on the public road has come down.

Waymo's automated driving car has been running tests of 10 million miles (about 1,600 km) in 25 cities in the United States, and in 2017 it was allowed to run a fully complete driving car without a driver at Phoenix, Arizona. California will be in the shape following this.

A running test in Arizona state can be read from the following article.

There is a girls high school student riding alone in Waymo's automatic driving car - the only one in the world - GIGAZINE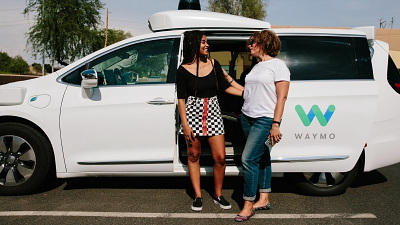 A girls high school girl Kai Jackson who is a project volunteer got into an unmanned automatic driving car and headed for school.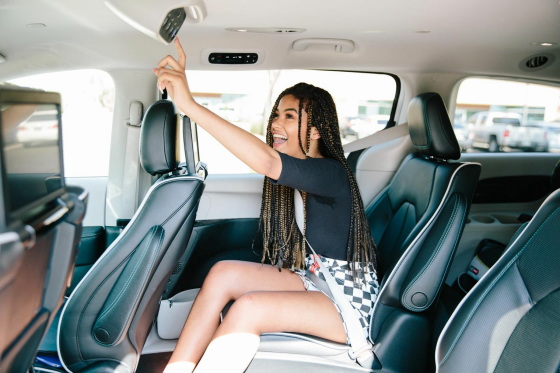 Travel tests in California are limited to Mountain View, Sunnyvale, Los Altos, Los Altos Hill and Palalto. This area is also the place where Waymo and Alphabet's headquarters are located, so to speak, a place called "home".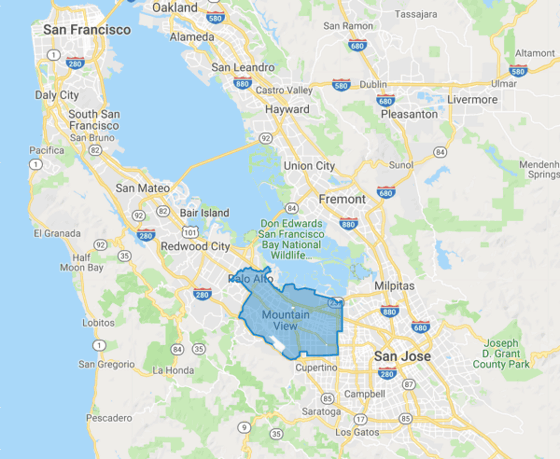 Running tests are carried out both during the daytime and at night, fully automated driving cars are scheduled to run in urban areas, suburbs, highways, while keeping speed limit of 65 mph (about 105 km). Waymo stated in the blog "We are driving safely with tests of various conditions including fog and light rain," we started testing from a limited area and gradually expanded testing range I want to do it.