Vice President of the United States waits for Google's search engine development with censored features for China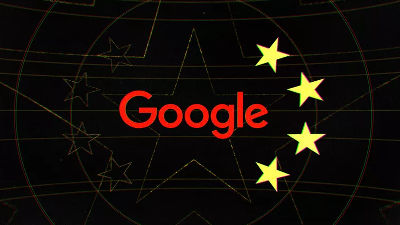 In the beginning of August 2018, it became clear that Google 's project "Dragonfly" to develop its own search engine with censorship function for China is being pushed forward. In response to this, the voice of opposition came from inside Google and criticized from human rights organizations around the world " criticism that cooperation and agreement with the Chinese government of the government is a collusion to human rights violation". Meanwhile, the criticism of the direct criticism was also cast from Vice President Mike Pence of America who finally number 2 of the trump regime.

White House calls on Google to abandon Chinese search engine project project - The Verge
https://www.theverge.com/2018/10/4/17938376/google-china-search-engine-white-house-vp-mike-pence-criticism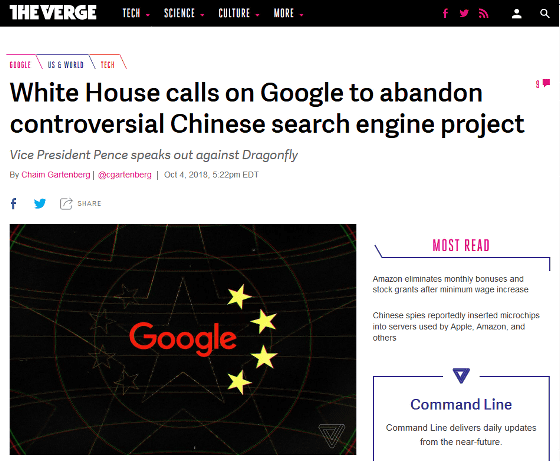 According to the Wall Street Journal , Vice President Pennce said Google's search engine for China, which is being developed under the "Dragonfly" project, "will strengthen the censorship of the Chinese Communist Party and hurt the privacy of Chinese customers I will criticize it. "

The first search engine with censorship function under development by Google is in early August 2018. The first report is The Intercept , and Dragonfly has been reported to be "Search service linking search content and phone number".

Google's offering in China is reported as "search service linking search contents and phone numbers" - GIGAZINE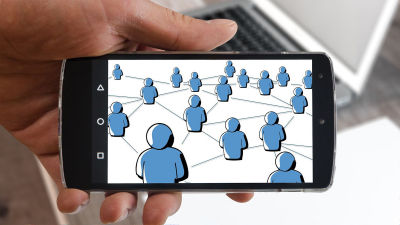 Google does not recognize formally that it is developing a Dragonfly, the Thunder Pichai CEO after the first reports and has been described on the development of Dragonfly towards the employees been reported and, in the It is said that explaining that search engine development is "exploratory" and is in the "initial stage".

According to The New York Times , about 1,400 Googlers sent letters to the upper level asking for transparency about Dragonfly 's development. In addition, The Intercept reported that Jack Paulson, a senior researcher at Google, resigned in protest against Dragonfly's development.

In addition, although Google withdrew from the Chinese market in 2010, it is said that there are about 1 billion Internet users in China, and Google aims at the huge market, Google will re-establish China in Dragonfly It is regarded as planned.