The world's first 'home delivery service in urban areas using drone' is put to practical use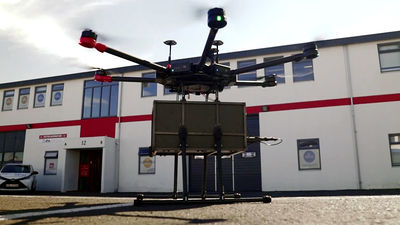 Transportation of the sky carrying packages with the unmanned aerial vehicle "Drone" on behalf of land transportation using trucks is expected as a new infrastructure, Amazon and UPS are considering introducing a delivery system using drone. Drone is strictly regulated by the country, many companies are still in the test phase of the system, while in Iceland it already reported that delivery service using DJI's drone and Israeli company's logistics system is being offered It is done.

Are Delivery Drones Commercially Viable? Iceland Is About to Find Out - IEEE Spectrum
https://spectrum.ieee.org/robotics/drones/are-delivery-drones-commercially-viable-iceland-is-about-to-find-out

Iceland's start-up " Aha " is serving Reykjavik, the capital of Iceland, using drone to deliver food, food and appliances. Aha is the first in the world to provide a service that uses drone as a commercial for home delivery rather than a test.

In fact, you can see the appearance of Aha's drones flying in the sky with their luggage on the following movie.

Flytrex Drone Delivery in Reykjavík, Iceland - YouTube


What Aha uses for home delivery is a professional drone " DJI Matrice 600 " with a maximum take-off weight of 15 kg. From Aha's operation center in the center of Reykjavik, you can fly a range of 4 to 8 km with 3 kg of baggage loaded. Routes for delivery are constantly updated, and in order to further reduce risks, routes are decided so as to fly over industrial areas and rivers / lakes where there are as few people as possible.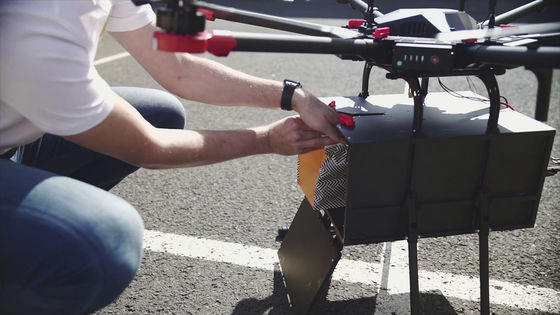 The drone used for home delivery does not have a function to detect and avoid obstacles and there is no image recognition system such as camera or radar. Aha's home delivery drone flying while using GPS, along a route clearly showing that there are no obstacles such as trees and buildings. Approximately 500 deliveries were done in the last 5 months, but no accident was reported.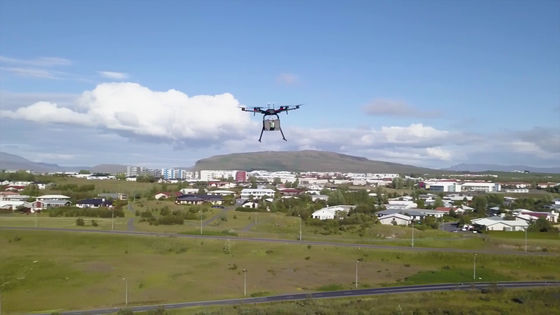 Orders can be made from smartphone applications, and the delivery fee is about $ 7 (about 770 yen). Mr. Maron Christopherson, CEO of Aha, commented, "The electricity cost is at most 25 cents (about 27 yen), and as long as there are as much as 7 dollars, we can cover the operating costs sufficiently."

Originally, Aha started drone home delivery service because Mr. Christopherson reviewed the delivery plan by automatic driving unmanned aircraft in 2014, in order to reduce labor cost which keeps rising soon. In collaboration with the startup Flytrex based in Tel Aviv in Israel in 2015, Aha introduced a new logistics system using GPS tracker and existing drone instead of developing drone for home delivery.

FlyEx Bash, Flytrex's CEO, says, "FedEx is not developing and producing the delivery truck itself, it's just procuring from the vendor.The same thing is done in the drone.Flytrex is in need We have know-how to choose drones together, but logistics and cloud are the core competencies of Flytrex. "

Mr. Christopherson asked the airlift authorities in Iceland to choose whether "Iceland is the lowest ranking country for drone delivery, or is the country that runs the forefront." As a result of negotiations for more than a year, Iceland has established safety regulations for drone delivery, and in the beginning of 2018 he tried drone's home delivery service experimentally.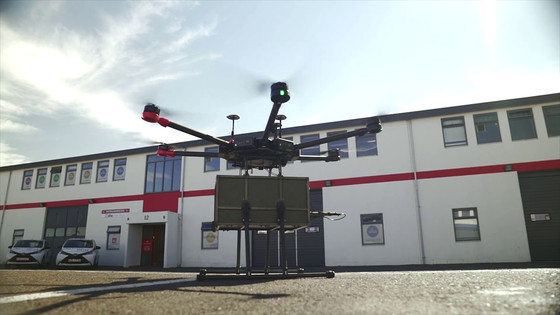 At first we could not get permission to land at the residential area, so we used a method of delivering by drone to the landing point on the outskirts of the city and then delivering it again. And safety regulators acknowledged the thorough and safe consideration of Aha, and in August 2018 permission to land in residential areas got down.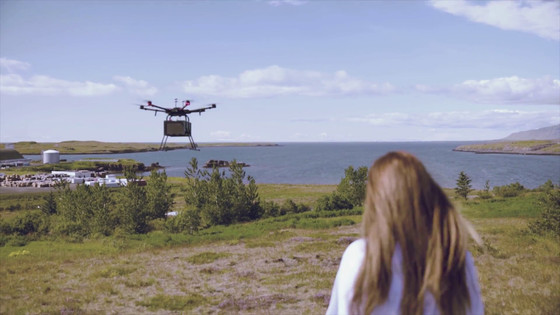 Mr. Bash commented that there are moves in the already existing two countries to approve a drone delivery system similar to Aha. "When ordering a hamburger, which is safer for a 16-year-old boy coming by driving 2 ton trucks, or a dolone of only 30 pounds (13 kg) coming," Bash said I will.