Amazon's drones delivery "Prime Air" presents directly to Amazon Vice President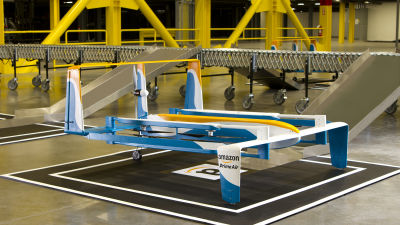 Amazon's drone delivery service which delivers with a burst of less than 30 minutes after it gets on the net "Prime Air"Paul Meisner, vice president of Amazon's global public policy, has responded to questions about its current situation one by one, and it is clear that the Prime Air service is steadily being developed.

Exclusive: Amazon Reveals Details About Its Crazy Drone Delivery Program
https://www.yahoo.com/tech/exclusive-amazon-reveals-details-about-1343951725436982.html

IT columnistDavid PogueMr. Mr. Mezner interviewed Mr. Mezner alone in 2015 as part of the coverage of Drone. "A new movie about Prime Air has also been released, so it will not be long soon", the contents of the question and answer within the interview was released by Mr. Borg.

In addition, as for the new movie which Mr. Borg says, you can check it in the following article.

Amazon Delivery Drones Delivering Delivery within 30 Minutes Dramatic Evolution, Latest Movie Release Latest Movie Release - GIGAZINE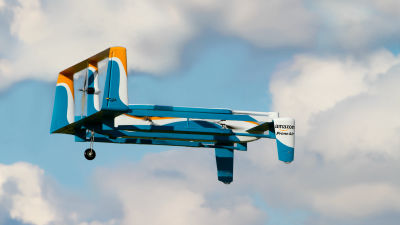 Mr. Poog on the left and Mr. Meisner on the right.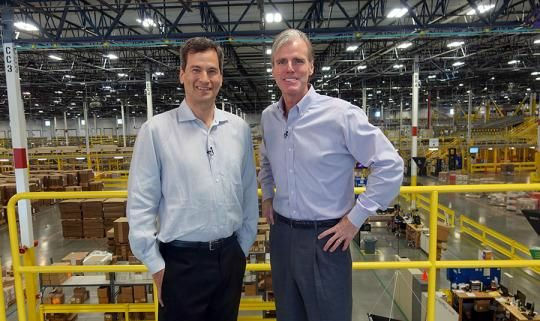 David Borg (hereafter, Borg):
First of all, please tell me briefly about Prime Air.

Paul Meisner (Hereunder):
Prime Air is a service that delivers items ordered by Amazon within 30 minutes after placing an order. The target distance (from the product warehouse) is 10 miles (16 km) or more. We deliver goods weighing less than 5 pounds (about 2.3 kg). We have set this as the weight since most goods purchased by customers are found to be less than 5 pounds.

Borg:
What is the option cost for the service?

Meissner:
I do not know yet.

Borg:
What if you are not at home?

Meissner:
It is the same as when delivered by a trucking company UPS truck. You can specify the front door or you can specify any delivery location.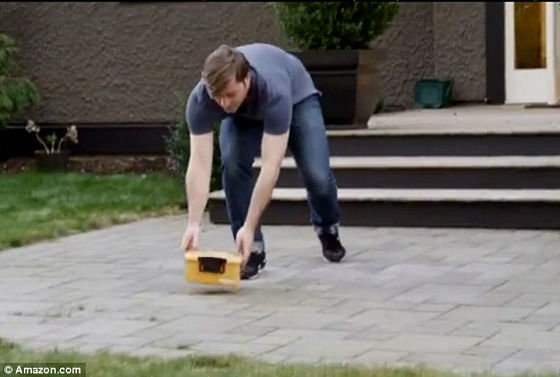 Borg:
Are there multiple types of drone?

Meissner:
There are dry and dusty areas like Phoenix, tropical and wet areas such as Orlando. Of course, customers' residences such as detached houses and skyscrapers also vary. I think that a drone corresponding to that will be necessary so that Prime Air can be offered to every customer.

Borg:
Amazon drones are not ready-made items but proprietary products?

Meissner:
Yes. It is totally different from the common drone that is on the market. Prime Air's drone is a highly automated drone that can automatically avoid obstacles by using what is called "sense-and-avoid" technology.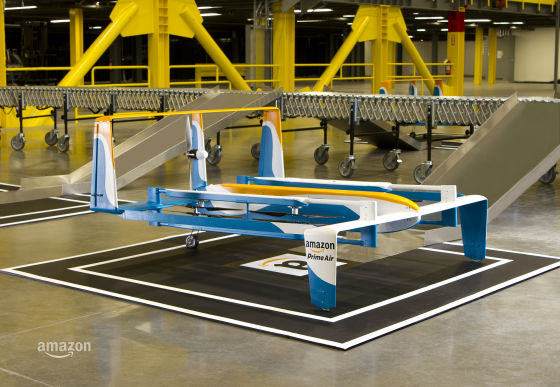 The drawn of Prime Air is closer to a horse than a car. In a car you can rush into the forest, but if you are riding a horse, you can not divide into a forest if the horse is hoping for a collision with the trees. Prime Air's drones are also not allowed to approach obstacles by the automatic avoidance system.

Borg:
What is the countermeasure against skyscrapers developed one after another?

Meissner:
We will change the design of the drone flexibly so that it helps to create a better urban environment.

Borg:
Is it possible to designate the rooftop of the apartment or the courtyard as a destination?

Meissner:
It is completely possible. It is under assumption.

Borg:
Do you develop Prime Air to lose payment to the shipping company?

Meissner:
No. It is not the purpose to reduce the use of the shipping company. Prime Air is one of the purposes of enriching the delivery method suitable for the required service. For example, in the case of "supplementing consumables soon," it is enough as the items arrive in the next week. However, there are times when it is absolutely necessary that goods are needed immediately. Prime Air covers such a scene.

Borg:
I think that it is difficult in terms of both technological and regulation?

Meissner:
Speaking of automatic flight technology, it is not as difficult as you think. Technology has already been established. After that, I am at the stage of confirming / demonstrating whether automatic flight can actually be safely done.

Borg:
What is the difficult problem?

Meissner:
As I mentioned earlier, clearing regulations is difficult. However, if we prove the safety of the system, we believe that the regulation will be changed immediately and will be in our direction.

Borg:
If the Amazon drones fly around the sky, is there no noise problem?

Meissner:
Certainly noise can be a problem, but it is too exaggerated. Of course, development of technology to reduce noise is one of the tasks.

Borg:
What would you do if there was an assailant to shoot down with a shotgun?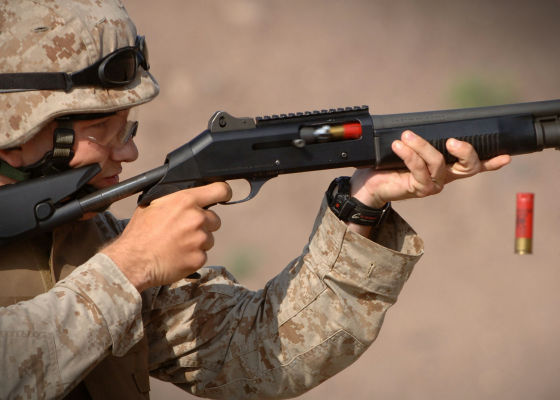 Meissner:
The danger of shooting is the same for trucks. Just as familiar with the tracks that run on the road, the drones should no longer be novelty someday.

Borg:
How do you avoid interference with other flying objects such as airplanes?

Meissner:
We have proposed regulatory authorities around the world to set up dedicated airspace to fly drone. Manned flight is over 500 feet (about 150 meters). Taking 400 feet (about 120 meters) or more into safe area for safety consideration. In other words, it is OK if you can reserve an airspace for 200 feet (400 feet) to 400 feet (120 meters) for drone. A building-related person wishing to survey the topography has no need to raise the drones high for more than 200 feet.

Borg:
What is FAA or NASA about the proposal?

Meissner:
I think that it is welcomed to discuss. We are expecting further discussion and further progress in the future.

Borg:
In my impression, I think that FAA is not staring at Amazon's plan.

Meissner:
The FAA should also regulate and authorize amateur drones and commercial drones as well. Amateur drone 's technology is varied and some are not refined, so minimum regulation is necessary and they need to be clarified. We think it is necessary to create rules for commercial purposes like Prime Air. Actually, rules making outside the USA have begun.

Borg:
It is said that the situation is not well-developed in the United States, but can Prime Air start from other countries?

Meissner:
Yes. Since we have customers all over the world, there is no reason for America to be the first. As a matter of fact, I think there is a good chance that services will be started from other countries.

Although there are certain challenges, if we prove the safety of Prime Air and the regulatory authority acknowledges it, we will be able to start service as soon as possible. I have seen a lot of such examples. Prime Air will definitely be realized.