Movie delivered when the delivery draft of Google X carries a shipment is dubbed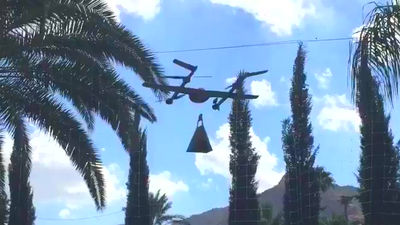 GoogleRegister two types of drones with FAAAlthough it was reported that it was reported, there is a movie that carries parcels and unloads packages as actual delivery machines seen as Google X delivered drones.


Watching baby steps of drone delivery, courtesy of Google X (5 miles in 5 mins is the promise)# Zg15Pic.twitter.com/Xk2KyTRURP

- Aaref Hilaly (@ aaref)2015, October 19
Google Project Wing Delivery Drone Video From Zeitgeist 2015 | Re / code
http://recode.net/2015/10/19/heres-a-look-at-googles-delivery-drones-in-the-wild/

It was CEO of Sequoia Capital who visited Google's conference that shot Google X's delivery dronesAaref HilalyMr. I shot a short movie until the drone flying outdoors dropped a shipment and tweeted, "Google X is looking at the modest first step of delivery drones!" As soon as Google's CEO Sundar Pichai has retweeted it has proved to be incorrect information.



According to Re / code, the drone that appeared in the movie is Google X's "Project WingIt is said that it is the real machine of the drone delivery project called. Mr. Hilaly commented on this drone "Flying 5 miles (about 8 km) in 5 minutes", and it seems that the project is going smoothly as a competitor of Amazon's drone delivery. Delivery drones are not disclosed as to when services start, but two companies, Google and AmazonClear drone's flight altitude limit at the end of the protest, And it is expected that it will be necessary to coordinate the state law applicable to drone delivery in the future.